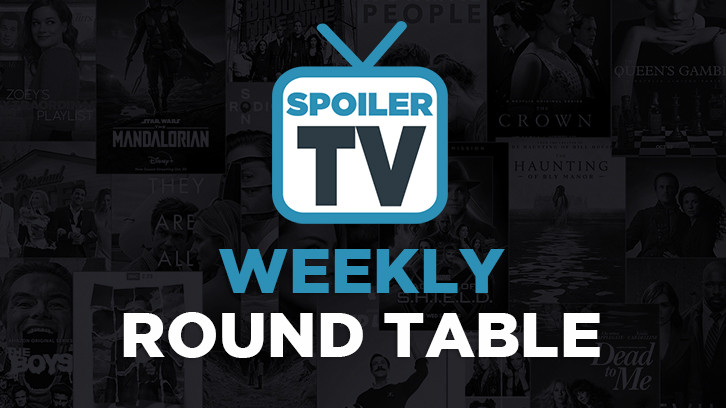 Hello and welcome to a new edition of SpoilerTV's Weekly Round Table! Joining us this week is Abby Crofton (AC), KathM, Prpleight, Donna Cromeans, Giulia Del Buono, and myself (ZF). You just have to sit back enjoy the read and join the discussion in the comment section down below.

San Diego Comic Con just hosted their first online convention. Did you attend? What panels did you watch? Did you enjoy the experience?
Abby:
I took full advantage of Comic Con going virtual and free this year. The best celebrity panel was probably Superstore. The cast were funny and laid back and very entertaining. Caught a few LGBTQ and writers' panels, most of which were informative. "The Most Dangerous Women at Comic Con" was a great peek at what a group of women deal with as writers in various parts of the entertainment industry. Going virtual also opened up opportunities for people who are priced out or otherwise unable to go to the in-person convention to experience it, and increasing access to more people is always a plus. And no lines!
KathM: As I am not a fan of standing in long lines, being pushed around because someone wants to make sure they sit one row ahead of me or having to constantly check my schedule to make sure I'm not missing that one obscure panel, SDCC Online was made for me. I loved it and got to see a lot more programming than I would have if I'd been there. It's hard to pin down which panels were my favorite, I'd say the Star Trek panels because I like listening to the actors but it was also interesting to listen to authors and illustrators talk about their worlds and how they shape them. I hope they continue to incorporate this kind of thing into the Con going forward: depending on the line-up and costs, I might pay to attend another one. The only thing I missed was getting to meet the comics creators and other artists on the show floors so I could buy their work directly from them.
Prpleight: I did attend several panels over Comic Con weekend. I think, especially given the circumstances, they did fabulously. I was a little surprised to find it was pre-recorded. I had expected something like the live stream approach that Jeff Dunham uses for his weekly chats, but I understand why they did it the way they did. I thought it was successful.
I really hope they find a way to continue the online form of Comic-Con, even if it involves monetization. I did go to Comic-Con years ago and found it so crowded that I vowed never to return. The fan recordings from the audience (especially the fan panels) where you miss a lot of the panel because the person with the cell phone is screaming, are better than nothing, but still annoying.
I watched a ton of panels and still have a few in my queue. The top panels that I watched were: Scary Good TV: A Conversation with Horror's Top Showrunners, HBO's Lovecraft Country, Farscape...To Be Continued, Warner Archive's Secret Origins of Saturday Morning Cartoons, Charlize Theron: Evolution of a Badass, TV Guide Fan FavoritesAmazon Prime Video: Truth Seekers.
A couple of the most unexpectedly interesting were: Legendary Spawn Creator Todd McFarlane Talks Toys... and More! One of the things he mentioned was hearing that some small companies that, I assume, would be selling at the con were seeing an uptick in sales possibly driven by the fact that people were (my paraphrase) spending the money they would have spent on plane tickets on toys, models, etc., Reclaiming Indigenous History and Culture Through Comics They didn't talk a LOT about comics, but the discussion was really interesting none the less.
Winner of a product I really hope to see on the market one day: Liberated: A New Idea in Storytelling, A Playable Graphic Novel.
There are still a number of panels in my queue.
Donna: I watched a number of the panels from Comic Con at Home and enjoyed the process. Previously Comic Con had seemed almost elitist in the fact that limited number could experience the panels. While there were not the BIG panels that might have been had DC and Marvel taken part, but what I did attend I enjoyed. I watched the panel with Charlize Theron, the Upload panel, the fun Motherland: Fort Salem panel, the Wynonna Earp panel and my favorite had to have been the Stumptown panel where a question I'd submitted was asked of the cast! I have several of the more craft like panels in my que to watch at my leisure.
Giulia: The only one I watched was the one for Lovecraft Country. I saw the trailer and it really made me curious. It seems a different kind of story and the atmosphere is pretty intriguing. The panel was very interesting and the conversation entertaining.
The Emmy nominations are up! What Emmy nominated show should everyone catch up on?
Abby:
What We Do in the Shadows' nominations were a surprise but very much deserved. It's a laugh out load show with great actors and writing. So glad I discovered it during quarantine.
KathM: For the most part, I think it's a good list with no obvious winners in a number of categories. The "Outstanding Lead Actress in a Limited Series or TV Movie" category particularly sticks out. If you haven't seen "Unorthodox" or "I Know This Much is True", please get on that. Shira Haas is amazing in "Unorthodox", which I'm worried won't get enough viewing to give her a good chance at a win. Get watching, people!
Prpleight: Not much of what I watched this past season was nominated. Much of what was nominated either falls under not worthy of the hype or I can't get that channel. I enjoyed Stranger Things and would like to watch Watchmen.
Donna: I was not overly impressed with the Emmy nominations with in that they followed suit in nominating the same media darlings as they have year after year. The biggest snub in my opinion was directed at the wonderful Zoey's Extraordinary Playlist. It's an out of the box show that surprised fans and critics alike. I'm still upset that none of the cast, especially Jane Levy, Alex Newell, Lauren Graham and Peter Gallagher were snubbed in the acting categories and that the show's brilliant writers and directors were also ignored. But, for me the most egregious omission was a nomination for the incredible Mandy Moore for her amazing choreography featuring an all-deaf troupe dancing to Rachel Platen's Fight Song. That is one of those moments on television that people will be talking about, it was heartfelt, emotional and an astonishing piece of work and should have been recognized.
Giulia: I was over the moon for Zendaya. She really deserves this nomination, she is the soul of Euphoria. I really think people should watch Mrs. America, one of the best shows I've seen so far. I'm pretty bummed that Euphoria didn't get a nomination for best drama, because, along with Mrs. America, it's a show that has made the most impact on me as a viewer.
That wraps up another round table! Feel free to drop your thoughts in the comments below. See you next week!

You can email zoe@spoilertv.com if you have any question suggestions.