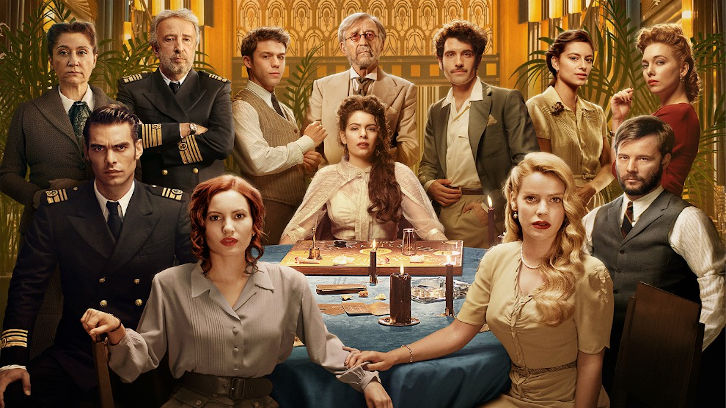 Note: This show was originally released in November 2019, however I am just watching it now. You are free to unleash spoilers in the comments with spoiler tags.

For a couple glorious minutes between the ending of The Final Act and the beginning of The Other Side, I relished the possibility that Carolina was Rosa's killer the whole time. Would that have absolutely detonated the entire show? Yes, it would have. Even without this turn of events occurring, The Final Act will end up being one of my favorite episodes of the season. Eva and Nicolás stop even thinking about avoiding each other and put their Nancy Drew and Ned Nickerson on (while taking some other things off!). After the Ghost of Rosa decides to haunt Nicolás, he finds a ribbon confirming the ghost is just a disguise. Detective Varela's arrest of Julián (Pepe Barroso) unearths more clues. Enter a secret passageway left over from the ship's previous design and Eva has all the pieces of Casandra's plan. A properly theatrical unmasking follows. No one is more distraught over the entire affair than Carolina, which makes it even more gaspworthy when the episode reveals she knew of Rosa's connection to Fernando much longer than was previously hinted. This development works perfectly with how disconcerted Carolina has been, more so than anyone else, since Rosa was first mentioned. While it doesn't quite track that everyone would accept the Rosa letter as quickly as they do, the show introduces doubts soon enough that their reactions are not a real hurdle.

It's exciting to wonder if Carolina might be the killer, even though she surely isn't, while we're even more certain than ever Fernando is innocent (and not just because we saw the season three trailer). Eva declares it over and over, quite casually, and it wouldn't hurt if we got to see what we're told Eva and Carolina see in Fernando. Even knowing about his affair with Rosa, knowing he was lying about it, Carolina doesn't let it put a large wedge between them. She does confess to liking Casandra because it was a change from always having to take care of someone. Considering Fernando tossed away most of his pride last season when he revealed his gambling debts, he can't really hold Carolina's very minor secrets against her, and
High Seas
wisely doesn't go there. Most of the time, Fernando seems like a background character, but Eloy Azorín's charisma keeps him from getting stuck in that status. During this season, I've especially enjoyed his lightly snarky banter with Eva. We also see some empathy from him in regards to Sebastián, which probably originates from Fernando recognizing how close he was to his friend's fate.
The discovery of Rosa's body, after some assistance from Carlos, coupled with testimony from receptionist Agustín (who has been working with Team Casandra from the beginning) that Rosa's final meeting with Fernando ended with the sound of a gunshot, puts the spotlight back on Fernando. It's obvious that with two episodes left we have not found the culprit. The other major suspects at this point, to us not the characters, are Francisca, Detective Varela, and Natalia. In one scene, we learn that Francisca is the one who found the forged Rosa letter; she admits to suspecting the affair, but could she have done something to end it? It's a reach, but Francisca does also caution Eva to be careful getting together with a married man. As for Detective Varela, we know he was working Rosa's case. We've seen he is not a man of high morals. There's a chance he killed her. As for Natalia, Fernando's sister continues her descent to the dark side by telling Pierre that Clara lied about her affair with Aníbal. I got the biggest chill up my spine when she shamelessly dug Clara's grave, adding "I was here drinking when she killed him." Clara's subsequent suicide leaves Pierre with the horrific realization he's been played. Natalia has enough of a soul left to be distraught at what her scheme has wrought. However, she's not distraught enough for me to remove her from the suspect list for Rosa's death. It's possible that Aníbal killed Rosa, though, to protect Carolina's money coming into the venture. However, only Varela makes sense when one considers the letter. Why no one thought to write a letter to Rosa's sister (as Casandra is confirmed to be) is another consideration.
Amids plots, cold cases, and adorable safecrackers being unjustly apprehended, one couple reaches a milestone in their relationship. Nicolás and Eva spend the majority of
The Final Act
admiring each other's detective skills and crawling around the aforementioned secret passages. When Eva mentions in passing that Carolina is all she has, Nicolás oh so tenderly tells her that's not the case, after which they DO THE DEED. They're endgame, unless Nicolás's long lost war hero wife has secret twins living on a picturesque farm waiting for him at the end of the voyage. After their, ahem, entanglement, Eva's writer's block starts to yield, as we see her pondering putting pen to page again.
All in all, an exceptionally dramatic set of episodes. We even got Sebastián trying to reconcile with Dimas and Veronica; he proposes winning back Dimas's patent through a high stakes poker game. What could go wrong! Below decks, dastardly Carlos and a rapidly growing Sofia continue to plan their escape, supposedly with the assistance of Dr. Rojas. With everyone's futures on the line, it might be impossible for the show to pull off a satisfactory conclusion to all of these arcs. I particularly regret that we are nearing the end of Claudia Traisac's role. Her scenes lend cohesion to multiple story points and character plots, plus Casandra is simply magnetic. Not only did she persuade half a dozen people to join her on a voyage of revenge that involved risking all their lives at sea, but, in the process she's also getting justice for her sister and uncovering the truth. This season has been her hero's journey, and everyone else is just a supporting player.