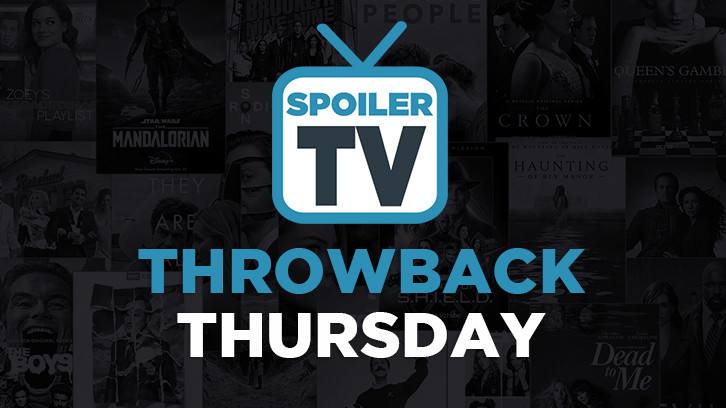 Throwback Thursday is a weekly article in which we look back at our favourite TV episodes from the past. This week I'll be revisiting the finale of what can be argued is the best medical drama in TV history E.R., which is also one of my personal favourite series finales ever.


In the beginning of the last shift of County General's ER we are privy to, Archie at the tail end of his night shift takes care of an altered old lady who slipped on some ice, as Tony frets over a teen who suffered alcohol poisoning, and ends up being oxygen deprived for too long.
Archie hands off the morning shift to Brenner, and the new ducklings: Julia, Ryan and Chaz (yup! That's Pratt's baby bro!). Julia lands the case of an old HIV positive man who gets diagnosed with terminal cancer. Ryan gets the kid who swallowed his grandmother's rosary, and Chaz gets projectile vomiting and Brenner handing off the responsibility of giving a tour to prospective medical students....
One of the prospects? Dr. Green's very own Rachel, who's in town with Elisabeth for the interview. Rachel is in awe and but also feels a bit at home as she greets familiar faces left and right. Carter is thrilled she's applying to their program, wanting nothing more to train the daughter of the man who taught him how to "set the tone". He makes it a point to pester the stoically patient Banfield about it. No promises, but it looks like Rachel could be a good candidate.
A very pregnant lady gets brought in and that little storyline is filled with both joy and a bit of tragedy, like so many storylines on the show have been. Julia, Carter and Brenner take point and while the kids make it out alright enough (one healthy, one with some complications which land her in the NICU), mum unfortunately doesn't pull through.
Meanwhile Carter is also busy with his clinic's opening, which gives a good excuse to have some old faces that have inspired and taught John to be the doctor he is pop in. Kerry, Susan and Peter (with Reese) are all there for support.
Archie shows up for his night shift again, and takes care of a bride and her mother-in-law who got into a scuffle at the wedding reception, while Sam and Tony help an elderly couple as the wife slowly passes on. Also the altered lady from earlier that morning gets brought back in and falls back into Archie's care again.
On the personal front Tony, being shook by the alcohol poising case earlier, worries about Sarah and reassures her he will always come to her rescue; all she needs to do is ask. Also he and Alex give Sam the car they've been working on for her birthday, and all looks like these two might be in it for the long haul. Carter reaches out to Kem who shows up at the clinic opening, never giving up hope on their trying to save their marriage. She promises him breakfast, and the possibility of a "maybe" lingers which is enough for John. The old crew reconnect over drinks (full grown Rachel in tow). Peter and Elizabeth get to flirt a bit. Lastly Julia questions her ability to do the job after she loses the pregnant mum, but Brenner does a decent job of mentoring and tells her what she needs to hear to pull through.
The shift ends as people sit around reception, trading stories while Rachel listens intently and with interest. Alarms go off, major trauma incoming, and everyone rallies to the bay. One by one ambulances pile in, and they all get to work, not missing a beat. As we see Carter go through the doors for the last time he calls after Rachel: "Dr.Green, are you coming?" She doesn't need to be told twice.
For my money what makes
And in the End...
so special as a series finale is that if you break it down it actually isn't that special of an episode at all.
Yes, there are the necessary cameos, from so many of the OG crew and other true veterans of the whole show. Of course there are callbacks galore, and I'm talking well beyond Rachel's personal tour of the ER by John being earily similar to Carter's by Peter (with a lot more warmth obviously), or the "Dr.Green, are you coming?" full circle moment; because if you think I didn't notice smaller stuff like the confirmation that Frank was indeed that same cop Carter treated on his first day on the job you are mistaken. And making sure to get in references and a nod or two to more than a few key episodes and moments of the show's history also didn't go amiss; from the opening with Archie being a practical copy of the show's first ever shot with Lydia waking up Mark the same way 15 years prior, to parts of Kara Buono's storyline bringing back some Love Labour's Lost flashbacks.
But those are some checkmarks that merrily remind you this is in fact an event episode. Because the episode in itself? It's just another day in this crazy ER, with these people we all know and love and trust to keep us healthy, safe and alive.
In a lot of ways it felt just as much a beginning as it was an ending. The fact that in structure the finale is as close to the pilot as the show's ever been, only works in driving the point home further (For the record I felt this way even as I was watching it for the first time back in 2009). I recall, as the full score of the title credits played, and the hospital came into full view for the first time in 15 years, thinking: "I can follow Julia and Rachel do this for another 15 years". And I could have... I happily would watch timid Julia grow into the same kind of badass doctor Carter did. I would have loved to see Rachel try and live up to Mark's legacy.
I retrospect though, I have come to realise that was the point of the episode; to prove to the audience that just because the credits rolled and the show faded to black for good that doesn't mean the stories of these people have. Lives will always be at stake and they will always step up. And I can tell you, it worked. Because even 11 years later I don't doubt for a second, that hospital is still standing, and those nurses and doctors are still at it... And I don't need to see it to know it.
More shows should take note.