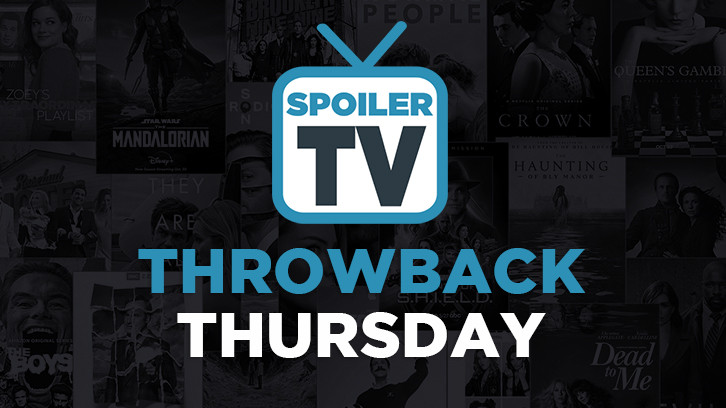 Throwback Thursday is a weekly article in which we look back at our favorite TV episodes from the past.

For this week's episode of "Throwback Thursday" I chose one of my favorite episodes of Criminal Minds, "Penelope". I loved the way the Criminal Minds team worked together to solve cases and catch the bad guys, and I loved all the friendships that developed over the show's 15 year run. The BAU always came together when one of their own needed help, and this was especially evident in "Penelope".

"Penelope" is the ninth episode of season three and aired on November 21, 2007. At the end of the previous episode, Penelope Garcia is shot by her date, James Colby Baylor. Garcia is rushed into surgery as the rest of the team gathers in the waiting room. Everyone is worried, and while Garcia does flat line on the table, by some minor miracle she survives.
While everyone else is in the waiting room, they can't reach Morgan. In the previous episode, Morgan and Garcia get into a fight because he worries that Garcia's date may be up to something, and she just wants this guy to like her. He goes to church for the first time in years and turns his phone off. Eventually they do reach him, and he shows up at the hospital upset over his baby girl getting shot and not being there with the rest of the team.
While Hotch and Rossi go investigate (I loved Hotch's leadership and his determination to find the shooter) while the rest of the BAU visits Garcia after she wakes up. They're all worried about her especially Morgan. She tells them it was her date who shot her, and Morgan was right: he wasn't interested in her. I felt awful for Garcia in this scene; she just wanted to believe that this guy liked her. Later she tells Morgan and Reid about her date, and how he shot her. He was so creepy. "I've been thinking about doing this all night."
Internal affairs later orders the BAU to stop investigation the shooting because they think Garcia is a security risk and somehow involved in something that got her shot. They did find an encrypted file on her computer, but that doesn't make her guilty. I loved how JJ and Prentiss stood up for her and were convinced she wasn't connected to Baylor at all.
Garcia comes home from the hospital, and Morgan stays with her to keep her safe. I think one of the reasons why I love this episode is the relationship between Morgan and Garcia. She makes it clear that not many people get to see the inside of her apartment. This shows how much she trusts him, and he wants to protect her. It's a good thing he stayed with her because James Colby Baylor comes back. He kills the police officer stationed outside, and tries to get to Garcia. While Morgan is able to keep her safe, Baylor escapes.
The rest of the team comes over to Garcia's apartment to comfort her, but Rossi loses his patience and wants Garcia to be honest. I felt like he was a little harsh, but I get where he was coming from. He was tired of this guy being ahead of them, and Rossi wanted to catch him once and for all. Garcia reveals she councils victim's families and tags the cases so the FBI knows they're important. She's not authorized to do that, but she really just wanted to help. Garcia has always had a big heart.
After some digging into the cases that Garcia flagged (it was fun to watch Kevin and Garcia go head to head trying to get into her computer system), they discover James Colby Baylor's real name is Jason Clark Battle. He's a deputy and was the first responder on three of the cases. Reid, Morgan, and Prentiss think Battle is an "angel of death": he shoots people so he can save them. Because Garcia flagged the cases of the victim's families, Battle thought she was on to him.
Battle goes to the BAU to get them to remove his cases. Kevin alerts Garcia that he's there, and Morgan calls Hotch to warn him. Hotch and Rossi try to get close to him, but Morgan realizes they need to get slip someone in behind him. He calls JJ, and luckily she's able to shoot and kill him. Garcia feels bad that JJ was put in that position, but JJ's okay.

"You do whatever it takes to protect your family."
The episode ends with Garcia and Kevin finally getting to meet each other. I thought they were adorable.
I really miss the early days of
Criminal Minds
. It's rare to have a show where everyone likes each other and wants the best for everyone. I especially miss the friendships between JJ, Prentiss, and Garcia, and, of course, Morgan and Garcia. Female friendships are rare on television, and even rarer are male/female colleagues that don't actually become romantic. I don't know if I would have minded Morgan and Garcia becoming more than friends, but their relationship was perfect just the way it was.
Did you like "Penelope"? What were some of your favorite episodes of Criminal Minds? I would love to hear. Leave a comment, and let me know!