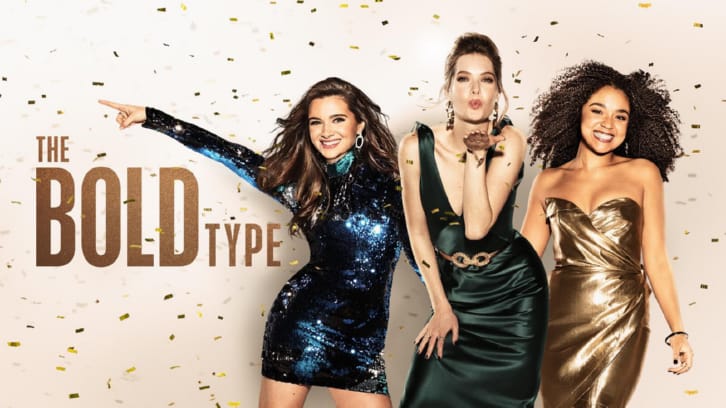 This week on The Bold Type, Sutton goes home, gets drunk, and sleeps with a married man. Afterward, she realizes she does not want to be her mother. Kat tries to tell herself to stay away from Ava, then sleeps with Ava, and then breaks it off. Jane pursues a story that Jacqueline asks her to drop. She realizes it's because one of the accused in the story had a relationship with Ian, Jacqueline's husband. Jane takes this to Jacqueline and they agree to pursue the story, but to make sure it's bulletproof. Alex takes a stand against an internet troll.

What are you doing? Part 1: Let's start with the really bad, shall we? Kat, Kat, Kat… even Jane doesn't get it, which actually makes these writing choices even stranger. The writers seem to have completely lost direction when it comes to Kat Edison. At this point, her storyline is the redemption story of a side character. Even the actress who plays the characters has stated on Instagram that while she tries to stay as true to Kat as she can, even she doesn't stand behind the writing choices in 4B. Which begs the question, what the hell are these writers smoking? Yes, she broke it off with Ava this week. But our Kat Edison would've never gotten involved with her in the first place. And the fact that Jane didn't understand it, makes it even more confusing because that means that the writers know what they're doing. I know that this season was supposed to have 2 more episodes, but I don't see how they would've fixed it in those when the damage is already done.

What are you doing? Part 2: I get that Sutton was hurting. She has every right to be hurt. And I don't care that she got drunk and had a one night stand. And had this been a random guy, that would've been fine. But it wasn't. It was a guy who she knew was married. I don't care how much you're hurting, it does not give you the right to wreck someone else's marriage. And yeah, the guy is the one who did the cheating. But it takes 2, and she should have known better. I expect better from her. Again, I don't know what the writers were thinking. They could've made her have a wake-up call, to not turn into her mother, in a way that did not involve this.
What are you doing? Part 3: I've always admired Jacqueline but I was surprised by her actions this week. Killing a story for how it might look, that's not Jacqueline. I'm glad Jane called her out on it because that seemed to be the push she needed to make the right decision. I was surprised that Ian would even ask this of her and even more surprised that she went along with it. I get that the whole situation surrounding her marriage is a touchy subject for her, especially with her kids involved. I'm guessing they tried to mostly hide their problems from them. But it's unusual for Jacqueline to compromise her beliefs like this. Maybe she's right, maybe her career is coming to an end.
The light in the darkness:
Thank god that they mostly left the storyline with Jane and Scott out of this episode, I don't think I could've handled that on top of everything else. Though Jane seems to be making the right call (I'll believe it when I see it). But I was really impressed by her this week. It really showcased how far she's come since season 1, how much more confident she is in her writing. And I love that her career is growing. Don't ruin it.
Don't let it end like this: So, right now there is no certainty that the show is coming back for a fifth season. But I would be very upset if this show got canceled now because this can't be how the show ends. We did not get 3 and a half great seasons for it to all be ruined in this half. I don't know what is going on in the writers' studio but they need to get their act together and be given the chance to fix this. Because we know they can do better than what 4B has been. Don't get me wrong, it hasn't been all bad. Jane's storyline about how she felt after the double mastectomy has been great. But let's face it, the quality of 4B has not been on the same level as the previous ones. Do better!
Best quotes: Jacqueline: "I am not the future of Scarlet, Jane. You are."
Jane: "I mean, Kat, no offense, but she's kind of toxic."
That's it for this season. Let me know in the comments what you thought of this week's episode.
Please be respectful in the comments, any unnecessary rudeness isn't welcome.