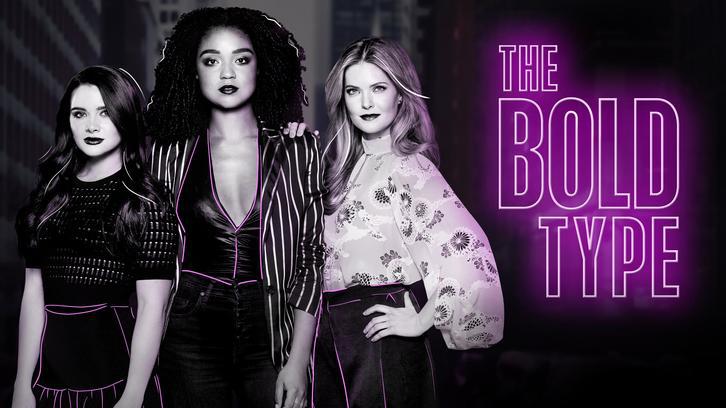 This week on The Bold Type, Scott admits he has feelings for Jane. They are interrupted by a phone call before Jane can respond. Kat makes a move on Ava. Jacqueline and Ian struggle through their problems but she agrees to work on listening more. Alex takes Alicia to Andrew's show and doesn't quite know how to react when a guy starts harassing her. Sutton and Richard argue about her not wanting to have kids. It gets ugly. They briefly make up but then Richard leaves.

The right call: There's been a lot of online discussion about Sutton and Richard's relationship but I think Richard did the right thing this week. Don't get me wrong, I loved them together. But he's right to leave, as much as it sucks to see them both hurting. It would've been worse if he'd stayed. I'm not entirely sure what Sutton thought at the end of the episode, but she had to know that they wouldn't be able to make this work. I think Richard figured that out during his conversation with Jacqueline. Earlier he suggested that he would raise the kid, they could hire a nanny,… but he mentioned to Jacqueline that he grew up with a distant father, that he wanted better for his child. So how can he put his own child through the same thing with Sutton? It wouldn't be right for the kid and it wouldn't be right for Sutton either. But Sutton has to know that if Richard wants kids this badly, not having them just isn't an option for him. He would end up resenting her for it later. Who knows, maybe they'll find their way back to each other years later. But for now, I think this will be the end, and I think that it should be.

Don't do it: I'm glad we didn't see Jane's reaction to what Scott told her because at least now she can give it some thought. But I think she should shut it down. This will only lead to trouble. With all of the articles she's done on subjects like this, she should know better. Everyone thinks it'll be different for them until it isn't. I'm kind of disappointed she didn't shut him down right away. And Kat should not be encouraging this.
Crash and burn: Speaking of Kat, I don't know what is going on with her character in the second half of this season but I'm not a fan. And this relationship, if you can call it that, with Ava is just the last in a line of bad decisions. While I'm proud of her for working her way up at the Belle, it's time she gets her romantic life together as well. She disagrees with Ava on literally everything. And I can understand that opposites attract but what's the point if you can't even have a conversation without wanting to strangle the other person? However much I wish that this wouldn't go past one night, I can already feel that it will.
It takes work: I'm glad that they're showing more of Jacqueline and Ian's marriage. I actually just learned that the actors are married to each other. In contrast to Sutton and Richard's problems, Jacqueline is letting that help with their problems. And yeah, she's always incredibly busy, has probably put works first a bit too much in the past. But she's trying, he's trying and I think that's the most important part right now. I'm glad they are showing us that it takes work, they didn't just magically get back together.
Best quotes: Bartender: "There are all kinds of love. There's forbidden love, first love. There's rekindled love, which can be amazing or terrible, depending on whether you're meant to be together. There's complicated love where you're still trying to figure each other out. And then there's unconditional love, which it sounds like you have."
K
at: "Sutton, hey, it's me. Uhm, I'm really worried, boo. Where you at? Call me. I love you."
That's it for this week. Check in again next week for an all-new review and let me know in the comments what you thought of this week's episode.
Please be respectful in the comments, any unnecessary rudeness isn't welcome.