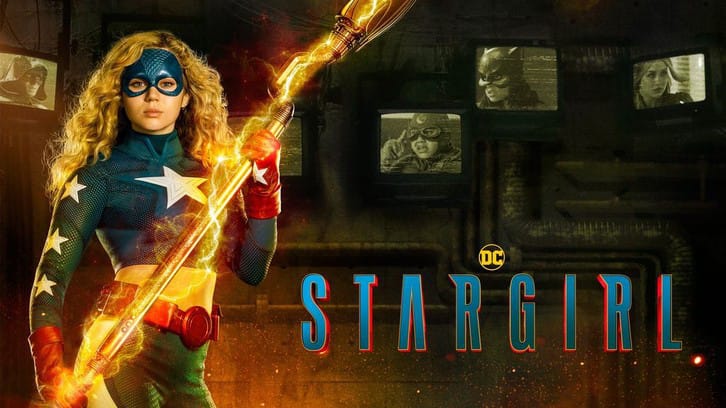 Another week, another fantastic Stargirl episode. Really, these past few installments have been consistently solid, as the series begins building to an undoubtedly huge finale. I know we've still got a few episodes left until then, but I felt I needed to point out how great this show's first season has been.


The main thrust of this episode was Henry fully understanding just who his father is, what he's capable of, and what his overall disposition is. The VHS tape collection was a cool way for him to find out about this, and Christopher James Baker gave an outstanding performance as we saw Henry Sr. slowly descend into villainy through the recordings. Jake Austin Walker also gave a great performance here as Henry Jr. He portrays the character's internal conflict quite well. On that point, the verdict is still out on rather or not he's going to fully join the JSA or go full-on dark side, and I quite like that added tension.
Speaking of tension, continuing from last week, this week's episode amped the intensity up a major-notch. The strife going on between the JSA members continued to build, as Courtney's suggestion to try and recruit Henry into the team was met by some obvious backlash. It's one of those situations where you can see both sides of the argument quite clearly, as what he did to Yolanda was beyond horrible and understandably she doesn't want to be near him. On the other hand, his powers would help out the team in a big way, and if they don't convince him to join, he will likely be recruited by the ISA and hurt more people (especially considering how supposedly important he is to Dragon King's machine). Looks like by the end of the next episode we'll get a better idea of where he and the team stand going forward.
The other major plot that added to the overall "tense" nature of the episode was the one surrounding Jordan's (aka Icicle's) visit to the Whitmore residence. It's the classic "villain visits home without anybody/most people not knowing he/she is the villain", for a lack of better term (a great example is Arrow's "The Promise" from Season 2 and a kind of altered version in Peter's visit to Vulture's home in
Spider-Man: Homecoming)
. Courtney was very clever here by giving Jordan a scolding hot pot, confirming her suspicions of who he really is. Of course, Jordan's son being Cameron, the guy who's crushing on Court, makes things even more complicated. It would be quite a surprising twist if he turns out to be in on everything too, but I'm holding out hope he's a good guy. I'd also liked to point out that the grandparents (who are Norwegian, not Russian like I thought early on) were very sketchy, especially with that "prayer" they did with Jordan.
Another big development on the ISA front is that we finally have a better idea of what "Project America" entails. Dragon King intends on using his machine to amplify Henry Sr. or Jr.'s powers to essentially mind control all the citizens of Nebraska and the surrounding five states. That way, the ISA will be able to successfully establish their "New America".
The final two big moments were Henry Jr. killing the lawyer, waking up his father from his coma, and Barbara finding out the truth about Courtney and Pat. The next episode should be a doozy.
Some of the other noteworthy moments scattered throughout the episode:
- Yolanda's "visit" to Henry
- Cindy apparently killed her mother, cementing her as demented
- Janitor seeing the staff in his hand was kinda random but was a cool surprise moment
- The "Other Founding Fathers" is a cool concept that ties the ISA's origins even further back than we all thought.
- Seven Soldiers Of Victory being revealed was cool and makes the "Shining Knight" episode title make a lot more sense now