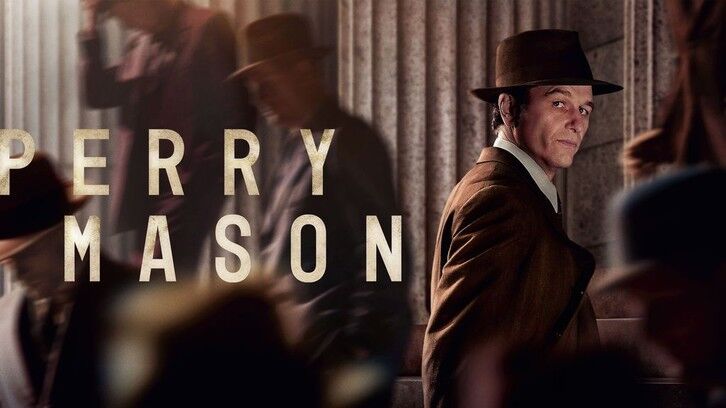 1.05 - "Chapter Five"
Written by Eleanor Burgess
Directed by Deniz Gamze Ergüven
Reviewed by KathM

This week's episode begins as one attorney's career ends and another begins, but it's also about family. Particularly, parents and children.
I am not sure I'll ever forgive E.B. for killing himself in such a way, knowing Della would find him. She ropes Perry into a scheme to have E.B. 's death looks like an ordinary, died-in-his-sleep thing, which involves carrying him up to his bedroom and Della dressing him in his pajamas and tucking him in. Her deception to the insurance company passes muster and it looks like E.B. 's debts will be settled, with at least a bit left over for Perry and Della to take him home up north to be buried in his family's crypt.
They arrive at the cemetery to find E.B's son (Ian Lithgow, John Lithgow's son, who sounds exactly like him and it's creepy.) the only one in attendance. His wife is at home and his children are at school, he explains cooly. Although his father had pictures of his family E.B. never talked about them, did he? Well, the Johnson's never talked about him, either. And that is that. So, not an ideal parental figure.
As they drink to their mentor Perry learns a bit more about Della. He was right, she did come from money, but she explains what when she was 25 she "ran away from home", from the fiancée she didn't love and the father who wouldn't let her go to college. She struck on her own and started working for E.B., and the rest is history. They toast crappy fathers.
In the morning Della finds that Perry has checked out of the hotel, and we see that he has hitched a ride on a truck of Chinese farmworkers to the town where his wife and son are living. Linda, the former Mrs. Mason, lives with their son Teddy, her sister and brother-in-law in a nice house with a large yard. While Linda's sister isn't too pleased to see hung-over, unshaven Perry darkens her door, Linda listens as he explains that E.B. died and he'd just like to spend some time with his son. Refusing the opportunity to freshen up he goes around back where Teddy is playing and his son rushes into his arms. He later says that he'd like to bring Teddy to the farm for a visit since Linda told him that his father was a farmer. Well, Linda, says, she can't tell him what Perry does because she's not sure what it is, and it sounds shady at best. Perry's supposed to send checks and remember Christmas and birthdays and he can't even manage to do that, she reminds him, then tells him he isn't welcome to stay for the noon meal.
Back in the City of Angels, Sister Alice is helping count money with Birdy and some of the Elders. She is excited by all of the letters of support and cash she's getting, it proves to her that everyone was wrong and her Believers support her. Birdy can't agree and reads a pointedly unpleasant letter to her daughter about someone wanting to stake her down on the ground and pour honey over her for the ants to devour. But Alice will not be defeated. She wants her return to public preaching to be a healing, just like the ones she and Birdy used to do when they traveled around the country and held revival shows in tents. Birdy says no; healings don't play well on the radio. They glare at one another across the table, and eventually Birdy lets her have her way. It won't be a success, but at least Sister Alice will be back in the public eye where she belongs. Oh, and Alice wants to borrow $25,000 from the church coffers to bail Emily Dodson out of jail. I'm sorry, what?
Alice gets her way by threatening to fire her motherand Emily is expediently deposited at Villa McKeegan (Birdy and Alice have a last name!). She has no reason to run when she can sleep on Alice's comfy mattress (Alice had it moved from her room to Ellen's) and covertly visit her son's grave. She'll also be front and center on the dais when Sister Alice makes her return, which horrifies Birdy.
I think Paul Drake will be a good dad. In this episode, he listens as his reverend preaches politics to his congregation, talking about the evils of segregation. This piques Paul's interest, but his Mrs. thinks there is no point in trying to fight change when it won't happen. Paul grits his teeth to his wife's friends and says he agrees with her. Later that week, however, their time on Santa Monica Beach is cut short by racist policemen who threaten to throw their things in the water if they don't leave. It's not just Paul and his wife, though; all of the other beachgoers are "colored", too. In bed that night as Paul is tossing and turning his wife wants to know if he's thinking over quitting the police and joining his friend in his trucking business. No, he's a policeman, no matter how badly the Santa Monica officers treated him. His wife rubs her belly, then snuggles into her husband. "You do what you need to do, however you need to do it, and I'll be right there next to you." She murmurs. For himself, and for his family, I'll be interested to see where his desire for racial equality leads him. And Lucy is a cute name for a girl.
Back at Alice and Birdy's, it is no surprise that Emily has been given an awful lawyer, whose main interest is the yummy cake someone backed for his arrival. He leafs through the sheaf of papers E.B. had left with notes on Emily's defense and doesn't look hopeful. When he's done spreading doom he heads over to E.B.'s office, which is paid up until the end of the month and nags Della about where E.B.'s files on the Dodson murder are. Della, who is on the phone desperately calling more competent lawyers to try to get them to take Emily's case, say's that's all they have, especially once she finds out by listening in over the phone that Dillon is in cahoots with D.A. Barnes. Yeah, there's no evidence until she gets home, at which time she schleps a huge box of notes and evidence and interviews on the cast and pushes it under her bed. The girlfriend wants to help, but Della wants to do this on her own. Well, on her own with Perry. Fresh from threatening Dillon at E.B. 's office (heavy books are also thrown, for example), Mason stumbles into Della's rooming house and talks to her about how awful this all is, and how obvious it is that Emily is innocent. "Ladies and Gentlemen of the jury…" he rants, after giving Della's landlord some of his whiskey so she won't complain about the noise. Della watches him closely, thinking. Then she begins typing furiously, signing the document with E.B.'s signature, and presenting it to Perry. He's stunned.
Sister Alice's return is glorious, the church is filled to bursting with Believers and the healing goes down like a house on fire. It isn't a real healing, she just intimidates a guy in a wheelchair to stand up with loads of help and proclaim to the screaming crowd that he's been "healed", but it works.
Birdy goes outside to watch Former Elder Brown shouting about Alice's blaspheming, complete with a small coterie of followers all carrying baby dolls whose eyes are stitched up. Lovely. Birdy goes inside and watches her daughter from a balcony, shaking her head before walking away. Emily Dodson is front and center in Elder Brown's former chair, screaming that she believes with tears in her eyes.
So, here we go. I was wondering how they were going to turn Perry the P.I. into Perry Mason, Attorney at Law. The letter Della presents to Ellen and Alice is "proof" of an "apprenticeship" that Perry has been undertaking with E.B. for years. Once he passes the Bar he'll be a real lawyer and can defend Emily in court. He is one of the only ones who believe in her unreservedly and Emily accepts him as her lawyer. But how is Perry going to pass the Bar exam? No worries, Della has a friend who can tutor him, he's Yale-trained and oh, happens to be the Assistant D.A. His name is Hamilton Burger. So, Perry wants to pass the bar and Burger wants Barnes's job. If Perry can pass the bar and humiliate Barnes so he'll resign or get fired and Burger gets his job, everyone will be happy. The only thing is, Perry has to win.
And as you watch him cleanly shaved and in a smart suit that may or may not have come off a dead body and taking the oath one takes after passing the Bar to practice law in California, you believe he might be able to pull it off. The game is officially on.

Random thoughts…
Is Hamilton the fiancee Della left behind?
Will Sister Alice make a runner before she has to "resurrect" Charlie? Amy Semple McPherson, who Sister Alice is based on, faked her own kidnapping (in my opinion) and people actually thought she was dead because she was last seen on the Santa Monica Pier. She seems to realize that she's gotten in over her head with this whole thing and may need a way out.
Okay, this is completely out there, but is Alice somehow grooming Emily to take her place? That would be interesting, the soiled purported murderess redeemed by her exoneration and full of the Holy Spirit, now moved to preach. I doubt it, but it sounds like it would be a great way to take the plot.
Why does Della's girlfriend wear gloves? I'm torn between hand model and just eccentric. Maybe both.
I really want to see how they handle Paul's character. Will he quit or be fired from the force? Join Perry at his "firm"? What would he do there? In the 1930's I'm not sure what his professional options are.