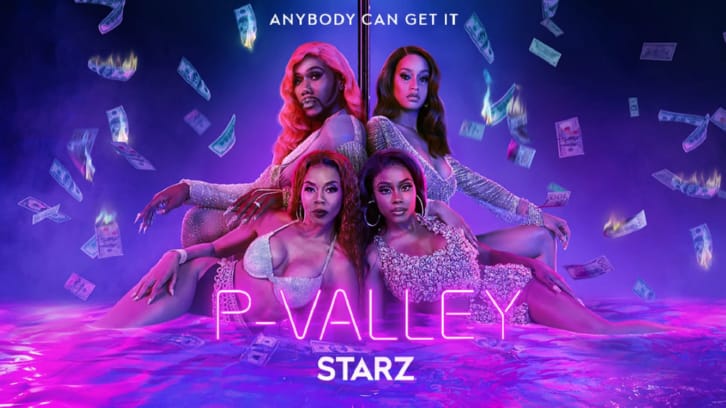 Season 2 will have 10 Episodes


STARZ MAKES IT RAIN FOR GLOBAL HIT "P-VALLEY" AS IT RETURNS TO CENTER STAGE FOR A SECOND SEASON
Breakout Series from Creator and Showrunner Katori Hall Sets New Viewership Record on the STARZ App for Premiere and Earns Week over Week Growth
Certified Fresh with 100% on Rotten Tomatoes
"The show understands the dreams and challenges of its captivating characters the way an exotic dancer knows the physics of her own body. And when it takes the stage and gets in the zone, it positively flies." - The New York Times
"P-Valley is an unadulterated, unfiltered work that pours light into a specific slice of the Black experience - one that, from the outset, may not seem particularly artful or elegant - and turns it into an achingly beautiful song." - TV Guide
Santa Monica, Calif., July 27, 2020 - Starz, a Lionsgate company (NYSE: LGF.A, LGF.B), announced today it has greenlit a second season for its new breakout series "P-Valley" from creator and showrunner Katori Hall after setting a new record on the STARZ App for most viewed series premiere at 17% above the previous high. The series has also demonstrated incredible momentum, growing its viewership on the STARZ App by 37% from episodes 101 to 103. To date, "P-Valley" ranks #1 among 2020's new premium series with African American viewers (L+3, P2+ 262K) and is in the Top 5 of all premium series among African American households.
"'P-Valley' has quickly become this summer's newest must-see television series as critics and audiences alike are taken up by the authentic and compelling characters that make The Pynk come alive," said Christina Davis, president of original programming. "Katori has delivered a provocative drama that looks beyond the glitz and into the hearts and minds of these fully realized and compelling characters, exploring them through a female gaze that invites the audience to take a walk in their stilettos. We know Katori has a lot of incredible stories to tell and a lot in store for these women in a second season."
"P-Valley" is the latest series on STARZ that exemplifies the network's commitment to amplifying diverse voices and spotlighting stories that reflect a full spectrum of women both in front of and behind the camera. Led by first-time showrunner Katori Hall, the first season of "P-Valley" also featured all female directors. "P-Valley" is available on the STARZ app, On Demand and on STARZ in the U.S. and Canada and day and date on the Starzplay international streaming service across Europe, Latin America and Japan.