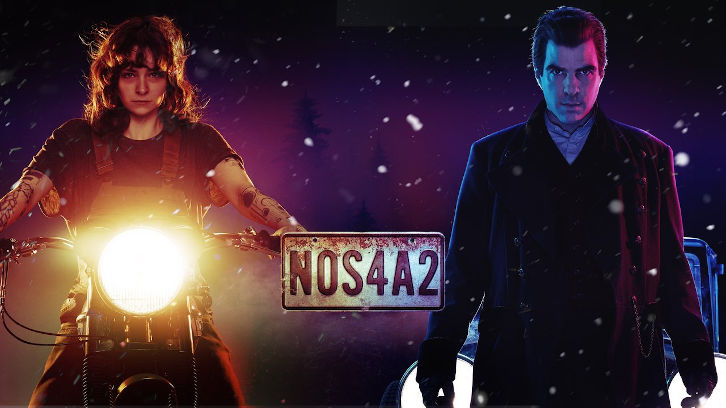 CAUTION: SPOILERS WILL BE REVEALED. PLEASE DON'T READ IF YOU HAVEN'T VIEWED
NOS4A2
2x06 The Hourglass yet!
Watching Maggie's character progress has been one of the more compelling non-supernatural elements of the second season AMC's
NOS4A2
for me. Even though she has not been featured in every episode this season so far, I feel she is becoming the show's MVP for me. This is why I was so pleased that this episode focused on her so much. Her backstory is that she felt alone and isolated her entire upbringing. I am guessing this is why she clings on to her friendship with Vic so much, even though Vic seems to be more trouble than she is worth lately.
After seeing what Jonathan compelled the doctor to do in the beginning of the episode, I was surprised Maggie had to initiative to go after him the way that she did, let alone seemingly dispatch him. Of course, I don't completely believe that Jonathan is really dead. He was only introduced a few episodes ago and we horror viewers all know that is Rule 101 of horror that characters are almost never really dead until we get an entire episode-long origin story on them. I am guessing Jonathan will have his revenge against Maggie somehow and it will involve his beloved hourglass that she broke before the season finale. It is fascinating how Maggie seems to personify the physical price that must be paid to use one's creative abilities on this show more than Vic or Charlie. Even Maggie's victory over Jonathan here comes at a price in spite of his physical superiority over her. I enjoyed how Jonathan's over confidence in his abilities is no match for being fated to have an early demise, even if it might not be a permanent one. No matter how powerful we think of ourselves as, we are all slaves to time's own hourglass and only have so much dust to play around with. Power is seductive, but overcoming the fear of it is the real conflict I am seeing here.
I see why they say that having a relationship with an ordinary person is difficult, but Maggie and Tabitha have somehow made it work out for now. I know Maggie mentioned "Girl trouble," but you have the feeling that it may not last. They have a real partnership, not just TV romance for the sake of diversity. I hope the rest of the season builds upon that character trait.
Of course, another highlight of this episode was Vic's mother, Lin (Virginia Kull) suggesting a psychiatric evaluation. Again, ordinary people seem to have a problem dealing with creative people's abilities in this story. I found it interesting that Chris can accept his daughter's abilities, but Lin has such a hard time believing Vic is more than what she seems. It was a smart choice to have Lin finally come to accept the existence of these abilities, even though it might seem she did since trying to have her daughter put into a psych ward wouldn't look good in the eyes of the FBI.
Speaking of the "Failed, Bad, and Incompetent" (according to Lin) organization, they don't get much of a fair shake in this episode since they take Tabitha off of the Bing Partridge case, even though she sacrificed her own health (broken arm) for them and she's also the only reason any of them have gotten close to Bing or Charlie, leaving Charlie relatively resistance-free (also since Vic's Triumph is broken) to take Wayne where ever he wants to to go to Christmasland.
And speaking of time, both metaphoric and literal, being relative in this story, we see that Wayne doesn't have much precious time to save himself since his human teeth are starting to fall out, but we still have a few episodes in the season left, so the feeling he could still escape is very much in the air. I also appreciated the scenes where Wayne speaks to the spirit of his father, Craig, in the Wraith. It gave the episode an additional texture I wasn't sure it would go for. I am guessing seeing his father will give Wayne the strength to not surrender his humanity so easily. Will Craig have the ability to stifle Charlie's magical abilities that he couldn't have in life? Or maybe contact Vic physically to tell her what is going on with Wayne? Only time will tell.
It was also only a matter of time before Bing decided to have his vengeance on Charlie for abandoning him in the last episode. I didn't think it would happen so quickly, but am glad the writers still have use for him this season. Will Charlie continue to be so cocky with Bing's torture/revenge freshly plan on his mind now? Only time will, well, you can probably guess.