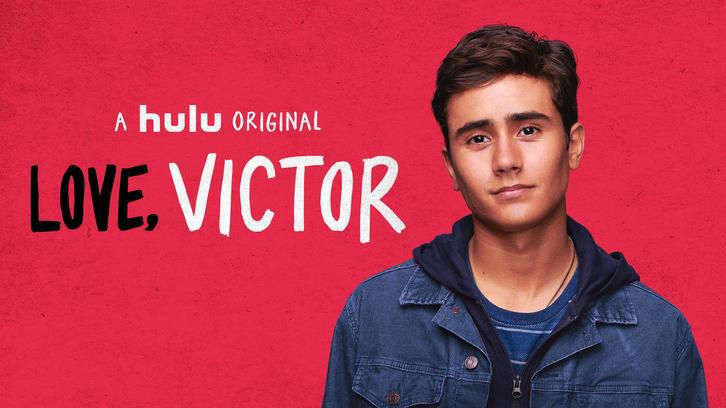 Here we are! It's the penultimate episode. We want a Season 2, right?

The episode opens with Victor scrolling through pictures of his time in NY. I can't believe he got away with leaving town.

Victor calls Felix on the walkie from episode 1. It's a cute little callback to the beginning of their friendship and serves as a reminder of how close they've become. When they meet outside, Victor is wearing Simon's jacket. It's his superhero cape or coat of many colors. Those are the same thing, right? Dolly's coat not the Bible's. This is Victor's moment, but he needs Felix to turn away from him so he doesn't lose his nerve. Once he tells Felix he's into guys, Felix hugs him and says he doesn't know the perfect thing to say but he's happy he told him and it changes nothing between them. Let me say it again, Felix deserves the whole world. Oh, and Victor confesses that he kissed Benji.

It's the first day of piano lessons. Seems like it would be cause for celebration, the person you love doing what they love, but jealousy rears its ugly head. Armando simply can't wish Isabel a great day. He decides to interrogate her about her students. I truly get Armando's insecurity, but this can't continue. They need to make some choices, and those decisions might hurt, but the state of their relationship has to hurt more.
Spring Fling is on the horizon. How is it spring? Anyway, Felix wants to ask his not girlfriend, Lake, to the dance. Victor, who from all the available evidence sucks at relationships, gives Felix some advice about Lake. As far as advice goes, it's good advice, but we all know Lake is going to say to no to Felix. Lake wants Felix the way she wants him, and her telling Mia in the last episode was neither concession nor growth. It was a bone. A mangled bone that a dog used for a few hours. As you might be able to tell, I am highly displeased by this "relationship."
Victor plans to tell Mia the truth privately. Felix gives him a little push towards Mia in the school hallway. When he approaches Mia, she isn't exactly happy to see him, and no one blames her for that. He's been a pretty crappy boyfriend, and he knows it, so he apologizes. Mia lets the audience in on a little accepted truth—apologizing doesn't mean the other person has to forgive you. There should be no expectation with your apology. She does forgive him though, and they make plans. Harold and Veronica are going to a concert, so they'll have the house to themselves.
Felix and Lake are back in the closet. Shocking. Come on, Felix! Felix brings up the dance. Lake doesn't want to go to the dance, and she uses his hormones and lack of executive functioning to distract him. Her bedroom. No parents. The dysfunction.
Benji is transferring coffee shops. He has a bit of an attitude. I'm not feeling it. Correct, Benji, your relationship with Derek isn't perfect. In fact, it actually sucks, and he's a jerk to you. Also this narrative about just Victor doing to the kissing needs to stop. Victor started it, but Benji participated. Why is Benji acting like he was pinned to a wall and Victor forced kisses upon him? I know it's his guilt. I know it's because Benji realizes the attraction is mutual, but changing locations is a wee bit dramatic. I'm frustrated at this attempt to rewrite the history between them. The song, Benji. The drawing, Benji. The heart eyes, Benji. The ignoring your boyfriend's call, Benji. And the kiss, Benji!
Lake's mom comes home early, so Felix hides under the bed. Mom sees Felix's "boy bag." What does that even mean? Boy bag? What's a boy bag? Lake's mom is a caricature. Overbearing, image and status obsessed. She takes potshots at Lake about her weight, her grades, her clothes, and her body. This was brutal. I love that they touched on body shaming though, and it gives us a closer look at what makes Lake tick, which her character needed. I still want Felix to be done with her, but this was a good moment.
Simon comes through with some advice for Victor: "rip the gay band aid off" when it comes to telling Mia, and write Benji a letter that apologizes and explains. Simon has some experience with pissing off friends. Victor writes the letter, and I'm still not okay with this rewritten history where it was all Victor's fault.
Armando sees a man leave the apartment and flips out. Then a little boy emerges from the bathroom. We all knew the man was a dad, right? We also knew Armando was going to jump to conclusions. Did they just move or have they explored therapy? They can't keep going like this.
Just as Victor gears up to tell Mia, Harold and Veronica arrive. Detective Mia is at it again. Water, no sushi, hands over stomach - Veronica's pregnant. Mia's right this time though. Also, they're getting married. Mia is floored and unhappy. She must feel like she's losing everything, her mother and now her father. This baby needs every hug.
Lake is so embarrassed by what her mother says that she just wants Felix to leave, but he brings Lake to his apartment. His mom suffers from depression and part of its manifestation is through hoarding. Felix lets her into his life because he wants Lake to know that where he lives is not a reflection of who he is. Just like the way her mom sees her isn't a reflection of who she is. Feeling they've deepened their connection, Felix once again shoots his shot with Lake. He wants them to go to the dance. She turns him down again, admitting that she cares too much what people think. Felix stands up for himself and ends things. This is character development and growth. He keeps learning and growing. He's a beautifully written character, and the show's constant winner.
Victor finds Mia in her room. It seems to be her safe space. As suspected, she feels like her dad is moving on and leaving her behind. Victor tells her that she is her dad's "whole world." Once Mia kisses him, you can see in the sag of Victor's shoulders. There was no way he was going to tell her after the day she had. This is an understandable choice, but I don't think it's going to save anyone from heartache in the end.
Things are tense at the Salazar's. Armando wants Isabel to stop with the piano lessons, but she's tired of being the family punching bag. Armando's big secret is not big or surprising. And not affair level. He beat up his boss. Shrug. Violence is never okay, but I'm not going to pretend like I don't get it. As evolved as we think we are, impulse and emotion are still our primary currency. Isabel says Armando beating Roger is why they moved, but if she hadn't cheated he wouldn't have beat up Roger, and if he hadn't . . . and on it goes. Her logic is beyond flawed, a questionable cause fallacy. Truth is, they both look bad. Victor walks in on them fighting and tells them he's over it, and they make home feel crappy. He wants them to fix their messy mess. I'm not so sure Victor is going to like the way they fix their mess of a marriage, but he's right. No one wants to grow up in a house with a collapsing foundation.
Remember the note Victor wrote to Benji? Well, Pilar finds it. Then she reads it. Boo, Pilar. And borrowing from Lucifer's playbook she speaks the title of the episode.
How will it all end? It's all very much Willy Wonka's "Wondrous Boat Ride" at the moment, but I have some pretty solid guesses about how all our friends end season 1. What about you?