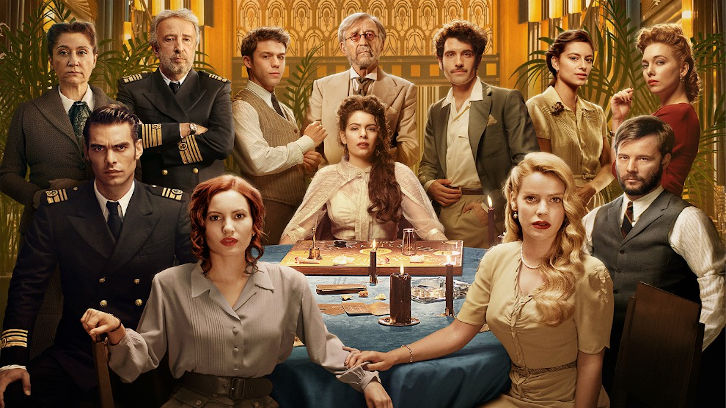 Note: This show was originally released in November 2019, however I am just watching it now. You are free to unleash spoilers in the comments with spoiler tags.

Ignorance is allegedly bliss, and the vast majority of the Bárbara de Braganza's passengers remain blissfully ignorant of the drama unfolding on the voyage. For everyone else, there's a proposal, a seance, and plenty of atrocious behavior. This review covers the third and fourth episodes of season two, Is Anybody There and Change Hands. What I want your main takeaway to be is that we should all be Team Casandra. It's clear that her presence on board the ship is likely part of some master plan to get justice for Rosa Marín, and, while she is definitely manipulating more than one person, her motives are certainly empathetic. (It seems like Rosa could have been either her sister or lover; I lean more towards sister because Casandra seems very sensitive to Carolina and Eva's bond and doesn't try to drive a wedge between them). Claudia Traisac's performance is perfect as well; Casandra's charismatic power comes across as natural and believable. Casandra's first interaction with Captain Aguire is genuinely kind, and we know that her later suggestion that he increase security on the ship can't be a bad thing, with Carlos and Sofia still cooking up plots. The best part (nearly the only good part) of the season is the chilly power struggle between Eva and Casandra, which evolves memorably.

After Carolina reports seeing the bloody ghost on her bed, Eva worries for her sister's sanity, only to see a vision of the ghost herself. Eva takes a refreshing, practical view of the situation. She believes Casandra to be faking the ghost but considers that Casandra wouldn't be doing so without a purpose. Conducting her own investigation, Eva uncovers the details of Rosa going missing two years earlier in the same city where the
Bárbara de Braganza
was being renovated. It's an exciting development for Eva to team up with Caroline and Casandra to uncover the truth. In a significantly messier turn of events, Fernando apparently had an affair with Rosa while he was engaged to Carolina. We learn that Fernando funded the search for Rosa, but it's clear that he's the number one suspect in Casandra's book. What this news will mean for his marriage to Carolina is even harder to interpret, considering that Casandra is either seducing and/or falling in love with Carolina. No one seems immune to Casandra's power. She even breaks up a fight in third class and restores peace by reminding everyone that the ship was already having problems before Casandra's group was rescued. ("Rescued" in air quotes because it's very unclear what really happened to the Elizabeth, if it ever existed and if it even had an accident). Someone isn't a fan, however, as the second episode ends with Casandra being knocked out.
While the Villanueva sisters handle the murder mystery, nearly everyone else onboard is having way less fun. Sofia appears to successfully persuade Doctor Rojas to join her and Carlos's latest plot. It's an eyeroll moment, even more so because Rojas makes it painfully obvious what he's doing. Dimas finds himself in a world of misery when he uncovers the truth about Sebastian's financial situation, including the fact that he was cheated out of his patent. A drunk Dimas interrupts Sebastian and Veronica's engagement announcement to share this information with the general public. Veronica angrily throws her (tiny) ring on the ground and runs after Dimas, but I didn't give much credit to her statement about not marrying Sebastian for his money. I do give her credit for immediately ditching him, although I wonder if that's a permanent choice. That being said, Sebastian's proposal to Veronica was a genuinely cute moment that makes me think he might still end up doing right by Dimas.
Natalia and Pierre are going straight to hell. Clara is definitely dying first, as after a series of mini crises, Natalia and Varela decide to team up to place all the blame on Clara. Natalia also acts on her attraction to Pierre, with his full participation; it's left unclear if that moment was staged by Natalia to be witnessed by Clara or if the unfortunate latter just happened upon it, but it doesn't really matter. The show's treatment of Clara continues to be both dated and abominable. It's a shame, because there was surely another way to develop Natalia as a villainous antagonist. Her unholy alliance with Varela continues when the detective reveals dirt on Fernando. Apparently, the corrupt security officer was the lead on Rosa's missing persons case, and he knows all about her connection to Fernando. If she wasn't indirectly murdering Clara, I would root for Natalia to prevail. She even has the best line reading of these two episodes with her disdainful "Don't tell me your story, Varela. It's not interesting."
Is Anybody There?
was the best episode of the season so far, not that the bar is particularly high. Casandra's agenda continues to drive the most interesting interactions. Nicolás largely takes a back seat in these episodes, but he finally replies to his wife's telegram, while also keeping his distance from Eva. We do see Eva loving up elsewhere, but it's drinking a swig of beer not courting a new beau. (Ivana Baquero absolutely sold that lighthearted moment. I wanted a beer too, and I don't even like beer). There's also a very curious shot of Fernando standing at the rail of the ship that feels like foreshadowing. Considering season one began with someone faking a fall, could season two end with someone actually taking the plunge?