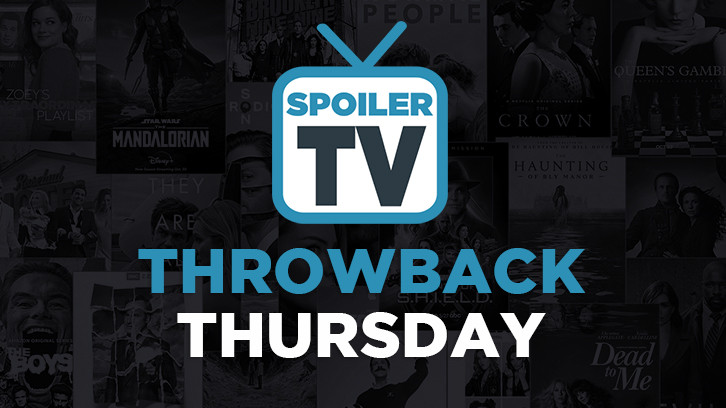 Throwback Thursday is a weekly article in which we look back at our favorite TV episodes from the past.

How do you feel about a teen drama with a side of aliens? If that sounds like your thing,
Roswell
, a series developed, produced, and co-written by Jason Katims (
Friday Night Lights
,
Parenthood
) served up all the teen angst you could handle but with aliens. It ran from 1999 to 2002 on the now defunct
WB
and
UPN
networks. For this week's
Throwback Thursday
, I thought we'd take a look at "Sexual Healing," the 16th episode of Season 1. The title is not at all subtle, so we know where this is going.
I recommend reading everything that follows while Dido's "Here with Me" plays softly in the background.
Let's start with a brief overview of the show's premise. Three attractive high school students are actually aliens that survived the 1947 UFO Crash. They feel like keeping this a secret is a matter of life or dissection. All is well until Max Evans (Jason Behr), the de facto leader, breaks free from his self-imposed vanilla existence to save the girl of his dreams, Liz Parker (Shiri Appleby). And by save I mean resurrect. In public. He didn't really think things through, like bullet holes and blood and witnesses, so the aliens are in a bit of a pickle, but what does that matter when true love is on the line. So begins the series and our tale of teen angst, government conspiracies, and star crossed love . . . but with aliens.
Appropriately enough, "Sexual Healing" begins with Liz having sexy dreams while working at her family's diner. She's dreaming about her ex-almost never boyfriend, Max, walking into the girl's locker room while she's showering. As fate would have it, he actually walks into the diner and the fuzzy fantasy sequence is interrupted. No worries though because the writers know what the viewers want and under the guise of apologizing for his drunken behavior in the previous episode, where he broke up with Liz for the 67th time, they get sexy in the diner's industrial kitchen. Based on the plump, juicy strawberries falling to the floor and Liz's moans, it's clear all is forgiven.
This could have been a throwaway moment but it connects back to the episode's opening—beeping coming from somewhere deep in the desert of Roswell. What's the connection? Well, Liz isn't just into their tabletop shenanigans for the pleasure of it all. In fact, Liz and Max's up close and personal time sends her hurtling through space. She sees stars. As logic would have it, the future Nobel Prize winner realizes that she's seeing visions of the crash and more sexy times are in order, and that's just what happens. There are sexy times during science class. There are sexy times during detention. There are sexy times in Michael's apartment. There are sexy times on Liz's roof. There are sexy times in the desert. There are sexy times in a jeep.
They never do the sex in the episode because the kissing and touching and more has led them to the desert and an old radio tower. Just as they've unrolled the blanket ready to take the final plunge, the beeping starts and they run to dig up whatever alien mystery awaits. After a few minutes of digging, a bright beam of light rises from the ground. It's high enough to make air traffic control and any amateur astronomer with an okay telescope suspicious. Once the glowing subsides they discover a smooth, dark rock with an alien symbol carved into it. And we've added another mystery to a show packed with mythology, but our two teens have tired themselves out and fall asleep under the stars.
This episode is brilliant. It literally manufactured 42 minutes of pretty people getting handsy just to give us an alien rock, more questions, and few if any answers. I think that's why I love this episode. It wasn't coy. It gave us something teen shows rarely did—indulgent, sober, consensual, communicative sexual activity with no regrets or consequences. And every drop of it was enthusiastic. Sure they were in search of answers, but I think we all know that was less than 25% of their motivation. Michael (Brenden Fehr) says it best, "Don't make me beg you to do what you and Liz obviously want to do." Amen, sir. There is of course the obligatory parental warnings about sex, but we also get Liz vehemently saying, "this is my body." Agency is beautiful. None of this is to say that parents shouldn't have honest and open conversations about sex with their children because they definitely should.
This episode gave Max and Liz an opportunity to bring the heat instead of their usual starry eyed longing, flowery declarations of love, even more flowery declarations of we can't, and everything else you need to make a slow burn hurt. They were sweet. The heat usually belonged to Michael and Maria (Majandra Delfino). They were all fire. This episode reversed the dynamic. Michael and Maria, after their own attempts to uncover aliens secrets through touch, have an open and honest talk while Max and Liz explore the physical. It was a turning point for both couples. Michael started opening up to Maria until he stopped. Max and Liz were happy and together overcoming the curse of the star crossed lovers everywhere . . . until the very next episode.
Roswell
had everything you needed in the early 2000s. Pretty people. Great chemistry. Star crossed love. A shadowy conspiracy that made sense if you closed one eye and ignored logic. An explanation for the alleged 1947 UFO crash that made sense if you closed both eyes and pretended science was fake. Breakups and makeups and hookups and more breakups. Teenage shenanigans. Throne usurpations. Enemy aliens that loved lotion. Clones. A wildly unpopular love triangle. It was a wild ride that ended far too soon. It had but one fatal flaw. One that can't be ignored in the light of today. It wasn't diverse. Luckily, the reboot,
Roswell, New Mexico
doesn't repeat that particular mistake.
When I heard they planned to reboot the series, my first thought was how dare they. You don't mess with nostalgia. My second thought was, I wonder if they'll fix the Tess problem. My third thought was, I forgot it was happening. Then I came across an image on Instagram and fell back down the rabbit hole. Michael (Michael Vlamis) and Alex (Tyler Blackburn) combine the much too slow burn of Max and Liz with the fire of Michael and Maria. And they've got chemistry for days.
Binge all three seasons of the original, on
Hulu
, for the nostalgia of the 2000s and a cast that clicks then watch the first two seasons of the reboot on
Netflix
for more pretty people and better than okay inclusive diversity.
Best Lines:
Michael:
I got some Chaka Khan cued up in the CD Player.
The Good:
Teenage girls owning their sexuality.