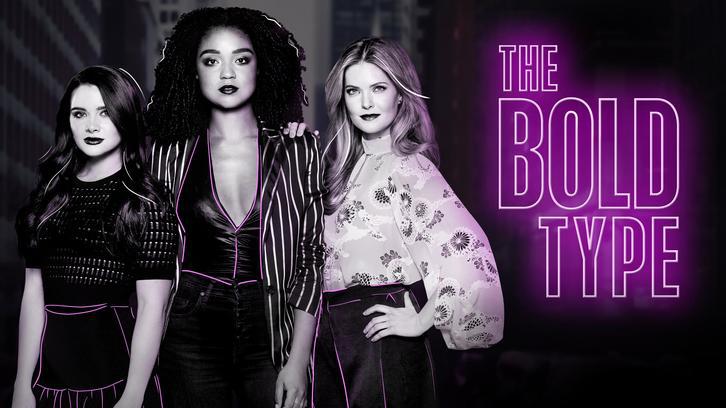 This week on The Bold Type, Sutton tells her friends she's pregnant. There's a blizzard that causes a blackout. Sutton struggles to do her job because of the blackout and she tells Richard how scared she is. Kat gets into it with Ava, RJ's daughter, at The Belle and gets herself fired. She's rehired when Ava sticks up for her. Jane struggles to be a good boss when she has to give Scott notes. Scott pushes back a little but they both realize their mistakes. Oliver gets stuck at work with Carly and his ex. They try to get along for Carly's sake.

Scared is good: So I guess there was no "maybe pregnant" phase. We just went straight to definitely pregnant, which is great. And of course, Sutton is scared. Every new mother is. She didn't have the easiest relationship with her own mother so I think she's probably putting a lot of pressure on herself to do better. Add to that that she has only just started her career and anyone would get stressed out. I'm surprised the living arrangements weren't brought up this week. Honestly, that would be one of my first concerns. Richard did seem very intent on taking care of Sutton. I think he'll have a hard time returning to San Francisco. At this point, after having seen him in this episode, I think he'll move back.

Not as easy as it looks: I really felt for Jane this week. I was once asked at a job interview if I was interested in climbing the ranks. Nope. And this week highlighted exactly why. I really admired Jane for stepping out of her comfort zone and truly becoming a boss. I'm not sure I could do it. To be fair, it helps that she selected a great team. Scott may have pushed back a bit but his heart was in the right place. And I'm glad she went to Jacqueline for advice after all, despite wanting to figure this out on her own. There's no shame in asking for advice when you're doing something new. How else will you learn and grow? I do fear that the writers are going to pair Jane with Scott romantically. I'm not really looking forward to all the work drama that relationship would cause. This is Jane's big shot, I don't want to see it get derailed by romance.
Please don't go there: Speaking of romances I'm not excited for. I sensed it before the break and I sensed it again this week. Something is gonna happen between Kat and Ava before the season is over. Sure, they're great at arguing, which I think Ava finds intriguing. But Kat deserves better. They'd end up driving each other nuts. I mean, she nearly cost Kat her job… again. That's of course not entirely on her, Kat should've known that arguing with a member like that would get her fired. But still. The only reason I'm only 99% against this, rather than 100%, is because the look on RJ's face if Ava brought Kat home would be absolutely priceless.
Second chances: I loved that we got so much Oliver this week. His storyline is actually pretty interesting. I said during Jane and Ryan's storyline earlier this season that trust is hard to regain once it's lost. And that's what's happening with Oliver and his ex. Oliver no longer trusts Jasper, but for Carly's sake, he has to make an effort at making this new relationship work. By the end of the episode, you could tell that some of that trust had been regained. He trusts him enough to spend the day with Carly. But I'm not sure if it'll ever be enough to get back together.
Secrets always get out: So, it seems that Jacqueline has not been entirely forthcoming to her husband about what happened while they were separated. I must say that I'm surprised. I'm assuming she hasn't said anything because she's worried it'll derail the progress that they've made in their relationship. But this stuff always comes out eventually. And she didn't actually do anything wrong. They were practically getting a divorce at that point. But the longer she waits to bring it up, the more damage it could do.
Best quotes: Sutton: "Jane, you're the boss." Jane: "Yeah, yeah. I'm the boss." Sutton: "Yeah." Jane: "Oh, no. I'm the boss. What do I do?"
Oliver: "Where does it hurt?" Richard: "Mostly my ego."
Oliver: "If your writer isn't giving you what you need…" Jane: "Then I should just write it myself." Oliver: "I was gonna say throw a phone at him but that works as well."
That's it for this week. Check in again next week for an all-new review and let me know in the comments what you thought of this week's episode.
Please be respectful in the comments, any unnecessary rudeness isn't welcome.