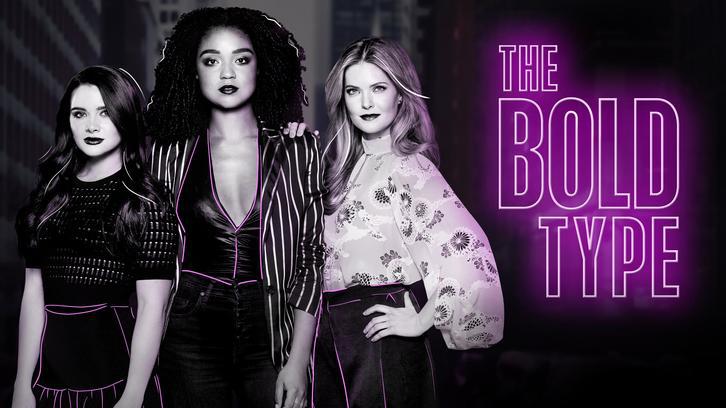 This week on The Bold Type, Jane is still struggling with her new body and goes in search of people who have been through something similar. Kat tries to start a podcast at The Belle but struggles to buy the equipment and is forced to sell some of her furniture. Sutton has a miscarriage and feels guilty for feeling relieved. Jacqueline and Ian work on their communication.

Find your people: I love that Kat and Sutton are always there for Jane, I really do. But I think that may have also been the reason that Jane hasn't actively looked for people who have been through similar situations like her. She has a great support system but she probably would've felt guilty about looking for support elsewhere. But I'm glad she tried it this week after all. But her method was a bit unconventional. I figured that there would be support groups for this, or am I wrong? But reaching out through her article was a big risk. But it seemed to really pay off, not just for her but for those women as well who may not have had anyone to talk to about this either. I'm glad that the writers are sticking with this storyline and that it wasn't just something for 1 episode. This will be a process for Jane that she'll have to work through but I'm glad we get to see it.

There is no bad reaction: What Sutton went through this week was horrible. I get that there's nothing the doctor could do but being told to go home and that it could take 2 days, I can't even imagine. It's one thing to have a miscarriage but for it to be dragged out like this. And there really is no wrong way for Sutton to feel about this. This pregnancy wasn't planned. It's totally normal that she feels relief, it just means she wasn't ready. I mean, we haven't even really seen her and Richard talk about kids before this happened. They were both excited in the moment, but afterward, I think Sutton is now realizing that she wasn't as ready as she thought she was. And Richard is mostly trying to be strong for Sutton but I really hope we get to see more of how he feels next week.
Finding your way: I guess you can take Kat out of the social media world but you can't take the social media out of Kat. I love how Kat took the initiative to start a podcast at her workplace. I would never dare to do that. But it feels very unfair that she had to sell most of her stuff. I feel like her parents kind of screwed her on that. It was very easy for them to say "get a job that pays the rent" but when was the last time they had to go job hunting? Kat was lucky to get that bartending job and hopefully, it can grow into more. They would be lucky to have her run their social media. It does seem like The Belle is going to be becoming a more permanent location.
Aaaw: On any other show Ian finding out about Jacqueline's relationship when they were separated would have caused huge drama. But of course, the writers did this storyline justice. Jacqueline didn't do anything wrong. They were headed for a divorce at the time. But I love that Ian actually listened to her and I actually think that this will make their relationship stronger.
Best quotes: Sutton: "I just feel like if we have bubble wrap, we should be using it."
Kat: "It was actually the first piece of furniture that I put together all by myself. I wanted to do it alone and I did. I mean, yeah, there were a couple of pieces left over, but…" Alex: "A couple?" Kat: "Stop."
Kat: "Hey, will you give me a hug at least?" Jane: "Duh." Kat: "Come on, baby, get over here." Jane: "I love you." Kat: "I love you."
Alex: "You wouldn't, would you?" Kat: "No, but it's not because you're not great. It's just cause I have another guest in mind." Alex: "Well, there's no way that she's better than me." Kat: "She runs a domestic violence shelter." Alex: "Well, wow, don't I feel like an ass."
That's it for this week. Check in again next week for an all-new review and let me know in the comments what you thought of this week's episode.
Please be respectful in the comments, any unnecessary rudeness isn't welcome.