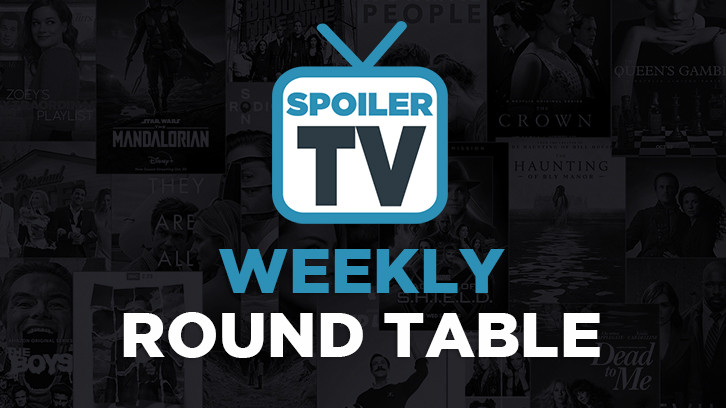 Hello and welcome to a new edition of SpoilerTV's Weekly Round Table! Joining us this week is Lisa Macklem (LM), Jamie Coudeville (JC), Giulia Del Buono (GB), Cecile (CL), Alison D (AD), Prpleight (JH), and myself (ZF). You just have to sit back enjoy the read and join the discussion in the comment section down below.

There's been a good deal more of renewal and cancellation notices (and some we're still waiting for). Were there any shockers?
Lisa:
No real shockers. I will admit that I was pleasantly surprised that
Evil
and
Stumptown
were renewed. I was disappointed that
Tommy
was cancelled and more disappointed about
Perfect Harmony
- which for me was a LOT funnier than
The Unicorn
(as much as I love Walton Goggins). I was also disappointed to lose
Emergence
.
Jamie:
Not really, I think. I was a bit surprised by the cancellation of
Single Parents
. I thought it was doing well. I'm still pissed off by the cancellation of
Dare Me
, but that was a while back. I think that at this point I'm only still waiting on new about
Manifest
(at least where the major networks are concerned). I'm not entirely sure which way I want this to go. The show didn't entirely turn out how I expected it to so I haven't really enjoyed it much. But I've seen it gain some popularity this season, so who knows.
Cecile:
Maybe not shockers since I don't really watch that many network shows but I was a little sad about
Emergence
because the cast is great. It's been a while now but
Superstore
being renewed while America Ferrara is leaving seems a little pointless (it doesn't help that the show hasn't been as good lately, either).
Alison:
I honestly haven't found any of the cancellations shocking, but all of the shows I regularly watch were renewed.
Prpleight:
Nothing really shocked me.
Perfect Harmony's
cancellation was a disappointment, but I saw it coming.
Zoé:
I was pleasantly surprised by
Zoey's Extraordinary Playlist
. I was expecting it to be axed, but instead, the universe has rewarded me. Also, at the time of posting this,
Manifest
has been renewed! Not so much of a surprise, but definitely welcomed news.
San Diego Comic Con will be doing a virtual convention for all the news coming out. It is free for all. Do you think we'll be seeing a lot of special content? How will this affect the future of conventions — will we be seeing more big cons go virtual, even when COVID isn't a pressing issue?
Lisa:
The future of conventions is still too nebulous to really speculate on. I don't think the virtual is ever going to compete with the experience of meeting your heroes in person. If it did, people would have just kept watching their shows/movies! Of course, part of the business (a big part) is photos and autographs. Autographs can be done with masks and gloves, but photos? I don't think Comic-Con will be showing a lot of exclusive content - too easy for it to be "stolen." I also wonder if a lot of it will be geo-clocked anyway. It's another reason the in-person event won't go away. It's a cost-effective advertisement - and a great way to sell impulse-merch.
Jamie:
I think it all depends on how this crisis evolves to next year. There's still a lot of uncertainty. As for special content, I think it might actually be less than the previous years. From what I can tell, there hasn't been nearly as much buzz as there would be for the actual conventions and I just think they won't be putting in the same effort.
Giulia:
It depends on how the situation with the pandemic will go on. Next year, I think, there will be more possibilities to hold these kind of events in person, but the choice that Comic-Con made for this year is reasonable. They decided not to cancel the event altogether, they gave the chance to millions of people to "attend" it. I'm pretty excited, because I don't think I'll ever be able to attend it, so I'm happy that they decided to go virtual. I don't know about content, they sure have to give something so people will tune in. They won't probably show a lot, but what they will show, I'm sure will be very interesting.
Cecile:
Based on the safety measures in 2020, SDCC did they best they could with what they had, and I hope some exciting stuff comes out of it. It's an opportunity to maybe have casts that wouldn't have come otherwise (too expensive), and so on.
Ultimately though, virtual events can't replace physical one, only complement them at best. So when (hopefully) this is all behind us, physical cons will take place once more. But maybe they'll add some digital parts, so more people can "attend" in different ways. It would be nice if this awful situation led to positive new solutions too.
Alison:
I've participated in a few virtual conventions and conferences. One of the benefits is the on demand viewing. It removes the in person anxiety of trying to choose between two or three panels that are happening simultaneously. I don't know that the future of cons will be entirely virtual because there is something electric about coming together—meeting new people while standing in long lines, sitting in a crowded room for a panel you've been anticipating, chatting with vendors, etc.
Prpleight:
I think this year there may be more content. At the very least, for those of us who watch the panels online, we may get to see those clips that are always blacked out. My guess at how this will affect the future of contentions is that they will recognize an additional revenue stream. Comic Con turns away how many people every year? Once the infrastructure is up and running, how many more tickets could they sell? I wouldn't be surprised if people were at the convention would pay extra for access to crowded panels?
Zoé:
I think a lot of people will start realizing that a lot of these virtual events are so much cheaper. I really do hope that it doesn't mean they'll start replacing things for virtual, leaving attendance more as a novelty.
In the past few weeks, the BLM movement has surged. While the main goal of the protests is to oppose the police treatment of the black community, another aim is to point out the inequalities that they face in various domains. What steps should the entertainment realm take to become a more inclusive environment?
Lisa:
Black Lives Matter is about SO much more than just the police. This is what systemic racism means. It is embedded in EVERY aspect of society. Just looking at the justice system, it starts with the testing that accepts people into the police academy and law schools. Different tests, but skewed to allow in the same people. The entertainment industry has a terrific opportunity here to amplify black voices and educate everyone else. The entertainment industry is the mirror to our society. This is not an easy, over-night fix. This needs to start at EVERY single point. I could write weeks and weeks of posts on this one question. However, we also shouldn't throw up our hands at the amount of work there is to do, but roll up our sleeves and start by asking the Black community, what they need and want. By funding Black voices and artists - by listening and seeing them. And that IS the point. We need to listen and take direction - not give it.
Jamie:
I'm not sure I'm the right person to say what steps should be taken. I think for starters the entertainment industry needs to listen. Rather than decide for themselves what actions they should take, they should be asking the black community.
Giulia:
The entertainment industry needs to tell stories and give people of color the chance to tell them. Not only when it comes to the talent in front of the camera, but also behind: directors, writers, producers, PAs, DAs, gaffers, everyone. Change has to come from the top down. The people in the industry need to listen and put change going forward.
Cecile:
The Academy just announced a number of measures for upcoming Oscar guidelines which are going in the right way, so hopefully this will bring on more discussions and real solutions about how the industry can change for the better.
Alison:
This is a big question. I could write a book. The first step needs to be an understanding of the difference between diversity and inclusion. So many shows and movies feature diverse casts but are far from inclusive. When it comes to television, show runners, producers, and networks are patting themselves on the back because they feature diverse characters, but they use these characters to support the main storyline without ever giving them an important storyline of their own. All of the networks are guilty of this, but my mind immediately goes to the CW, possibly because of the recent social media posts by
Riverdale's
Vanessa Morgan. So many of the CW's shows have incredibly diverse casts—Black people, non-Black people of color, LGBTQIA, Muslim, etc.— but they are relegated to being the lonely tortured gay man, the supportive girlfriend, the sassy best friend, the wise father figure, the confused bisexual, the wrongfully accused, the pawn, etc. It's nothing less and nothing more than performative activism. Not to mention tokenism. Part of the solution is getting more show runners, producers, and network higher ups from these marginalized communities, as well as educating those not from marginalized communities. They need to listen to the fans from those communities. I'd also add that the statistics on writers from these marginalized communities presents a truly dire picture. Maybe if writers from these marginalized communities were part of the conversation, actually in the writers' room, we'd see these characters with authentic plots. Right now the answer to criticisms about underutilized or sidelined characters is to shoehorn them into storylines because of some false belief that more screen time solves the problem. It does not. More screen time does not mean better storylines. Doing better is long overdue.
Prpleight:
The entertainment industry has been under pressure for years to be more diverse. They have
begun
the work. We've been watching casts, on some networks, increase their diversity beyond that 70's 'one of each' model. We've even seen shows advancing from the concept of being "color-blind" (a concept that's been criticized in the past weeks) to having characters discuss their different backgrounds with their friends. These are all positive moves. We're even seeing more shows like
Black Lightning
,
One Day at a Time
that are written from and telling stories from specific cultural experiences in this country. But so much more work still needs to be done; from the writer's rooms to the executive suites and in between.
I listened to an interview with Aisha Taylor and she made a point that really hit home with me. To paraphrase, her point was that we need to stop looking at the white voice that has been so prevalent in Hollywood for so long as 'normal' and diverse voices as something different. We're talking about
American
voices. That should, IMHO, be the goal. I don't know specifically how we get there, but we have to get to a point where we're all
Americans
.
Zoé:
Start by LISTENING. The black community has been calling out inequalities for decades. LISTEN.
That wraps up another round table! Feel free to drop your thoughts in the comments below. See you next week!
You can email zoe@spoilertv.com if you have any question suggestions.