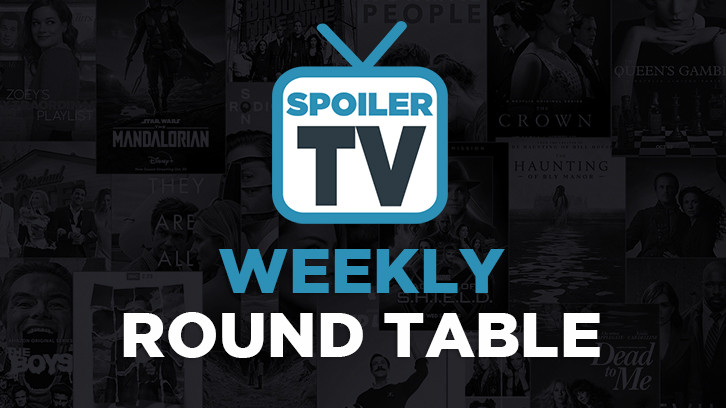 Hello and welcome to a new edition of SpoilerTV's Weekly Round Table! Joining us this week is Milo M-J (MJ), popcultureguy (PC), KathM (KM), SarahR (SR), Lisa Macklem (LM), Jamie Coudeville (JC), Luana Arturi (LU), Prpleight (JH), Alison D (AD), Cecile (CL), and myself (ZF). You just have to sit back enjoy the read and join the discussion in the comment section down below.

A lot of popular older books have been picked up into show adaptations lately (Narnia, Percy Jackson, Lord of the Rings, Shadow and Bone, The Infernal Devices, and many more). Which one are you most hopeful for and why?
Milo:
I'm really excited to see Anthony Horowitz's
Alex Rider
series get turned into a show and thankfully UK folks don't have long to wait - it starts on Amazon Prime on June 4. Having read all the books when I was younger I'm really keen to see what direction the show takes the character in; especially as they're adapting my favourite novel from the series,
Point Blanc
, this time out, hopefully avoiding falling into the same traps that came with the
Stormbreaker
movie back in the mid-2000s.
Sarah:
I'm looking forward to seeing how each is adapted, I am most certainly looking forward to the
Percy Jackson
series and the Narnia series! I loved the
Percy Jackson
books and I really enjoyed seeing the
Narnia
world in the movies!
Lisa:
I'm not necessarily hopeful, but I can't help looking forward to the
Narnia
and
Lord of the Rings
adaptations as they are some of my favorite books.
Jamie:
First of all, I had not heard of the
Infernal Devices
adaptation and now I'm screaming. I'm also super excited about the
Percy Jackson
series, mostly because the author will be closely involved in the show and he has never let me down before. And I'm super excited for the
Grishaverse
series. I'm dying for a release date.
Luana:
I'm very interested in seeing what they can do with the
LOTR
world, but I'm aware that doing something so beloved justice in everyone's eyes is pretty much impossible.
Prpleight:
I think I look more forward to seeing
Percy Jackson
come to the small screen. It feels fresher, to me, than the others listed here.
Alison:
Rick Riordan's involvement with the
Percy Jackson
series has me hopeful that it won't be a repeat of the movies. I'm not sure how involved Leigh Bardugo is in the upcoming
Shadow and Bone
series, which brings together the
Grisha Trilogy
and the
Six of Crows
duology, but the source material is phenomenal, and I'm looking forward to seeing it brought to the small screen.
Cecile:
I'm really excited about the
Lord of the Rings
series adaptation, even if a little worried it won't live up either to the books or the movie version. But still, you can never have enough LOTR content (let's forget about
The Hobbit
movies ). Also tentatively excited by the Narnia adaptation. I loved the BBC series, the newer movies not so much, so we will see.
There's also the 'new'
Hunger Games
movie, based on Suzanne Collins' latest installment which would actually be a prequel. Listen, I'm no Corolianus Snow fan, but
Catching Fire
(second installment) is probably my favorite book-to-movie adaptation after LOTR, and
The Hunger Games
book trilogy is excellent. The
Mockingjay
movies were dull (splitting was a mistake) but still, I do want to see where they go with this one. I'd really like to see the
Red Rising
series on screen too, I think they' already have a movie deal but it's been years and doesn't seem to be progressing, so...
That said, sometimes it does feel like the weakest source material is being picked to be adapted, unfortunately. (Does
Infernal Devices
really need a shot when there's much better and less problematic content out there...). However, since some adaptations really manage to elevate the material (
/Normal People
,
Sharp Objects
!), there's hope that some of these will be better than their original printed sources.
Zoé:
I've been so excited for
Percy Jackson
since it was announced! I'm also really curious how they'll tackle
Lord of the Rings
.
What book series do you hope someday gets made into a show? What elements would you hope they stick to, change, etc?
Milo:
I would love to see Brandon Sanderson's
Mistborn
get the same treatment that
His Dark Materials
has had for BBC and HBO, a partnership of the two companies and doing a book a season would be an ideal treatment for me. Netflix's series are often too long and too prone to cancellation, whereas the BBC/HBO team-up would allow a little more security for the show to thrive and do well. It feels tailor-made for a subversion on the traditional fantasy genre tropes and narrative and has a rich, complex world that is well-realised enough to flow naturally onto television given the right creative team involved.
Popcultureguy:
I've often thought Robert Cormier's
The Chocolate War
– an exploration of conformity and corruption as it tells the story of a teenage boy defying the secret society that rules his private school –would make for a good limited series (a la
Looking for Alaska
or
Normal People
), especially if they set it in the '70s like the novel. I've also always wanted to see a faithful adaptation of Ellen Raskin's
The Westing Game
.
Kath:
Libba Bray's
The Diviners
would be a good choice: it's a trilogy about supernatural happenings in 1920's NYC and involves a disparate group of teens who try to heal the city and, in some cases, themselves. It's full of historically accurate details and vernacular, and I'm betting they'd lose the vernacular just to keep the audience interested. I''m not sure they'd keep all of the characters, but since there are so many vital primary and secondary characters I'd be interested to see how they'd do it.
Still Liver with Crows:
by Preston Child would also be a good one. The story is a one-off of a popular character from another Preston Child series and introduces a character that later has a series of her own. I don't think they'd need to change much, which is why I think it would be a success. Second
The Chocolate War
, but what worries me is that they'd try to clean it up.
Sarah:
I'd love the
Gone
series by Michael Grant to be made into a TV show. Its been up in the air whether one was being made as those rights had been bought by some company, although nothing has come of that. Seeing the main characters and their powers on the small screen would be awesome. Another series I really want adapted is the
Orphan X
books, I've been reading the first one and it could make a great movie or show if done right.
Jamie:
There were was news of a
Throne of Glass
series being in development with Hulu but that was years ago and I haven't heard anything since. Shame because it would make for a great TV series. I would also love a prequel series to Harry Potter (Marauders era). Generally, I just hope they stick closely to the source material, with a bit of added diversity.
Luana:
As I said, I know it's hard to make everyone happy, but I'd absolutely love anything in the
Harry Potter
universe. Not a retelling, of course, but a spin-off of some sort would be awesome.
Prpleight:
There are a number of series that I would love to see or think would work well on the screen.
Naomi Novick's Temeraire series, the world-building was really unique and would doesn't love a beautiful sentient dragon.
Jim Butcher's The Dresden Files -- I think a version closer to the books would work really well. It was a disappointment with the first incarnation.
Glynn Stewart's Onset series would make a fun humans battle the supernatural show. Although it might be a little too militaristic for a large audience.
L.A. Banks Crimson Moon series. It's not a massive change to the werewolf/vampire/elf universe drama, but it has a different point-of-view in its world-building that I think it would be a welcome change in the television landscape.
Michael C. Grumley's Breakthrough series, is an obscure series that I have fallen in love with. It's set in a universe where scientists have developed a computer that translates dolphin to English. There are extraterrestrials and political intrigue. Lots of fun.
I'm just coming off of a 6-year long stint at a job with a 2 hour round trip commute. I have listened to a LOT of audiobooks.
Alison:
I'm definitely a proponent of TV over movie adaptations, so I have an entire list of book series and standalones that I would love to see adapted for television. I always hope the character arcs are fully developed and explored, as well as the subplots when watching adaptations. Too often in adaptations, they focus on plot, treating the adaptation like a game board moving from plot point to plot point without any of the why. A lot of that is the constraints of film length. Focusing on book series I would love to see adapted for television:
Charlotte Holmes
by Brittany Cavallaro,
Arc of the Scythe
by Neal Shusterman,
Devouring Gray
by Christine Lynn Herman,
Stoker and Holmes
by Colleen Gleason, and
Check, Please
by Ngozi Ukazu. And I may be in the minority, but I think the
Harry Potter
series was underserved by the movie adaptations, and a tv series would allow for a greater and more nuanced exploration. I also discussed, in the the most recent
From Page to Screen: YA Worth Watching
, Maureen Johnson's
Truly Devious
trilogy, which would make a fantastic tv series.
Cecile:
I'd have to distinguish those that have already been made and I want remade, and the ones that never got a shot.
I think
Harry Potter
could do really well as a serialized show, there's so much content and the movies were, overall, not great. In the right hands, it could be amazing and even delve into more, untapped, content from the world-building alone. Remember that World Cup Quidditch match that was never shown on screen? Hermione figuring out the Snape poison test in the first book? PEEVES? I want it all.
Same goes for the
Princess Diaries
series. I'd rather not talk about the movies because they barely have any relation to the books, but as a TV series it could be really fun (and please find age-appropriate actors and not 35-year-olds playing high schoolers).
As to not-yet-adapted series, and still on the Meg Cabot train, where's
The Mediator
?! It's an excellent little series, with ghosts and Carmel by the Sea, 6 volumes and a plethora of storylines to develop, I can't fathom why no one has snatched up the rights especially since it's been out for ages.
Zoé:
I know this is a cliché here, but I would love to see a proper
Harry Potter
show, likely about the First Wizarding War. I would want it done well, of course. A well-done
Harry Potter
TV show would win my heart over.
What adaptations have disappointed you, show or movie? Why?
Milo:
So, so many adaptions have let me in the past I've lost count. The live-action
Thunderbirds
adaption is perhaps the most unforgivable adaption of them all, however, (although the
Avatar: The Last Airbender
adaption from M. Night Shyamalan is up there too, even if I'm a massive fan of most of his films outside of this baring the odd exception here and there) and most of them come in the mid-2000s. Released in 2004 and directed by
Star Trek
's Commander Riker himself, Jonathan Frakes, the film turned out to be a travesty. The Thunderbirds themselves are barely in it and the young adult actors that they brought in as replacement lead characters can barely act. It's a shame that they went ahead without the approval of original series creator Gerry Anderson, who rightly called it "the biggest load of crap I have ever seen in my entire life", as the film displayed a clear lack of faith in the original source material. Thankfully, this wasn't Frakes' last effort behind the director's chair, as television seems to be much more in his wheelhouse.
When the best thing to come out of the movie is a surprisingly catchy Busted song that admittedly isn't all that bad, you know that things have gone wrong somewhere...
Popcultureguy:
The first time I remember being disappointed by a book-to-movie adaptation was 1997's
The Lost World: Jurassic Park
. It stripped out a lot of great material from the book and added in a raptor death via teenage girl gymnastics. Enough said.
Kath:
As compelling as I found
Defending Jacob
, I thought that the changes to the original ending was a mistake. I feel that if they wanted to make some alterations, they could have gone another way (snot saying much because of spoilers). There was also a book by Preston Child called
Relic
which was a complete nightmare, with the characters miscast and little attention paid to the original book. There are so many more I could talk about that you'd be reading until new broadcast episodes actually start airing again.
Sarah:
I was disappointed in the
Percy Jackson
movies, the books were so good and the movies just kept cutting out things! The first one was alright but then the second one just wasn't very good. I've not got great feelings about Disney's adaptation of
Artemis Fowl
but I'll hold all proper judgment till after release.
Lisa:
The
Narnia
movies were really disappointing and so was
The Hobbit
. It's hard to cast them when you already have such a clear picture in your mind. It's the small changes too that can be really off-putting. With
The Hobbit
, there was such great source material the additions were just seemingly pointless - other than to stretch it into 3 movies.
Jamie:
The first
Divergent
movie was good but after the second it all went downhill. And the third was so mad that the sequel never even got made. The
Percy Jackson
movies were of course disappointing, the author never even watched them.
Luana:
When I was younger every adaptation was disappointing, and then somehow I started to understand the different aspects of production and that mostly went away. More recently though, very recently actually, I finished the season of
Defending Jacob
and I have to say the changes they made from the original book felt unnecessary and like they got confused about the story they were telling.
Prpleight:
Is a feature allowed? I think the one I have the most painful memory of is the version of
Dune
that so strictly adhered to the book that it was unwatchable. But it does make an excellent example as to why filmmakers and audiences should remember that books and films are different animals.
Since I mentioned it above, I'll note the
The Dresden Files
. While I enjoyed the series that was made, it too far from the books to be successful as an adaptation. If anyone wants to give it another try I wouldn't argue. I prefer urban fantasy to epic fantasy. I like seeing these supernatural beings function in the modern world.
Alison:
The
Avatar: The Last Airbender
movie adaptation was an abomination for so many reasons. The first being casting, the last being casting then there was the horror of everything in between. It was all wrong. The Percy Jackson adaptations were a huge disappointment. Logan Lerman was perfectly cast, but the story felt incomplete. Netflix's adaptation of
Dumplin'
lacked the charm of the book and failed to capture my attention.
The Sun is Also a Star
was another movie adaptation that didn't live up to the book, the main problem being the lack of chemistry between the two leads. I've definitely seen more adaptations that don't live up to the book that the ones that do.
Cecile:
His Dark Materials
never seems to get it right, unfortunately. The movie lost its way compared to the book's message, and the very recent HBO series lost its soul, so... I will let the books live in my memory sans any screen version. Same goes for
Harry Potter
, really. The movies aren't bad, per se, but they're pretty generic compared to what could have been. And let's please cast stronger actors if there's ever another adaptation.
What do you think makes for a successful adaptation?
Kath:
I think the trick to a successful adaption is often luck. A mixture of knowing the work you're adapting, what could be changed to improve it, what needs to be deleted, etc. If you have the creator you have a better chance of success (ala
The Walking Dead
and
Good Omens
), but if the story focuses on just a few characters instead of ensemble then you need to make sure your story and your actors can really bring it.
Little Fires Everywhere
is a great example, and
I Know This Much is True
. I hated the book but can't take my eyes off the series. I think the reason is that Mark Ruffalo's performance.
Sarah:
For a successful adaptation I think you need actors and crew who know the books and are passionate about them. The writers need to also have read the books and be working with the author (in my opinion). You also need to release it at the right time and have a good advertisement so people go and read the book before watching the tv/movie.
Lisa:
A lot of it is in the casting. But it also has to be an excellent scriptwriter who can capture the original - no easy task. Finally, you just can't please everyone when it's their favorite book - if you cut or add anything, chances are someone (likely me!) won't be happy.
Jamie:
I think as long as they stick closely to the source material and get a good cast, you're set. Then again, I've seen adaptations that made lots of changes, like
The Vampire Diaries
, that also did very well. But the books were almost 20 years old at that point, so I think that at that point the fans didn't care all that much anymore. Though I do remember them throwing a fit over Elena not being blonde. I know that the writers will automatically make changes but I think the reason for the changes is very important.
The Secret Circle
changed the characters because the book had 13 main characters which was too much for a TV show. But
13 Reasons Why
changed the method of Hannah's suicide, and the only reason I could find for that is shock factor.
Luana:
I think it's all a mix of casting choices, chemistry, and deliberate writing, but they also often need quite a bit of luck. The ideal situation would be to have it all fully mapped out from the get-go with a limited amount of episodes. Stretching stories unnecessarily, or hurrying them up by the end, tends to be the worst mistake for me. I think it also helps if someone who truly loves the material is the one calling the shots. But, again, there will always be people who aren't happy with the final result, no matter what.
Prpleight:
Understanding the fundamental differences between a novel and a film. And understanding the core of the original material.
There are a couple of examples that immediately come to my mind that illustrate my point about understanding the core of the source material. (incidentally, both are from Ronald E. Moore)
Battlestar Galactica
. The tone of the 70's series and the 00's series are wildly different, reflecting the different storytelling trends of their times. Because the darker tone of the 2004 series was true the core of the original material it worked. In adapting
Outlander
again remained true to the core of the story, while making some changes to work better as a filmed series.
As I write this I'm trying to articulate why
The Dresden Files
series wasn't successful (for me at least) as an adaptation. It was evident (well, at least in my mind) that network executives that didn't understand the real core of the novels and dictated changes to make it a typical detective show with supernatural elements.
Forgive me, but I have to add one example of not understanding the core of the original material that made my head explode. I ask forgiveness because I am referring to an audiobook. None of this should matter since you are listening to someone
read
the actual source material. However, the casting of the reader of Tanya Huff's
The Blood Books
(another strong recommend) completely ruined the experience. Victoria Nelson, the main character, is a hard-edged homicide detective forced to retire because she's losing her eyesight. The cast a woman with a refined, aristocratic voice to read the books. The disconnect between the reader and the character made it un-listenable.
Alison:
To often movies gloss over the introduction and the audience is never given a chance to really get to know the characters and conflicts, but tv has the time to develop backstory and really take the characters, and therefore the viewer, on a journey—letting the arcs happen instead of truncating what viewers need to understand goals and motivations. The second thing is a focus on character over plot. Superficially, casting the right people in the roles really makes a difference. You need people committed to bringing the characters to life.
Cecile:
It's important to stick to what works in the source material, but adapt it (meaning, some changes are necessary and I'm not a stickler for some unnecessary details) to elevate it when necessary.
That wraps up another round table! Feel free to drop your thoughts in the comments below. See you next week!
You can email zoe@spoilertv.com if you have any question suggestions.