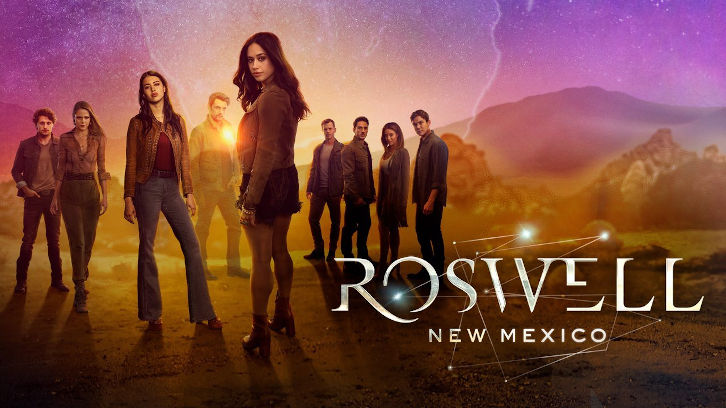 This week on Roswell, New Mexico Isobel visits Rosa. Michael tries to find Alex and has to go through both Jesse and Flint Manes. He eventually ends up with Liz and Rosa's mother who wants him to build a bomb. Max finds out Liz is experimenting with alien DNA and is not happy. Liz gets another visit from ICE who tries to intimidate her. Diego suggests she go work for a company that is not exactly legitimate.

Cowboys gone wild: Michael really went all out this week. At this point, the entire Manes family knows he's an alien so he's past caring about hiding his powers from them. Honestly, after all the restraint stuff and hiding their powers, it's kind of awesome to see Michael give it his all in a fight. But the Manes family still confuses the hell out of me. Jesse is obsessed with Tripp but seems to have been following an entirely different path until just recently, so of course, at this point, Flint and I'm assuming one other son (how many are there again?) have been completely indoctrinated in the anti-alien ways. But Jesse was gonna kill Alex? Honestly, when Alex is freed he should get as far away from his messed up family as he can. Gregory had the right idea.

What the holy hell: Speaking of complicated. Helena Ortecho… I mean.. does anyone understand what her motivation in all of this is? What the hell does she need a bomb for? She was seeing some big shot guy, right? I bet that she was just using him for something relating to all of this. But, while I was ready to give her the "worst mom of the decade" award a few weeks ago, that's one hell of a jump to terrorist. I need more information asap. Also, that flashback scene with Rosa, yikes. Can you imagine finding out your dad isn't your dad like that? No wonder she was so messed up.
To be expected: I've been expecting this fight between Max and Liz for a while now. And while it may have been interrupted with more urgent matters, it's nowhere near finished. And it's an interesting fight because I get where both of them are coming from. Max fears exposure more than anything else. If the reaction of the Manes family has been any indication, the knowledge of aliens falling into the wrong hands could be catastrophic. I mean look how they treat immigrants, what do you think they'll do to those from a different planet? But all Liz has ever wanted to do is help people. And she's not actively trying to expose the aliens. But if you have the cure for cancer in your hands, how can you not use it? How can you put the lives of 3 aliens over that of millions? How can you live with yourself knowing you have the knowledge but didn't use it. And this company that Diego put her on to, I have a really bad feeling about them. I mean, I doubt they're more trustworthy than a government-controlled company. But working in the shadows like that… I don't know. And I don't see how Liz and Max are going to resolve this argument either. Both sides are such fundamental parts of who they are.
Poor guy: We all knew it would happen, of course, Kyle was going to be faced with the consequences of helping Liz eventually. I feel really bad for him, he's just trying to help everyone. But he can't tell Steph that the stuff he stole is with Liz who's trying to find a way to save her life. Because then he'd have to explain why Liz is experimenting in a secret lab rather than a legitimate one. Yeah, I would be binging on pizza too.
Best quotes: Isobel: "You weren't here, my brain picks locks now."
Isobel: "That was not made in Roswell."
Liz: "You want to destroy my family on a bogus vandalism charge? Why do we have to be perfect to deserve to exist within some arbitrary border? Why is it okay for you to screw up but not me?"
That's it for this week. Check in again next week for an all-new review and let me know in the comments what you thought of this week's episode.
Please be respectful in the comments, any unnecessary rudeness isn't welcome.