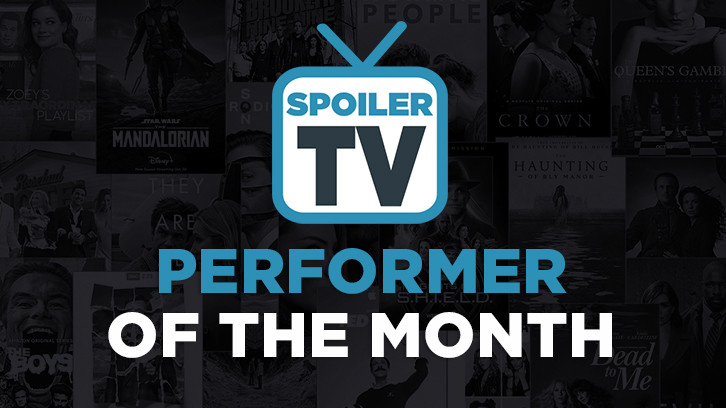 The end to this TV season has been a wild and unpredictable ride thanks to terrifying real world events. But through it all, we have been comforted and entertained by amazing performances. Now is your chance to nominate the performers you think most deserve to be recognized for their performance in May.

For the 2020 nominating and voting rules, please refer to this post.

2019 Staff Choice Performer of the Year: Jodie Comer
2019 Readers' Choice Performer of the Year (TIE): Hailee Steinfeld and Oliver Stark

January 2020 Winner:
Readers' and Staff Choice: Rachel Skarsten (Alice/Beth) - Batwoman

February 2020 Winners:
Readers' Choice: Sam Heughan (Jamie Fraser) - Outlander
Staff Choice: Jeri Ryan (Seven Of Nine) - Star Trek: Picard

March 2020 Winners:
Readers' Choice: Christina Hendricks (Beth Boland) - Good Girls
Staff Choice: Jane Levy (Zoey) - Zoey's Extraordinary Playlist

April 2020 Winners:
Readers' Choice: Amalia Holm (Scylla Ramshorn) - Motherland: Fort Salem
Staff Choice: Jessica Camacho (Emily Lopez) - All Rise

Please note that a performer can now only win once per year and a show can only be represented by two winners per year. No exceptions will be made for any performer or show, so please use thoughtful consideration when making your nominations. You will have to fill out the submission form for each nominee you submit. You can submit the document up to 5 times, but each entry must be for a different performer or all of your other nominations will be disqualified. The Top 5 most nominated actresses and Top 5 actors will be placed in the poll next week to determine the Readers' Choice Performer of the Month.

After you place your nominations take a moment to use the comments section to discuss your nominees with others. Episode number for the nominees is critically important, so discuss with others why you think a performer deserves to be recognized for a specific performance within a single episode.

Nominations will run until June 4th at 6 pm ET. The poll will post on June 5th at 6 pm ET.

Eenter the episode number as 101 or 1.01. Either will work on the form and both will be accepted.