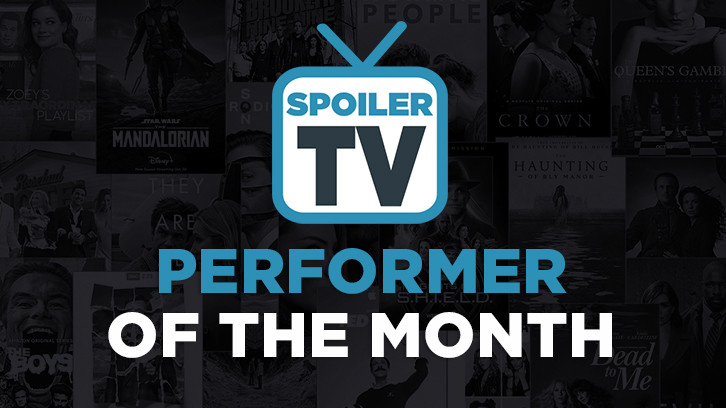 Results:

This was a runaway month for the Readers' Choice winner with that winner surging to the top of the pack to never be caught again. The Staff Choice competition, however, was a bit more interesting with the top spot changing hands a few times before ultimately settling into a tie.


Motherland: Fort Salem
got incredibly lucky in the casting department. They gathered a cast that not only worked well together, but who were each profoundly talented. Taylor Hickson (Raelle Collar) captivated viewers from the very beginning as she brought the rebellious Raelle to life. Hickson, for her part, brought such energy and charisma to Raelle that one couldn't help but take notice of the young rebel. Then Raelle met Scylla (Amalia Holm) and a whole different loving side of Raelle emerged. Throughout the season the love between those characters built allowing the ultimate dismantling of their relationship to be more painful to witness. In
Coup
(1x9), the audience saw and felt Raelle's final interaction of the season with Scylla. Through Hickson's powerhouse performance, viewers were taken along for a rollercoaster ride of emotions.
Coup
was a big episode for Raelle and it setup all that was to come in the season finale. For all these reasons, and many that will be mentioned in the winner article, Taylor Hickson is SpoilerTV's Readers' Choice Performer of May.
Linda Cardellini (Judy Hale) is the sort of actress who by merely having her name associated with a project, greatly elevates said project in terms of quality. She is careful in what roles she accepts and never fails to impress. Her role on Netflix's
Dead to Me
is no exception. She brings so much light and heart to Judy that when she faces hard times the impact on the audience is all the more powerful. That is exactly what happened during
It's Not You, It's Me
(2x9). This was a season of redemption for Judy. After nearly taking her own life in the Season One finale she was given a new lease on life. She found new love with Michelle (Natalie Morales) and got a second chance at fixing her friendship with Jen (Christina Applegate). Things were going relatively good for her, until secrets both her and Jen were carrying came back to haunt them. In an explosive and unforgettable moment all was let loose giving Cardellini the chance to deliver a profoundly moving and heartbreaking tour-de-force performance. Her work throughout the entire season has been exceptional, but this episode was certainly a standout. The staff of SpoilerTV has recognized the excellence of Linda Cardellini's work in this episode by selecting her as one of SpoilerTV's Staff Choice Performers of May.
Marie Avgeropoulos (Octavia Blake) has come a long way in seven seasons of
The 100
. She has taken Octavia on a long treacherous journey that has seen Octavia lose her way many times. From breathtaking stunts to heartbreaking moments, Avgeropoulos has had everything thrown at her and never once faltered under pressure. But it's fairly certain to say that most people didn't see Octavia's final journey of the series include her being an Aunt/mother figure to Hope (Shelby Flannery) and yet Avgeropoulos beautifully transitioned the hardened warrior into a soft-hearted soul who deeply loved her makeshift Skyring family. That new journey is what consumed Octavia's journey in
The Garden
(7x2) and gave Avgeropoulos deeply rich character growth to portray for Octavia. Her performance was captivating because it both showcased how much Octavia had grown as a person without losing the edge that makes Octavia who she is. Because of this powerful performance, Marie Avgeropoulos is one of SpoilerTV's Staff Choice Performers of May.
The Taylor Hickson, Linda Cardellini, and Marie Avgeropoulos winner articles will be out later this month. In the meantime, please feel free to use the comments section to discuss these two amazing winners and their very talented fellow nominees.
Original:
We received even more nominations this month than last month allowing us to have a very strong list of nominees. This should be quite an interesting round with so many powerhouse performers vying for the title.
Now it's time to determine who will be our May Readers' Choice Performer of the Month. The results will remain hidden for the duration of voting. The results of this poll and the Staff voting will be revealed after the poll closes.
2019 Staff Choice Performer of the Year:
Jodie Comer
2019 Readers' Choice Performer of the Year (TIE):
Hailee Steinfeld
and
Oliver Stark
January 2020 Winner:
Readers' and Staff Choice: Rachel Skarsten (Alice/Beth) - Batwoman
February 2020 Winners:
Readers' Choice: Sam Heughan (Jamie Fraser) - Outlander
Staff Choice: Jeri Ryan (Seven Of Nine) - Star Trek: Picard
March 2020 Winners:
Readers' Choice: Christina Hendricks (Beth Boland) - Good Girls
Staff Choice: Jane Levy (Zoey) - Zoey's Extraordinary Playlist
April 2020 Winners:
Readers' Choice: Amalia Holm (Scylla Ramshorn) - Motherland: Fort Salem
Staff Choice: Jessica Camacho (Emily Lopez) - All Rise
Please remember that a performer can only win once in 2020. After that win, they will be ineligible to win again in 2020, but they will secure a spot in our year-end Performer of the Year contest.
Now comes the hard part where you can
only vote for 1 performer
. The poll will be live until
Sunday, June 7th at 6 pm ET
. After you vote be sure to make a pitch in the comments section for what the performer you voted for most deserves to win.
Everyone, please stay safe and healthy.