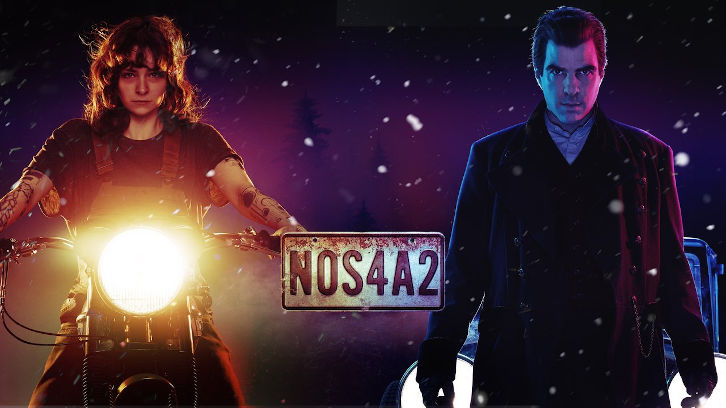 CAUTION: SPOILERS WILL BE REVEALED. PLEASE DON'T READ IF YOU HAVEN'T VIEWED NOS4A2 2x01 YET!
After a month long COVID-19-related delay,
NOS4A2
has finally returned to AMC with 2x01 Bad Mother!
So, what happened? Well, as in the novel, the viewers are transported through a rather large, yet well done time jump. For the TV version, it only went eight years in the future where we see Vic (Ashleigh Cummings) now in Colorado in a serious relationship with Lou (Jonathan Langdon) and working as an auto mechanic while raising the child she was pregnant with in the season finale last year, Bruce Wayne (Jason David) and, yes, that's his name in Joe Hill's novel, as well). Maggie (Jahkara Smith) and Tabitha (Ashley Romans) are now in Haverhill. Gotta say, not much happened in this season premiere beyond the usual season premiere motions. All of the familiar tropes are there: strong, psychic women thinks they have left the past behind only to discover the past isn't done with her.
We finally see more of Chirstmasland and the vampire children, including Charlie Manx (Zachary Quinto)'s daughter (Mattea Conforti), playing sinister games like "Scissors for the Drifter" and tackling and eating the smallest child. The main conflict here now is that the barrier between Christmasland and the real world seems to be obliterated as a result of Charlie's demise last season. To the point where local children might be able to cross through the gateway. The electric lights have even gone out due to his absence. Luckily for them, Charlie's obliteration won't be lasting much longer, which should be a surprise to no one watching.
As we learned last season, Bing Partridge (Ólafur Darri Ólafsson) survived and is working in a dentist's office. It seems that time has dulled his desire for nastiness when he discovers the Wraith and helps to fix it in a particularly nausea-inducing scene with a mechanic. We already know Charlie and the Wraith are psychically connected in a way that probably makes Stephen King a happy father on this Father's Day airing (he wrote
Christine
and
From a Buick 8
, after all, for you younger viewers), so when Vic transports herself via Shorter Way bridge to the morgue to see Charlie's decomposed body undisturbed on the slab, we already know that moment of peace won't be lasting much longer.
I can say that I felt this season is setting itself up to be tighter-paced and more effective then last season, which I had a lot of issues with. Here, Vic is still flawed since she suffers from PTSD like her father did and hides her drinking from her family. Though the actor doesn't look much older than she did last season, Ashleigh Cummings has grown into the character very well. I enjoyed the scene where she throwing all of her phones into the oven as the child vampires of Christmasland contact her. It injected some much needed humor into the episode. I also enjoyed her interactions with the child actor playing her son. Even the scene with Lou telling her to finally get some help (seriously, it took
eight years
for him to finally say that?) was poignant. Is Vic a "bad mother," as the title suggests? It doesn't seem like it yet, but the season is still quite young.
I wish they would have shown Maggie doing more than doing one reading, then having a seizure. Aside from that, I felt it was a surprisingly solid season premiere that moved the story and surviving characters forward successfully without sacrificing style or emotional content. Of course, this was just a set-up to get Charlie back into their shattered lives, so I cannot go to much further since we know at this point that this season really won't be beginning until he shows up. I will say that I was expecting far worse this time than what was presented. Hope they keep it up.