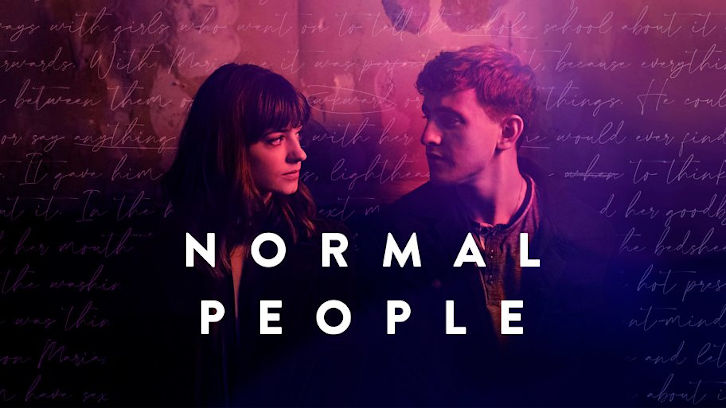 Based on how the last Normal People episode ended (with Marianne and Connell seemingly not having spent much time together, and them delving into the painful breakup that should never have happened), I would not have bet on the fact that they would be vacationing together shortly after (or ever), in an Italian mansion, of all places. And yet, this episode opens bright and summery with Connell and Niall ending their backpacking tour of Europe at Marianne's place, where Jamie and Peggy were already staying.

One might wonder how this rapprochement occured, since it's weird enough that Connell wouldn't be spending his summer with current girlfriend: Helen, but it's quite another level to spend time with your ex and her new boyfriend. Especially since Connell and Jamie famously don't get along, and despite Connell and Marianne claiming they're friends, there's no universe where a significant other wouldn't feel threatened by their connection. I'm not sure how much Helen knows about their history, but even from afar she seems intimidated by Marianne (and her mansion, which it truly is).


That's classic Marianne. Figs. Of course she's serving figs in her Italian mansion. Are there artichokes as well?
Why
didn't
he spend his summer with Helen if he likes her so much, I ask you. More to the point, why didn't
she
come on the backpacking trip and/or at the Fig Mansion? I'm assuming that unlike Connell, she didn't get a scholarship so maybe she didn't have the funds, but since we know next to nothing about her, I'm just going to believe they desperately wished they could've spent the holidays together, but alas, the odds were not in their favor. (Just kidding, it already shows where their priorities lie, so...)
In other words, it feels like once more, Marianne and Connell are tempting fate. That's not to say I'm defending how Jamie acts in this episode, because he is an absolute goblin about it all, but as Peggy points out after a disastrous lunch, what was Marianne expecting when she invited Connell, exactly? Much happens over the span of a few hours in the sleepy Italian countryside, as we soon see. As it turns out, while she may have invited them over for the holidays, Marianne's ways of greeting Niall and Connell vary quite drastically, so maybe not all is perfectly cordial in Marinell (Connanne?? Gosh, that's a lot of "n"s at a time) world. What I love about this show though, is how realistically it depicts relationships. It nails exactly how intense and heartbreaking things can become even in the simplest of settings, how a look or even a tone can redefine a relationship in mere seconds.
The episode starts in a pretty friendly way though, and if you've seen
Call Me By Your Name
(if you haven't, you should), it will inevitably remind you of the movie's gorgeous scenery. Not only because as an hommage to Oliver, Connell is wearing the shortest shorts known to humanity (this may be a Paul Mescal thing more than a Connell Waldron one though, he's been known to wear a series of short shorts all over London these past few months), but also because he and Marianne leave for a little shopping trip in town, and they frolick on dirt roads with their bikes (subtle dig at Jamie when Marianne tells Connell to take his bike and that she will "raise the saddle a bit. A lot.", stopping on a paved plazza for ice-cream. The only thing missing is the dive in a secluded lake and the peaches, but I'll let it go since we got a delicate train scene instead. (Sidenote: when there's a vaccine and we can travel again, I really need to start exploring those parts of Italy. Rome and Sicily did not prepare me for this level of prettiness.)
As Connell and Marianne finish shopping (she speaks Italian, by the way. Is there
anything
she can't do?), they stop for some well deserved ice-cream and somehow the conversation turns to the financial aspects of Connell's college life. The scholarship he won really expanded the possibilities for him (i.e. the holiday), but it also brings on an interesting discussion they (surprisingly) haven't had yet. The class disparity (and the fact that Connell's mom actually worked for Marianne's) has always seemed like an obstacle that should be present in their relationship and it has been, but maybe not in the way we could have expected. Marianne has always acted like she didn't notice it (but not in a careless way, more like she didn't think it should factor) and Connell never complained. Even in the beginning when Rob tried to get Connell to talk about the prince and the pauper of it all, Connell denied it was anything like that. It's nice to see Marianne acknowledging how different their situations are and how the mere fact that she didn't consider it much was pretty ignorant on her part. They may not have been super close (as in not in the same friend groups), but apparently they've been emailing and Marianne only has praise for his writing. What I'd like to know however, is how she thinks she's going to finish that ice-cream while
on
the bike. I dearly hope she has better hand-eye coordination than I do, because I have successfully fallen from a bike when it wasn't even in motion, so god knows what would end up happening if I attempted anything as daring as consuming a quickly-melting snack one-handed and not on stable ground. Unfortunately, this bucolic timeout had to end, and all too soon we're back at Fig Mansion with the rest of the gang.
A Non Exhaustive List of Things That Jamie Gets Annoyed By And Becomes Increasingly Petty About
- Connell and Marianne going biking together (and without him)
- Champagne being served in old-fashioned, filled with sentimental value, coupes and not flutes (Jamie is clearly a liquor connaisseur who can't drink out of anything but Viking horns)
- Marianne's explanation about the coupes (they were her father's. Jamie is insulted, how dare her dead father have bought these coupes!)
- Nial and Connell's backpacking summer plans (no backpacking for Smarmy Jamie, no sirry! Jamie only summers in villas and he uses his private jet to get there)
- Connell's admiration of a painting (Jamie does not waste his precious time with culture, admiring famous paintings is for peasants who wear short shorts. Connell has more self control than I do, but Niall asks Jamie what, exactly, is thrilling about « pissing around at your girlfriend's Italian mansion for the entire summer »)
- Marianne fleeing the scene, officially to get more wine, but in reality to escape from Jamie's insufferable behavior
- Marianne asking Connell to open the bottle (who can blame her? Jamie looks like he'd shoot off the surface of the Earth if the cork-extracting went wrong)
- Connell working hard, getting a scholarship, and enjoying the fact that he isn't quite as strapped for money as before (Jamie would rather drink champagne in the old coupes than get one, let alone several, jobs so he could stay in college and feed himself at the same time)
- Marianne suggesting they visit Venice (Venice is soooooo over, in Jamie's opinion)
- Other people not being racist (unlike him)
- Being called out for being racist (which he was)
- Not having cream immediately brought to him for the strawberry dessert (Jamie seems to have simultaneously lost 1. decorum 2. the use of his legs, since not once did he get up to help the girls with the dishes)
- Having cream immediately brought to him after he rudely asked for it (unless Jamie's face ends up being smashed
in
the cream, I see no reason to bring it, honestly)
I don't think I've ever been
this
infuriated by a character's behavior, which is saying something because I've been rewatching
Lost
, recently and let me tell you, there are many options. I'm honestly quite impressed by how they're all quietly ignoring Jamie's attempts to launch a fight and being the most disagreeable person on the planet, and how they succeed in still having a semblance of a conversation despite him grumbling about, literally, everything, as well as spilling wine absolutely everywhere.
Marianne finally reaches her breaking point and launches at Jamie like a furious cat, only to be held back by Connell. I'm not sure why he doesn't let her destroy Jamie, since he truly would have deserved any ire directed at him, and more. But I guess him being brutally murdered by his girlfriend in front of three witnesses would have meant a lot of tiresome paperwork and ruined the Fig Mansion Vacation, so there's that.
This, however, doesn't exactly explain how Marianne feels justified in asking Connell if she can share his room. Understandably, she wants nothing to do with Jamie, but surely there are spare rooms inside the Mansion? At the very least, she could bunk with Peggy (unless Peggy has some as of yet unseen lovers in the village who come to visit her at night. Which is entirely possible, to be honest.)? But no, she chooses to share a room, and a bed, with her ex. More importantly, he lets her, because he just can't say no to her, ever. I'm not saying I
wanted
him to, I'm all for them finally realizing it's pointless to try and not be together, but for argument's sake, I do want an explanation as to how they justified this to themselves, and each other.
This does bring an(other) interesting insight in their dynamic though, since Marianne confides in Connell how bad her family situation actually is. Far from growing up with a loving, if fund-challenged Lorraine, Marianne only has hateful Alan, her heartless mother, and her dead but abusive father. No wonder she thinks like she's unlovable (which she repeats during each episode now), and that "somehow, she must deserve it" (being treated that way). She also never mentioned this to Connell because "she didn't want Connell to think she was damaged, and not want her anymore". Spoiler alert Marianne, you
are
damaged and Connell
still
loves and wants you.
A Non Exhaustive List of Things That Marianne Should Do
- GET THERAPY
Connell, who unlike Jamie is not Satan's spawn, comforts her, holds her, kisses her forehead as tenderly as possible. This may in fact be my favorite episode, despite the fact that it had my blood boiling every time the camera was on Jamie. But of course, them being them... it quickly slips into something else, until Marianne puts an end to it. I'm not sure why, if it's because it would mean cheating on Jamie (are they even still together?) or Helen (Marianne
would
be the kind of girl who'd worry more about Connell's girlfriend getting hurt), or if she's feeling too vulnerable to give in to it.
They do end up going to Venice and visiting the museum she mentioned to Connell (sans Jamie, who I hope packed his bags and jetted off into the sunset, alone), in which he gets to stare at a painting as much as his little heart desires. This show is beautifully shot in general, but the shot of Connell's profile on the white background, with Marianne slowly coming into focus, is particularly lovely.
What did you guys think of the episode? Did you want to push Jamie in the pool (preferably after emptying it of its water)? Do you think Connell and Marianne should have gotten back together? What did you think of them finally adressing the difference in their upbringings and financial situations? Only four episodes left, we're getting to the last stretch!