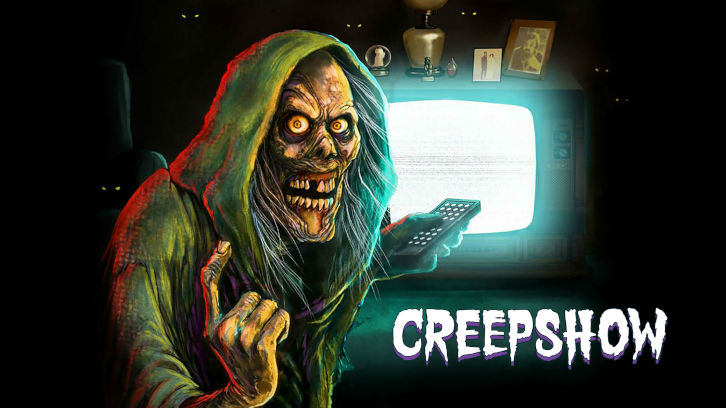 SPOILERS AHEAD - PLEASE DON"T READ UNLESS YOU'VE WATCHED CREEPSHOW 01.05! Yes, you've been warned!
Please note, these reviews are being written about six months after they were originally uploaded to their original Shudder.com network home and right after each individual episode was aired on the AMC network.
The Night of the Paw:
We start with a supposedly original story by John Esposito (
The Walking Dead
: Webisodes,
The Haunting Hour
,
The Theater Bizarre
,
Masters of Horror: Right to Die
) and directed by John Harrison, who has directed 4 segments this season, and co-wrote one he didn't direct. It is basically a modern re-telling of the classic Monkey's Paw story. Here, we have a female criminal, Angela, Hannah Barefoot, get into a car accident while trying evade the police since she has just killed her husband. She collapses on the door of Avery 'Whitey' Whitlock (Bruce Davison). He finds her and takes her in, performing surgery where he has to amputate a few fingers. Angela awakens and, instead of merely thanking Whitey, she gets her silencer, presumably to kill him since she only vaguely remembers him saving her.
Mercifully, Whitey talks her down and convinces her not to leave yet since there has been a serious storm and the roads are flooded. Plus, he is going to offer her the cursed monkey's paw from Mumbai to grant her wishes. Angela doesn't seem to realize yet that she has been saved for a reason. Yes, Whitey summoned Angela to arrive on this night since it happens to be his deceased wife's birthday through a "grand design," as he put it. How did she die? She wished upon the paw for money to save Whitey's business. The money came from her death via insurance claim. No one said granting wishes was going to be easy (is it ever?).
Of course, Whitey then used the paw to wish for his wife to come back to life. (UN)Naturally, she came back as a corpse in the coffin he bought for her. At first, he was elated and even gave her a necromanik kiss after cutting open her stitched-mouth, but she screamed at the sight of the paw and he decided to the humane thing: cutting her up with a shovel and reburying her in the coffin, this time for good. He wished for her to be dead again with the paw.
Angela doesn't believe him. Whitey responded by saying his 3rd and final wish was for a killer to come to him to, well, kill him. This brought Angela to him. She throws the paw into the fireplace when he gives it to her. Whitey retrieves it, but is caught on fire and begs to be shot, which Angela obliges to do. She then takes the paw when it opens its fingers back up. She uses it to make her car run again and goes straight to the morgue to do...exactly what you would warn her not to do after hearing a story like what she just heard. She wishes her husband back to life again, and ends up resurrecting the whole morgue. Oh, and her husband is now a flesh-eating zombie who eats her right then and there. The paw stands up and opens back up again, waiting for its next victim.
Not a bad entry. The unconventional gender representation of a female murderer wearing a black coat and hat instead of the classic male version was appreciated, but didn't really offer much else beyond a pretty nifty ending shot in the morgue. Monkey's Paw stories have been pretty in vogue in horror lately from
Inside No. 9
to
Wish Upon
, to the video game
S.T.A.L.K.E.R.: Shadow of Chernobyl
, to even season one of
Rick and Morty
. It's a classic horror tale that doesn't really age, even if the wishes always end up in predictable nihilistic conclusions. Yeah, the shot of Bruce Davidson on fire wasn't the most convincing CGI shot. Still, not a total time waster.
Times Is Tough In Musky Holler:
This is where things get really interesting. Not sure when you might be reading this review, but AMC sure picked an odd time to air this episode. Sure, they could have never predicted the murder of George Floyd in Minneapolis at the hands of the police or the ensuing nationwide racially-charged protests and riots when they decided to air only one episode a week instead of two like they were originally going to. I actually checked the cable schedule to make sure AMC were still going to air it in spite of the current events sweeping the USA at the moment. Out of all of the stories in this season, this is probably be the one that will be looked upon the most differently since its original upload date on Shudder.com last October for some pretty obvious reasons. Yes, it does feel a little jarring and inappropriate given the current circumstances, but that is also what will make it relevant for years to come. "Times is tough, " indeed. Still, it was aired on AMC and won't be disappearing anytime soon, so I will still discuss it.
John Harrison directs again, this time from a script by by John Skipp (
Tales of Halloween, Nightmare on Elm St. 5: The Dream Child
) & Dori Miller. David Arquette "guest" stars here as a corrupt cop not completely unlike his well-known character, Deputy Dewey from the
Scream
franchise. His crime will have any viewer watching from here on out a lot more uncomfortable than probably was intended. We see a group of people inside a prison cell. One is the mayor of the town, Lester Barclay, one is a police officer named Deke (Arquette), the others are just people fighting the "good fight." Apparently, the town has turned against all of them and put them in this cell together. Lester tries to bargain with a female guard, Lottie, to let him out. Lottie has some expository dialogue about how they are all about to pay for Lester's "reign of terror." Apparently, this includes letting the police rape and murder its citizens (yes, any resemblance to current events is purely coincidental, though not a complete surprise either). Despite their pleas (and pee pants stains), they all know what is coming.
Soon, they are strapped to chairs with chains and lifted through holes in the ceiling. Their heads now stick out through the ground in what appears to be a ballgame field in a triangle/pyramid formation, surrounded by video cameras. Visions of
THAT
scene from
Caligula
are probably sticking out in your memory now. But, this isn't that. This is
Creepshow
. And, in the
Creepshow
version, we get face-eating zombies as a sadistic game show instead of a giant moving wall with revolving blades. We learn from an announcer on that field that when the world went to hell in a hand basket, the dead came back to life. Lester took over as mayor and behaved like a dictator, keeping the citizens docile exerting violent force, showing that he is getting what he and his ruling class cohorts deserve. Any allusions to a certain POTUS happening yet?
I have to say, the segment didn't really work for me until the last minute or so. The make-up effects are fantastic and might be among the most memorable of the season. Sadly, I will probably never want to re-watch this since its abusive authority themes now hit too close to home nowadays and also suggests that 2020 is long from over and anything can still happen...even
this
, which now doesn't seem so far-fetched. Thanks, AMC!