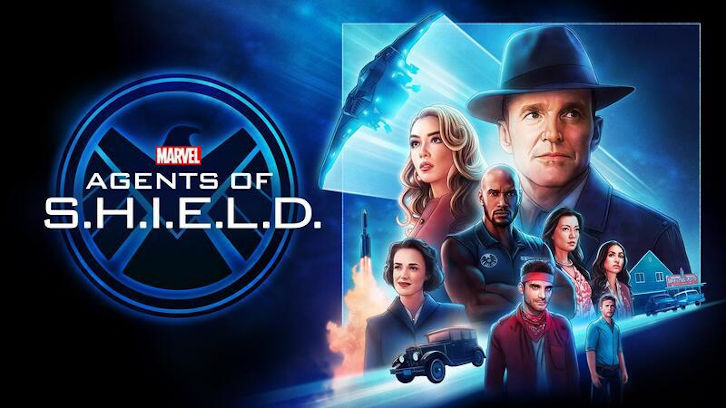 Agents of S.H.I.E.L.D
. "Know Your Onions" was written by Craig Titley and was directed by Eric Laneuville. We say goodbye to Enoch (Joel Stoffer) – again! – in this episode, but here's hoping he'll be making a time jump to catch up with the team. Honestly, he's not going to die, so he should be waiting for them… I'm not at all a fan of May's (Ming-Na Wen) storyline. Really? An emotion-less – and stupid – May? They've done emotion-less before, but not stupid. Here's hoping when she's truly finished in the healing pod it will really be May. But let's dive in for a closer look….
Back on the Zephyr, we rewind to May waking up after dreaming about her death.
Enoch interrupts May working out. When he suggests she should get some rest, she replies that she'll rest when she's dead, and Enoch tells her that was what they were hoping – LOL! May recognizes him even though they haven't met in this timeline. I loved that Enoch introduced himself as Fitz's best friend! Enoch attempts to give May a sedative, and she drives it into his shoulder. She's upset that everyone is away on a mission and she isn't with them.
Enoch asks her what she remembers and she tells him that she remembers killing Izel, but not her death. Enoch tells her that Simmons was able to save her using the technology it took her a "significant amount of time" to develop. May asks the question that I want the answer to – HOW LONG??? Is Simmons going to turn out to be an LMD too? Have both Fitz and Simmons lived an entire lifetime already perfecting all this technology???? Enoch tells May she is far from home. When he tells her that she's in 1931, her only response is that she's hungry.
The meet up for Freddy is 500 miles away – he has them unload the car so that they can take it and leave, and he's planning on taking a train. Deke warns him that the "cops" that are after him won't give up – and want him dead. Mack tells him that they have a job to do. They are going to make sure that Freddy makes his delivery because the cops don't want him to.
The Chronicoms have almost left when Nora knocks a bottle off a box and it breaks. YoYo, for some reason, just watches it fall! Koenig tells them it's rats, but they are only drawn away by a report that the getaway car has been found.
Daisy checks in with Enoch – he's finding the primitive communication devices, very primitive! Daisy is worried that Freddy will do something to Deke and Mack. Enoch assures her that there's no puzzle he can't solve!
Mack and Deke take the opportunity of Freddy taking a nap to check the bottles. Mack is sure that there's more to it. Freddy wakes up when Enoch tries to contact them. Freddy isn't happy they've been looking through his stash.
The Chronicoms focus on finding Freddy. They are going to check the train schedules to find out where they went. They aren't worried about S.H.I.E.L.D. Once they kill Freddy, S.H.I.E.L.D. will be "out of time!" More irony!!!
Freddy won't let Mack inspect the bottles – he can't bring open bottles. Being curious will get you killed. Deke just wants to concentrate on getting him to where they're going. Mack insists, and Freddy pulls a gun on them.
In a nice echo, Enoch pulls a gun on May. She insists that he doesn't have the guts to pull the trigger – and we get an amazing fight sequence! I love Enoch! He could clearly take May down – but doesn't. He tells her that because they are at war, he's upgraded to the Hunter-level combat skill package. May insists that a machine is still just a machine! May doesn't pull any punches and looks like she's about to cave in Enoch's skull with a fire extinguisher when they're interrupted by the others returning.
Coulson tells her to stop, and she is completely emotionless as she remarks that he's not Sarge. Coulson confirms he's not. She also says he's not Coulson. He says yes… and no. He wonders that she's not at all surprised. He reminds her that he was dead. She says "you still are" as she drops the fire extinguisher and walks away.
They're all surprised at how easily they're able to get May back in the pod. Simmons points out that May was completely calm as she let her sedate her. Enoch is clearly put out as he says that May is clearly malfunctioning! Enoch tells them that he doesn't know what set her off other than her insisting she wanted to be on the mission. He also tells them that he should be able to contact Mack once they are in the air and a little closer to their destination.
Freddy has also figured out that Deke and Mack aren't from around there and aren't bootleggers. Mack tells them that it's their job to protect Freddy, who tells them that Nora knew his father and is prepared to make him somebody – something his own father never did.
No doubt Enoch will somehow "catch up" with the team. In the meantime, I really hope that they course correct on May. Great performances from Oswalt and Stoffer in particular in this episode. The May/Enoch fight was epic! Lots of great moments and lines in this episode, but I didn't think it was quite as strong as the season opener. What did you think of the episode? Let me know your thoughts in the comments below!