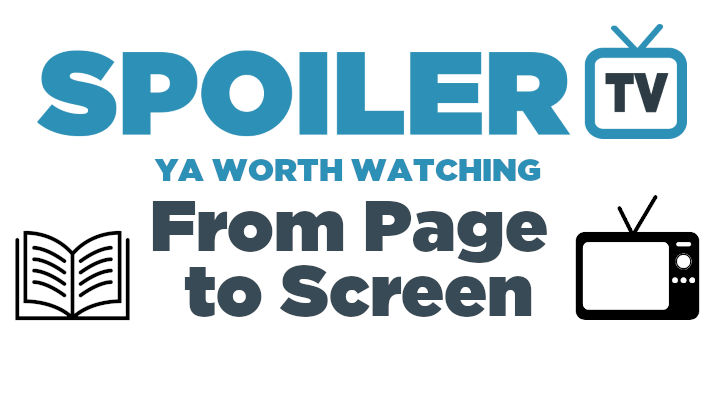 Over the last few months, how many times have we all heard the phrase "these uncertain times"? It's true. We are living through a time that is both uncertain and unprecedented. We all feel a little restless, a little anxious, a little unsure, and a lot overwhelmed. I'm not sure what's overwhelming you, but my feelings are best summed up by a line from poet Anis Mojgani's "Direct Orders." I have "nothing to do but everything."

I'm overwhelmed by the everything, so as Emily Dickinson wrote, I "dwell in possibility." The countless possibilities that present themselves to me have left me moving at glacial speeds. All of this is to say, I'm a few (many) weeks late, but still committed to helping the streaming giants find their next great YA book to TV adaptation.

By the way, the inevitable Percy Jackson series I mentioned in March? It's officially in development at Disney+. I'm not saying I had anything to do with it, but let's all pretend I had everything to do with it. I basically wrote it into existence with my March column.

With that success in mind, this month I've turned an eye toward mystery. What could be more fitting than a story with an uncertain ending for our uncertain times?

Presenting . . .Truly Devious by Maureen Johnson

Who:
Stephanie "Stevie" Bell. A true crime obsessed teen determined to solve a decades old murder. And a few new ones. Murderers and liars try to stop Stevie at every turn, but her biggest struggle is with anxiety and depression. The supporting cast doesn't disappoint where diversity is concerned; it's all here and never feels like a checklist.
What:
A classic mystery. The novel pays homage to the great detectives of Christie and Doyle, and a little Harriet the Spy, while remaining thoroughly modern. In April 1936, the wife and child of Albert Ellingham disappeared without a trace, and they weren't the only victims that day. The only clue is a twisted riddle asking how they should die. Over 80 years later, Stevie Bell arrives at Ellingham Academy to solve the cold case. Unfortunately, murder doesn't stay in the past.
When:
Flashbacks to the 1930s are peppered throughout, in fact it's where the story begins, but the bulk of the action takes place during modern times. Although, the school's remote location makes the setting feel timeless. Almost.
Where:
Ellingham Academy. An elite and exclusive boarding school halfway up a mountain in Vermont.
Why:
I always wanted to be a great detective? Didn't we all? A steady diet of old
Scooby-Doo
cartoons and
Nancy Drew
books solidified my career plans. Maureen Johnson's
Truly Devious
let me believe for a little while that I was a great detective. That I was finally
Harriet the Spy
without the trauma, but then all of my newfound confidence was snatched away by Johnson saying, "not so fast, have another clue." A good mystery keeps you guessing and a great one makes you enjoy the ride. This is a ride you'll love. And having it laid out in weekly installments will let you believe you too are a great detective, but only until the next episode.
Have you read it? What do you think? Are you intrigued? If so, check out all of the books in this outstanding trilogy—Truly Devious, The Vanishing Stair and The Hand On the Wall. And might I recommend The Flavia de Luce series by Alan Bradley. Let's see if this one can be talked into existence.