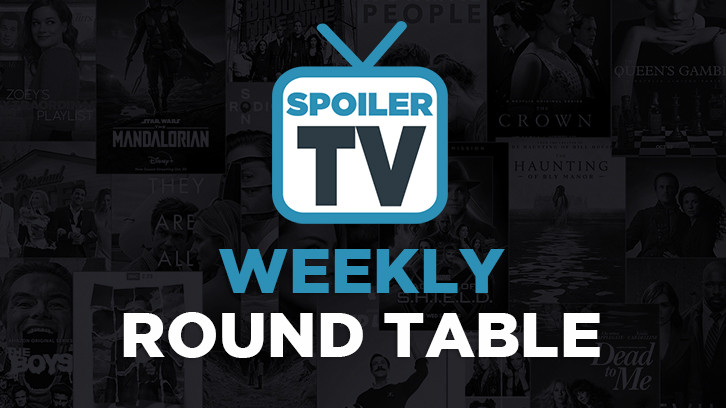 Hello and welcome to a new edition of SpoilerTV's Weekly Round Table! Joining us this week is Jamie Coudeville (JC), Lisa Macklem (LM), Alison D (AD), Julia Krassnik (KK), and myself (ZF). You just have to sit back enjoy the read and join the discussion in the comment section down below.

It's getting close to that time where shows get cancelled or renewed! Do you have any predictions? Are you hoping some of them are incorrect?
Jamie:
It's pretty hard to predict what will get cancelled or renewed this year because it's been such a weird season. Lots of people are saying that there will be less new shows so the old rules don't really apply. I've mostly been keeping track of my own shows. I'm still anxiously awaiting ABC's decisions but I'm not too worried.
Black-ish
and
Mixed-ish
seem safe. And I think
A Million Little Things
and
Single Parents
did okay. I was thinking of starting
Emergence
over the summer, but I have a feeling that one is going to get cancelled. Another show that I was considering starting was
Katy Keene
. I've heard surprisingly little buzz about this one but it's a
Riverdale
spin off and it's on the CW so I'm guessing it's safe. And
Manifest
, this one I'm not sure about. I still don't quite know what to make of the move to midseason. I haven't really been enjoying this show anymore but I have no idea how everyone else is perceiving it or how it's been doing. In my opinion, this one could go either way.
Lisa:
It's still too early to tell about a lot of shows. It will depend on how strong the networks think the ones they have waiting in the wings will be - and when production can start again - and what that production will look like. It's also going to be hard for shows to cross borders to shoot, etc, etc.
Alison:
I definitely don't have any specific predictions. I think the remaining networks will follow the example set by CBS—renewing most, cancelling a few, and picking a few pilots and scripts to move forward. The uncertainty of when the industry will be up and running again and what that's going to look like will make the networks a bit more cautious and willing to hang on to bubble shows than in years past. I think everyone is looking for a little consistency right now.
Zoé:
With all the craziness going around, it's definitely hard to predict. There's a chance they could renew more shows than usual because it'll be harder to go through the pilot process. The other chance is that they'll cancel more things because they want to focus on their better shows when production starts up again. But, looking at FOX's fall line-up, it'll likely be around the same level of cancellations, but all the renewals will be pushed to midseason.
As for hopes, I'm thinking
Prodigal Son
and
Manifest
will be safe, but I'm really worried about
Zoey's Extraordinary Playlist
. The show is a gem and I would love to see it renewed.
There have already been a few cancellations announced this T.V. season. Which ones do you think were prematurely canned?
Jamie:
Dare Me
. I still don't understand why it got cancelled in the first place. They had a deal with Netflix and from what I understood it was doing pretty well. It was even the top watched show on Netflix in my country at one point. Plus I was starting to see an online following too. I really hope Netflix saves it but I'm not getting my hopes up.
Lisa:
Tommy
was definitely prematurely cancelled. The show was really very good - great issues, acting, and writing. But given when it premiered, I don't think they were ever going to renew it because they basically shot it down by premiering it when they did.
Alison:
None of the announced cancellations have bothered me. They weren't shows I watched. I'm still waiting to hear about
Prodigal Son, Stumptown, The Rookie, and Zoey's Extraordinary Playlist
. Honestly, I'm not worried about any of them given the current state of television. If I were going to be anxious about one of those, it would be
Stumptown
.
Julia:
Definitely
Tommy
. The show was diverse in many ways, talked about current issues, and constantly deconstructed stereotypes. Just take a look at the show's main character: A kickass woman over the age of 50 who destroys the glass ceiling by becoming the first female chief of police in LA. Oh, and she is gay and portrayed by the brilliant Edie Falco (Sopranos, Nurse Jackie). This is a show our society desperately needs right now! Unfortunately, CBS did not ever seem to have planned for the show to continue beyond season one. In the three months, the show was on-air CBS did not even manage to create a Twitter account for Tommy. This show more than deserves a second season preferably on a different network/streaming service. Do you hear me Netflix, Amazon, Hulu?
Zoé:
I was really shocked about
Dare Me
. I know the aired ratings weren't the best, but the show has been picking up a lot of popularity within the last month or so. I felt like they cancelled it right as it was becoming known, and the second season would've shown a large rise in numbers.
Since Quibi's release, some people have mentioned their disappointment in not being able to take screenshots of the shows. Has seeing screenshots on social media ever impacted whether or not you started/sampled a show?
Jamie:
Not so much screenshots as gifsets, those have made me start watching a show. But screenshots on their own, not so much. It's hard to get something from only one frame. It has however spoiled me plenty over the years. Also, is this when I point out that I don't know what Quibi is? I know it's probably a streaming service, but at this point, it's getting confusing.
Lisa:
The lockdown of content on the internet makes it almost impossible to find screenshots anyway. It takes me forever to find shots to populate my articles!
Alison:
Screenshots have definitely made me curious about shows and movies. I don't know that any of it has ever amounted to me watching the show. I'm more likely to seek out screenshots of shows I do watch.
Julia:
I started watching at least two shows because of screenshots that were shared on Twitter by viewers of the show. However, the screenshot alone probably would not have made me watch the show. It was a combination of the pictures AND their caption.
Zoé:
I think screenshots have enhanced my interest in shows, or reminded me of it. I don't think I've ever wanted to watch a show purely based on a screenshot.
A lot of shows rely on some kind of word-of-mouth for it to be successful. With the rise of fandom, shows are everywhere on our Twitter, Tumblr, Facebook, Reddit, etc. What draws your attention to shows the most? (I.e. Fanvideos, screenshots, live tweets...)
Jamie:
I'm not sure it's one specific thing for me. I think it might just be a general buzz. If I see that a lot of people are talking about it, I start to do some investigating. In the past fanvideos and gifsets have definitely made me start to watch something. Especially shows that didn't get a lot of promotion like
One Day At A Time
. For sitcoms, I rely entirely on what I see online. It hasn't always turned out for the best for me, though. Like, I started
Elementary
because I saw gifsets of Natalie Dormer's character, and then she was barely ever in it. So, I'm a lot more critical now.
Lisa:
Fandom is not new - it goes back to the Dickens and Shakespeare! However, if you want to consider the rise of social media - that is new-ish. My radar for a show starts long before any of that happens. I'm drawn to a show by the creator and the cast - or a unique concept. Sometimes I'll watch if there's enough buzz about a show - say
Ozark
that everyone was talking about - but even there, I'm a huge Jason Bateman fan, so I was going to watch anyway. Fandoms do NOT draw me to a show. I've seen how too many fandoms eat their young, so I tend to stay away from fandoms in general. Even this mild comment will likely get me in hot water. If I like a show a lot, I might look for some good fan fiction - and that community - writers! go figure! - is my people...
Alison:
Fandoms and social media are beautiful and terrifying spaces. I think what draws my attention depends on the social media platform. Tumblr is definitely a fan space and a creative space. It's great for longer discussions or discourse on a scene, a plot, lighting choices, camera angles, and - for better or worse - ships. It's also a very visual space filled with artists putting together gifsets, screenshots, digital paintings, drawings, etc. on every aspect of a show. IG and Twitter offer a bit of both. They are certainly for the fans, but they are also a platform for promotion by the people invested, from a business standpoint, in a show's success. I'm a fan of IG lives and takeovers for some fun behind the scenes scoop, as well as the interactions between the actors. Live tweets by the actors, writers, or showrunners can be a good time, so long as there isn't a lot of telling me what I should see or takeaway from a scene. Social media has broken down the final wall between casual viewer, fan, and showrunners or writers. A lot of showrunners, writers, and actors are engaging with their audience in positive ways as a way to build the audience and hold on to viewers. On the flip side, a lot of showrunners and writers are taking to Twitter and IG to explain to the audience what they should have taken away from a scene or to explain what wasn't apparent. I find that problematic for a couple of reasons. The first, if you have to explain it, the scene wasn't well written. The other reason, once a show is released into the world, it doesn't belong to the showrunner, writers, or actors. It belongs to the audience. I won't go as far as declaring, like Roland Barthes, the author is dead, but they sort of are—in fandoms, they definitely are. The battle cry of fandom could easily be the author is dead, long live fan fiction. Overall, when it comes to social media and your shows, find what you love and avoid the rest.
Julia:
Probably gifs. They offer a bit more information about a show than just a screenshot. When I start watching a new show it is probably because I have seen gifs of that series floating around on Twitter.
Zoé:
I think fanvideos are definitely my biggest pull. I tend to watch anything my favourite editors upload, and a lot of times, I'll see a video of a show I haven't heard of before. If it looks interesting enough, I'll watch the trailer and get sucked right in!
That wraps up another round table! Feel free to drop your thoughts in the comments below. See you next week!
You can email zoe@spoilertv.com if you have any question suggestions.