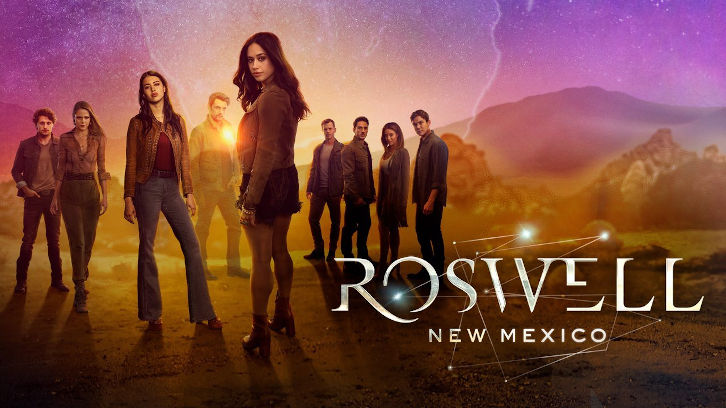 This week on Roswell, New Mexico Liz continues her research of the alien DNA. Walt explains to Michael and Isobel what happened to Nora and Louise, which we see through flashbacks. It turns out Tripp had a bond with Nora and was actually on their side. Alex finds a hidden message from Tripp. Jesse Manes is tapping his phone. Sheriff Valenti arrests Max for kidnapping and murder, but he's freed after he explains has a heart problem. We find out that Max had some problems as a kid. Kyle reveals to Liz that Steph is dying. Steph runs away angry at Kyle when he tells her he knows.

Curiosity killed the cat: I feel like this statement applied to both Liz and Kyle today. Liz's storyline kind of continued on from last week. She's a curious person by nature, you have to be in her line of work (and I don't mean waitressing). And I think she may be a bit blinded by the potential research of the alien DNA could have. When Kyle told her she wouldn't be able to explain her findings without exposing the aliens, it was almost like she wasn't listening. While no one believes that she would intentionally do anything to expose them, she tends to be a bit reckless when it comes to her research. But it was a bit hypocritical of Kyle to be telling her to mind her own business when he's the one that looked at Steph's medical file. I have to say, I did not expect that from Kyle. I think Liz may be rubbing off on him. It's one thing for him to have connected the dots and figured out that Steph is sick. But to actually look in her file… he could be fired for that. And I completely understand why Steph was so pissed off, it's a huge invasion of her privacy. And if Liz starts to work with Steph's DNA, things may go from bad to worse.

Misjudged that, didn't I? So, Tripp is a good guy. This changes a lot. First of all, I'm glad Jason Behr is not playing a bad guy. But it just confuses the hell out of me where Jesse Manes is concerned. Who's side is he on? He seemed to worship Tripp, but I wonder if he's not worshipping a Tripp that doesn't exist since Tripp mostly kept his bond with Nora a secret. I mean, we've mostly just seen Jesse Manes be a bad guy. So it seems like he adopted Tripp's brother's philosophy more than Tripp's. Is that why he said he failed Tripp? Because he went on the attack with the aliens? As I said, I'm just confused.
Bit of a stretch: Something else that was confusing, Max's scenes with Sherriff Valenti. All of a sudden she thinks he's a kidnapper and a murderer? And her proof was flimsy at best. She's sort of been getting on my nerves all season, I think at this point it's time to let her in on the alien secret. She could cause too many problems for them. Especially with her new perfume. I get why Kyle gave it to her. It's not exactly clear what the side effects could be from having Isobel roaming around in your head. But it did make for an awkward situation. Does this also mean that if Sherrif Valenti had gotten hurt, Max wouldn't have been able to heal her?
Best quotes: Liz: "Kyle and I not only used to date, we also share a sister. Yeah, my mom, his dad, a torrid affair in the '80s." Steph: "Oh, so you're not related?" Liz: "Oh." Kyle: "Oh, Uh, we figured…" Liz: "Yeah, we're good. I compared our DNA." Kyle: "You did?" Liz: "Hi, I'm Liz. Have we met?"
Liz: "Isobel, where is Max?" Isobel: "Kyle's mom arrested him for, I don't know, kidnapping, or murder or kicking puppies. I don't know, I couldn't tell you."
Liz: "The fryers are off, my friend, and I'm only turning them back on if your day was worse than ours."
That's it for this week. Check in again next week for an all-new review and let me know in the comments what you thought of this week's episode.
Please be respectful in the comments, any unnecessary rudeness isn't welcome.