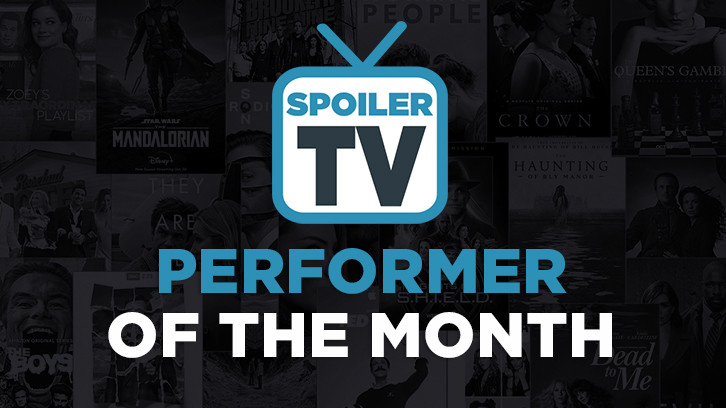 Results:

This was a fun race on the staff side with the ultimate winner coming up through the ranks to stealthily claim the title. On the Readers' side, the ultimate winner surged out to the front from the start and was never again caught despite a strong list of fellow nominees.


Amalia Holm made an immediate impression from the first moment she graced screens as Scylla Ramshorn on
Motherland: Fort Salem
. She has been a powerhouse performer in every episode of the season so far and turned in her most profound performance during
Mother Mycelium
. The scream she delivered as Ralle (Taylor Hickson) was dragged from Scylla will haunt those who saw and heard it for a long time to come. Her performance early on in the episode was full of defiance leading up to the moment Scylla broke in the wake of losing Raelle again. Through everything the writers threw at her, Holm delivered one commanding performance after another. The audience could feel the anguish that pulsed through the screen and slammed right into the chests of every person watching. It was the type of performance that can't and won't be forgotten. For all these reasons and many more that will be discussed in her winner article, Amalia Holm is SpoilerTV's Readers' Choice April Performer of the Month.
Jessica Camacho stormed onto screens last Fall as the confident Public Defender Emily Lopez in
All Rise
. She has been a brilliant force to watch command the screen in each episode. Camacho channels so many emotions into her performance and when Emily believes in a defendant you can see it shine through in her performance. But her performance in
In The Fights
(1x19) was different. Her performance was so different in this episode and you could feel the conflict boiling up in Emily throughout the episode until that final heartbreaking moment at the end where Emily just loses it and breaks down as the emotions overwhelm her. The performance Camacho delivered in that moment was almost hard to watch because of how much pain she channeled into Emily to bring that very real explosion of emotion to life. Delivering strong performances is what she is known for, but her performance in this episode was next level and very worthy of recognition. For all these reasons and many more that will be discussed in her winner article, Jessica Camacho is SpoilerTV's Staff Choice April Performer of the Month.
Amalia Holm and Jessica Camacho's winner articles will be published later this month. In the meantime, please feel free to use the comments section to discuss both of these worthy winners and their amazing fellow nominees.
Original:
We had our most active nomination round in recent months and as a result, it produced a very strong list of nominees. This should be a fun battle of titans to take the Readers' Choice title this month.
Now it's time to determine who will be our March Readers' Choice Performer of the Month. The results will remain hidden for the duration of voting. The results of this poll and the Staff voting will be revealed after the poll closes.
2019 Staff Choice Performer of the Year:
Jodie Comer
2019 Readers' Choice Performer of the Year (TIE):
Hailee Steinfeld
and
Oliver Stark
January 2020 Winner:
Readers' and Staff Choice: Rachel Skarsten (Alice/Beth) - Batwoman
February 2020 Winners:
Readers' Choice: Sam Heughan (Jamie Fraser) - Outlander
Staff Choice: Jeri Ryan (Seven Of Nine) - Star Trek: Picard
March 2020 Winners:
Readers' Choice: Christina Hendricks (Beth Boland) - Good Girls
Staff Choice: Jane Levy (Zoey) - Zoey's Extraordinary Playlist
Please remember that a performer can only win once in 2020. After that win, they will be ineligible to win again in 2020, but they will secure a spot in our year-end Performer of the Year contest.
Now comes the hard part where you can
only vote for 1 performer
. The poll will be live until
Thursday, May 7th at 6 pm ET
. After you vote be sure to make a pitch in the comments section for what the performer you voted for most deserves to win.
Everyone, please stay safe and healthy.