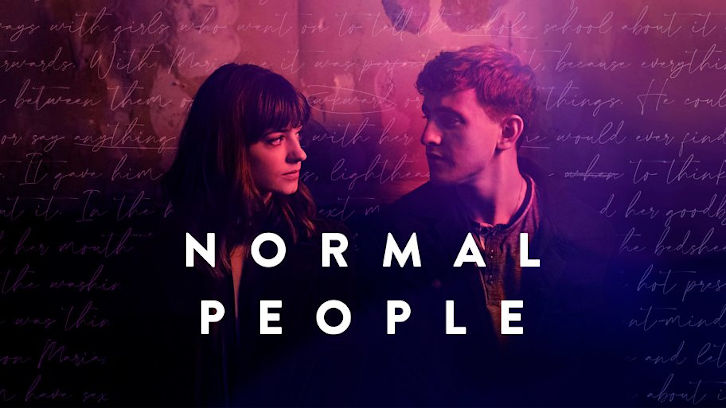 This episode of Normal People picks up a few months after the previous one left off, the summer holidays are over and it's time for the big one: college! Unlike the first three episodes, this one begins by following Connell's new life, with no Marianne in sight.

Connell, unsurprisingly, got into Trinity and somehow left finding appropriate housing to the very last minute. He ends up sharing a room with another student, Niall, who initially seems a little unconcerned but who turns out to be a pretty good friend to Connell. Connell, unlike his high school persona, is having trouble fitting in outside of Caracklea, and is living a pretty solitary life. Most of his high school friends went to another college, and Connell's easy popularity, the fact that everyone knew who he was there, has suddenly disappeared and left him a lot more vulnerable than he was then. It's evident in his rapport with his roommates (almost nonexistent), with his classmates (ditto), the way he appears perplexed in his small literary discussion groups as the other students animatedly discuss whatever book they're currently reading.


During the week-ends, Connell drives back to Sligo, his mom, and his part time job without which he couldn't afford housing in Dublin. While most of their friends, similarly to Connell, left for college, Rob is still in town, and has started working. Rob has mellowed down a lot from his previous taunting (when Marianne was around, anyway), and seems envious of everyone else leaving. However, Connell's description of college life and his nostalgia for Caricklea and the life their group had there, dampen whatever idea Rob had of the exotic appeal of higher education in a faraway (ha) city. Connell feels like the outsider in a sea of pretentious kids in chinos and loafers (even though, as he quickly corrects himself, there's nothing wrong with those!).
To be fair, his classmates are, quite honestly, spewing dumb platitudes about the oeuvre, without really dealing with it. While Connell initially appears overly simplistic in his analysis, it turns out he's probably the only one who actually knows what he's talking about and who makes sense when he discusses characters. More than that however, it feels as if he's missing something, or rather someone, as he constantly searches for Marianne in giant amphitheaters with hundreds of other students, but she's nowhere to be found.
In fact, the first half of this episode, devoid of its heroine, mirrors in its format, the book Connell's class is currently studying.
I think the fact that she gives us a new chapter, suddenly, out of nowhere from the perspective of Knightley, having been with Emma throughout, felt really remarkable to me. And a moment of balance and care, and something psychological which hadn't really been attempted before. There's also a refusal of any kind of moralistic judgment granted to everybody and I found that sort of extraordinary.
Until we meet Gareth. Ahhh, Gareth, you pretentious campus celebrity whose name I can never remember correctly unless someone has just pronounced it. Gareth is in Connell's English lit study session, Gareth enjoys debating, and Gareth has invited a Nazi sympathizer to be the keynote of his next debate. In other words, Gareth is a pompous prat, but Gareth also rescues Connell from his quest to go through college without meeting anyone, and invites him to a party. To Connell's (and Lorraine's, who pushes him to go) credit, he actually shows up even though he doesn't know anyone... or so he thinks. Because Gareth also has a Girlfriend! From Sligo! Just. Like. Connell. What are the odds of this girlfriend
not
being Marianne? Yep, here she is, and she's undergone quite the transformation. While Connell has morphed into what he always was on the inside if not the outside: a shy, smart, sensitive guy who has trouble opening up, Marianne has become the opposite. It seems that college had finally provided her with an environment in which she can blossom. Granted, it does come with heavy makeup, smoking, and questionable fashion choices, but she has a group of friends and she's clearly sought after and respected. The opposite of how she was treated in high school.
I was wondering if either one of Marianne and Connell was going to pretend not to know the other, and we were going to have to suffer through a Marty-esque situation like on
Gilmore Girls
, but thankfully Marianne makes good on what she told Connell back in high school: she would never pretend not to know him and immediately says hello. In a pretty friendly manner, if you ask me. She doesn't freeze him out, or passive-aggressively call him out for what he did to her (at least, not too much). But she doesn't let him skirt around what happened, either, and their first conversation is actually pretty intense.
- You weren't really replying to my texts at the time.
- Felt somewhat abandoned, Connell.
- Yeah, I felt a bit abandoned myself, didn't I? You disappeared. The Rachel thing, uh.. it wasn't serious or anything.
- It's not really why I left school.
- Right.
- More of a last straw kind of thing.
- I wondered if that was what it was.
Really. Maybe you're telepathic.
- You know, I did use to think I could read your mind at times.
- In bed, you mean?
- Yep. And afterwards, but… I don't know, maybe that's normal.
- It's not.
Must we conclude that
Garfield
Gareth can't read her mind, in bed or otherwise? He also, apparently, never tells her she's beautiful. Unfortunately, Marianne being Marianne, she's honest about her feelings for Connell to the point of self-sabotage. She missed him. She can't think of anything that's "not to like" about him. She offers to set him up with one of her friends "now that she has some of those". MARIANNE. Wasn't it enough to ask Connell if he liked other girls at school literally while they were having sex, now she's offering to find him a new girlfriend? It's all talk, too, because as soon as one of her girlfriends (unprompted) shows interest in Connell, Marianne is visibly flustered about having to give her his number. Girl, save yourself the pain, I beg you. She's also obviously expecting him to text after they saw each other again, and is disappointed when he doesn't (too busy texting her friend that she set him up with!).
Marianne's other friends are...a mixed bunch. Of which I'd only keep Joanna, who seems sweet and down to earth.
Peggy is an annoying mess, Jamie is smarmy and obviously has his sights set up on Marianne, and Gareth doesn't know her well at all.
The episode ends with Marianne finally caving in after an evening with her friends, and texting Connell late at night. And so it begins! Some people are like magnets, you can try and not be in their life or kick them out of yours, but ultimately you find your way back to each other.