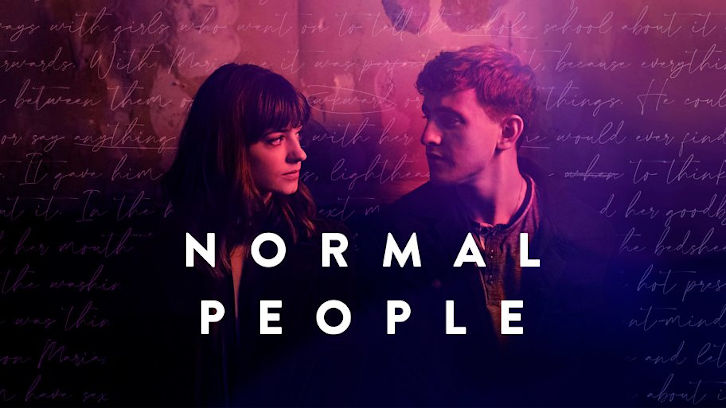 The Normal People premiere ended with Marianne wanting to jump Connell's bones and Connell agreeing to see each other at his place, in Lorraine's absence, and this episode picks up right where we left off.
Fair warning about this show: if, for lockdown reasons, you're thinking of taking this up and watching it in a family setting (i.e. with parental units watching along with you)... Don't. Just some kind advice from you to me, you'll thank me later, it gets quite graphic.

This episode actually starts with Connell and Marianne (I mean, I suppose this is the small talk preceding the real topic of this episode) analyzing their differences in character, which is something that will follow them in years to come, so better get things straight now. Connell is indeed the popular one in high school, but as Marianne astutely tells him, he doesn't have an opinion about anything. It's easy to stay in the popular bubble when you don't affirm yourself about anything, don't take stances, don't defend people your friends are picking on, keeping hanging out with the same four equally popular people, and never express anything above a mumble. I'm not saying it's necessarily a bad way to navigate high school though, sometimes you have to do what you need to survive, and he certainly has an easier experience than Marianne.

Marianne does feel, and express her thoughts, even when they make other people uncomfortable. She doesn't hesitate to put people in their place when they deserve it either, even when she must know it'll only hurt her in the end. With all that said, somehow this does not translate into her relationship with Connell at all. With him, she becomes extremely vulnerable because everything she feels is blurted out with no filter. Whether it's physical and she repeatedly inquires if this is when they finally take their clothes off, even though he's the experienced one, or when she demonstrates a better understanding of what Connell enjoys, that is better than his own, and that includes his choices in majors and colleges.


I just kept thinking how much I wanted to watch you have sex. I mean, not even with me, with anybody. How good it would feel.
In one of many, many instances, Marianne puts Connell, his feelings, and his happiness way above hers, in a sort of incredibly selfless to the point of self-destruction, fashion.
Speaking of self-destruction, Marianne develops a particularly niche streak of masochism when she keeps asking Connell about which girls from school he has crushes on (yes, even when he's "literally still inside her" to quote an incredulous Connell). Girl, us insecure people usually try and avoid thinking about the endless competition, let alone ask the subject of our affection directly about it! Marianne needs to be in a relationship with therapy and also self-worth. In Marianne's defense though, Connell may not have a crush on Rachel (who seems to believe she's a gift to humanity) but he sure does use her as an avoidance crutch whenever his feelings for Marianne threaten to become overwhelming.
Exhibit A
: in the premiere, after they kissed, he went to Rachel's party even though he wasn't planning on it. AVOIDANCE!
Exhibit B
: they 'finally' (okay, it took one episode, two meet-ups and an empty house, but still) hook up and he disappears for an entire week-end, with his friends, to reassure himself that Marianne doesn't mean anything. Ditto.
I think this show resonates so much with people because (unfortunately) a lot of us have been there with the half relationships in which you feel like in the moment you mean everything to the other person and as soon as you're apart, it's like it never happened. And it's devastating.
When we realize that Marianne has absolutely no idea what "The Ghost" is and that she's never been even though it's the high school hangout hotspot in Sligo, it's hard not to feel heartbroken at how lonely her high school experience must have been, and how cruelly excluded she's been from everything her peers have shared.
- I would lie down here. And you could do anything you wanted to me. Do you know that?
- Do you enjoy making me feel uncomfortable?
- I'm not making you feel anything. Maybe I should just leave you alone.
[...]
I would miss you, if you didn't want to see me anymore.
Would you miss sleeping with me?
Yeah. A lot.
(Sidenote: I really need to start watching this with closed captions, Connell's mumbling may be hot but comprehensible it is not. Do you know how long it took me to decipher this scene well enough to copy it down?! Long enough to give up because I was never going to get it perfectly and just cut through my favorite parts. ARTICULATE, Connell!)
One can only wonder why Connell treats her like his Friday girlfriend instead of a fully-fledged one. When they're together, he's tender and caring, and even though he puts his foot in his mouth half the time, he does seem like a genuinely nice guy. Marianne is insecure about herself, but Connell's in a whole other league when it comes to maintaining his image in front of the rest of the world. He doesn't acknowledge her in the school hallways, doesn't defend her when his friends keep picking on her and she fights back. Does this come from his mother working for hers, so he feels inferior in status and makes up for it by pretending not to like her in public? It feels like a flimsy excuse because Lorraine and Marianne seem to genuinely care about each other, and their difference in upbringing has never been addressed. In fact, it's pretty clear Marianne wishes she'd grown up in the kind of household Lorraine provides instead of her own, financially rich but emotionally poor, one.
- I bet you'd pretend not to know me if we bumped into each other.
- ...
- ...Sorry.
- I would never pretend to not know you, Connell.
- Would you not?
- No.
The episode ends with them leaving the desolate wasteland that is The Ghost, walking away from the debri and seemingly reconciled. But it feels too fragile to last, and as viewer's we're left thinking that this will not end well. (No spoilers, this show isn't called "Happy People" after all).
Anyway! What did you think of this episode, and its lengthier introduction into each of the character's psyches? Also, how gorgeous does Sligo look? I know it's probably a small town, but still, I want to visit.