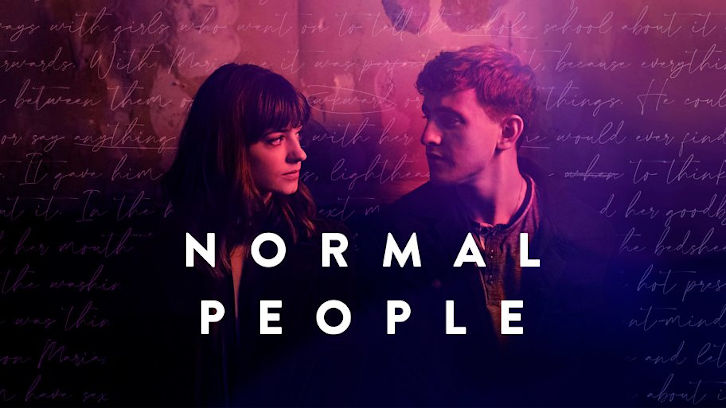 What's that...? Ah yes, the feeling of watching one of spring 2020's best new shows and being able to escape, if only 28 minutes at a time, the anxiety-ridden real world. If you haven't tried this show yet, do yourself a favor and start it. I won't lie, if you're already sad, it won't cheer you up, but from a pretty common premise it quietly evolves into a beautifully told story of love and heartbreak.


I'll admit, when I started watching the
Normal People
premiere, I was very confused for about 5 seconds because somehow I'd gotten confused about which of Sally Rooney's books was going to get an adaptation (along with their respective titles, I read both quite a while ago) so if you've read
Conversations With Friends
, you'll understand I was expecting something considerably different. That said, I got right back
with the program
on board since both books would (and will) make great TV show adaptations (both involve the same creative team and will air on the BBC, so based on how good
Normal People
is, I'm very excited for CWF!). I read the books a while ago, so while I'm familiar with the gist of the story, I don't remember the specifics, meaning that watching the show still has a nice feeling of not knowing how it will turn out.
Meet Marianne (Daisy Edgar-Jones), a super smart but lonely high-school senior. On second thought, I'm not sure you can say "senior" when the high-school is Irish but let's just say she's on the brink of going off to college. That's not to say she's a wallflower though, Marianne (at least to others) doesn't take insults coming her way lying down. I was surprised at first because having mostly watched American high school shows, I'd assumed that uniform automatically meant private school, but then I remembered
Georgia Nicolson
wore a uniform (and a beret) and her school certainly wasn't the posh private kind. If this is indeed a public school where high grades maybe aren't as much the focus, then it's more understandable that Marianne would be the outsider here, and that the others, far from admiring her, would actually resent her and she in return would talk down to them since they criticize pretty much everything about her. Her attitude, her appearance, her social life, nothing gets a pass.
Her family life doesn't seem all that bright either, between a, quite frankly, asshole of a brother who might be even worse than her classmates, and a somewhat absent working mother who's more interested in her daughter's grades, than her actual daughter. All in all, it's a lonely way to go through your teens, even if Marianne doesn't complain.
Connell (played by Paul Mescal), on the other hand, is the effortlessly popular jock who also happens to love reading literature (where does this type of specimen exist in real life, I'd like to know? Asking for a friend, obviously). Whether he's running around the football pitch and scoring the winning goal, or unknowingly flirting with the English teacher (because of course, he is self-effacing and unaware of his appeal!), guys want to be his friend and girls want to date him. Speaking of his friends though, they're Marianne's usual tormentors and Connell doesn't say a thing to defend her, but he does laugh along with her when she puts them in their place.
- You strip off to dry yourself in the toilets again?
- Not this time, no. Why? Would you like an invitation next time?
Their relationship is actually a little hard to define in the beginning. Connell's mom Lorraine (played by the always great Sarah Greene, even though we're supposed to believe she has an 18 year old son here, when in real life both actors are only 12 years apart) is employed by Marianne's mother as a cleaner, and Connell picks her up after her shift everyday, which also entails coming across Marianne in her natural habitat (which is how we find out that plait is not, in fact, glued to her head forever. I have a lot of questions about uniform/hairstyle etiquette in these schools). They seem friendly enough, at least enough to have conversations that are above small talk and become quite intimate when Marianne gently chides Connell about his blushing complexion, or admitting that she likes him (by the printer, in fact).
It quickly becomes clear that he reciprocates her desire to hook up, but at the condition that no one in school finds out. Popular jock, falling for his group's favorite punching-bag, but can't admit it lest it derails his popularity... nothing new there. What does feel strange, is that Marianne would put up with being treated like this. She's demonstrated time and again that she doesn't need anyone, but Connell might be her one weakness, and Connell acts like his friends knowing would be his downfall.
- They have their own interests, I suppose.
- Right. Like bragging about who they're having sex with.
- Right. They can do a bit of that. I'm not defending it.
- Doesn't it bother you?
- Most of it wouldn't. And then they do some stuff that's a bit over the line and then that would bother me obviously, but... They're my friends, at the end of the day, it's different for you.
Connell won't admit that he can't talk to them like he can talk to Marianne, and in an odd turn of events, the closer he gets to Marianne the more he has to prove to himself that he still belongs in that group, going to parties he wouldn't have otherwise and leaving her alone and wanting more. To her credit, for someone so inexperienced Marianne is quite forward with what she wants, which is refreshing.
The episode sets up what's still to come but it's already pretty clear that this won't end well and both their hearts (and mine, and yours) will be broken in the process.
What did you guys think of this episode? Was
Normal People
on your TV Show radar and are you satisfied with the adaptation so far if you'd already read the book?