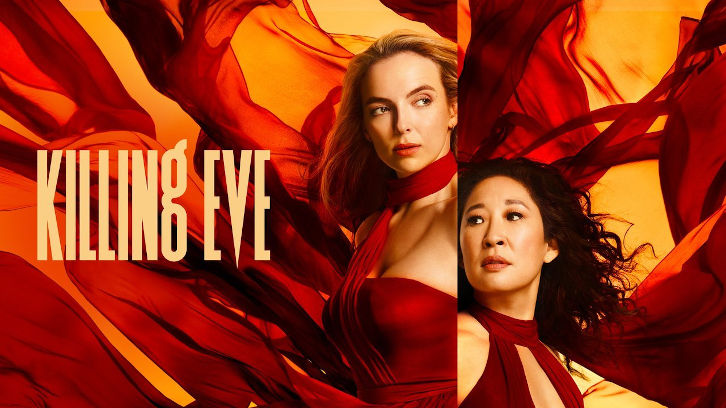 *NOTE – This review may contain spoilers.

I have been debating with myself as to what to say about this episode for almost the entire week since it aired. On one hand, I will praise it as being a showcase for Killing Eve star Jodie Comer, and on the other, I will criticize it for being another bizarre entry into what has to be the show's most uneven season yet. Are You from Pinner? gives us a long-awaited look into Villanelle's backstory and her family, yet does so at a point that is decidedly out of place within the story the show is trying to tell us this year. While a solid episode on its own, it brings the building suspense of the main storylines to a screeching halt. The question is why this episode and why now?


If I wanted I could reason in a very big stretch that it tries to tie into the palest of underlying themes of family since we've seen threads of Eve (Sandra Oh) and Nico (Owen McDonnell), Konstantin (Kim Bodnia) and his daughter, and Carolyn (Fiona Shaw) dealing with the death of Kenny (Sean Delaney) and the arrival of her daughter. But that is a stretch to say this story of Villanelle and her family fits that theme; mental gymnastics stretch of Olympic sized proportions. It almost seems disingenuous to say this is about Villanelle and her family when the truth is our Villanelle does not appear to arrive until the final act in grand fashion. When you look at it closely this is not the story of finding out why Villanelle is the way she is. This is the story of a little lost girl named Oksana coming to a remote village in Russia, looking for a place to belong. Instead of finding her happily ever after, she finds a warp and twisted family almost out of central casting of a Gothic horror movie. In this Comer gives another Emmy winning performance as her character tries to navigate her bizarre family.
Comer particularly shines in scenes with young actor Temirlan Blaev who plays a character we assume is her young half-brother. They bond over the oddest things like a shared love of Elton John. You see her carefully watching him the entire time she is with the "family", how they speak to him, how they treat him. She offers his quiet words of encouragement in a rare show of empathy from the person we know her to be. She quickly recognizes a familiar and uncomfortable pattern of behavior from her mother, Tatiana (Evgenia Dodnia) towards the boy so naturally, in the end, she becomes his protector.
The only family member who is genuinely happy to see her is her blood brother, Pyotr (Rob Feldman), who has been relegated to sleeping in the barn of the family farm while their mother's new family is warm and cozy in the farmhouse. Feldman and Comer have genuinely nice familial chemistry and in some very telling moments, you can see the two siblings are not that different. Case in point when he shows her the couch and bat he uses to beat it. It is with him that Oksana gets but a brief glimpse of that family she came to Russia to find, he offers her the only bit of affection from anyone there, which she's not quite sure how to handle. Ultimately, Villanelle recognizes and accepts Pyotr's love, such as it is and saves him as well from the final family fate.
It is Villanelle's contentious and strained relationship with her mother that is at the core of the episode. Villanelle has come a long way to find her family and maybe discover why she is the way she is. Just a few minutes in the woman's presence tells us all we need to know in a way. Although it is the classic and oft times tired trope of nature vs. nuture, the issue is vividly displayed in Dodnia's chilling portrayal of this woman. She has mastered the art of appearing warm and loving on the outside and in front of strangers but beneath the surface, those closest to her see the cold-blooded, unfeeling woman who can strike out as lethally as a rattlesnake when provoked. The intense final confrontation between Villanelle and she is Villanelle at this point, was the pivotal moment of the episode and was so brilliantly acted by the two performers that it could likely earn Comer another Emmy® nomination if not win. It culminates in a chilling moment where Comer delivers the line, "I think I have to kill you now," then proceeds to do so in true Villanelle style, but not before she takes steps to save the only ones who had shown her any kindness, the little boy and her brother.
As a final, symbolic coda, Comer gives a masterclass in acting as Villanelle is shown on the train wearing the gaudy jumpsuit her mother made her, bopping her head to the music in her headphones as tears pool in her eyes. It was as if Villanelle was exorcising those family demons from her mind.
Are You from Pinner?
was an intense, uncomfortable episode to watch, yet you couldn't turn away. I just wish it had somehow fit better into the larger picture of this season of
Killing Eve
. Hopefully, with the remaining three episodes we will get the answers as to who is stealing from the 12, what Eve will do following Nico's murder if Carolyn will succeed in her quest to discover who killed her son, discover just what plans Konstantin is putting into place and more.
Share your thoughts on this episode in the comments below.