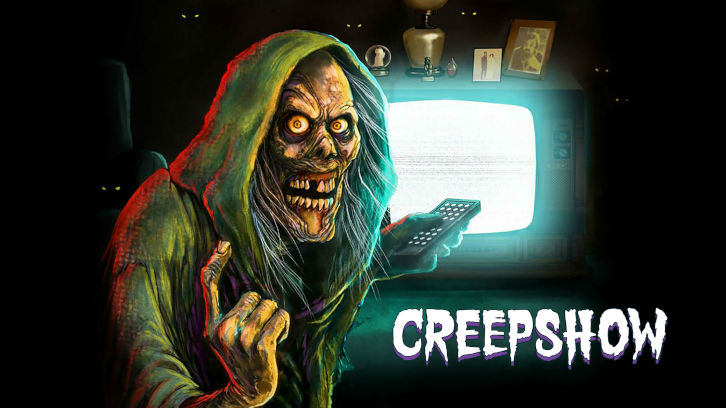 SPOILERS AHEAD - PLEASE DON"T READ UNLESS YOU'VE WATCHED CREEPSHOW 01.02! Yes, you've been warned!
Please note, these reviews are being written about six months after they were uploaded to their original Shudder.com network home and right after each individual episode was aired on the AMC network.
Bad Wolf Down:
Emmy-winning TV comedy director Rob Schrab (Netflix's
MST3K
reboot,
Community
,
Children's Hospital
,
The Mindy Project
, many others) makes his horror writing/directing debut (he also co-wrote the script for 2006's Academy Award-nominated
Monster House
) with this first original horror and WWII period segment for this season. Here, a platoon of American soldiers, played by rap star Kid Cudi and several others) must succumb to an unconventional solution when cornered by Nazis in a prison in the middle of woods. Nope, nothing strange could possibly happen here, now, could it?
Inside, we find a cage, bloody hand prints, and Jeffrey Combs playing a Nazi commander named Reinhard who is trying to avenge the death of his son. The American soldiers also find a seemingly captive woman (Kate Freund) who is wounded and wants to be left to die in a cell. The soldiers all try to help her except for one and he ends up getting locked in a cell with her. Her wound suddenly heals b/c...well, it turns out to be...a werewolf (!) who lays out the overriding theme of the episode, "war changes a man." Indeed, all of the soldiers suddenly use this "curse" to their advantage to become werewolves who now can kill basically whatever gets in their way. The most memorable aspect of this episode for me was that the streaming TV budget of the series was highlighted possibly intentionally by having the soldiers transform in comic book stop motion animation before cutting to the live action costumes. Granted, the costumes are top-notch (not what I was expecting from this series), but the decision to save precious dollars on the actual transformations themselves lent itself to a more comic tone than what I felt this episode should have been going for. I suddenly thought it was going to change into a more subversive, Adult Swim-type of episode. Instead, it stuck to classic horror, which, I felt, it succeeded at without being a particularly memorable story.
Despite that diversion, the action and gore delivered well enough and was well-shot, keeping with the color schemes and tone of the original
Creepshow
film and utilizing a Rob Zombie-like trashy feel. However, those transformations will always stick out in my memory (even more than the 6 months they already have) as one of the most anti-climatic elements of the entire season. Heck, maybe horror shows in general. It really was
that
noticeable. I wish I could say more about the story itself except it goes pretty much where you'd expect, dramatic irony and all. Homages include
The Howling
,
Assault on Precinct 13
, and the segment, "The Crate," from the original film. Not a disaster, though. Just too slick for its own good.
Also, note to producers, please keep The Creep live-action. He just doesn't register as much in the comic book animation sequels.
The Finger:
Greg Nicotero returns to direct this episode scripted from a story by
The Crow
&
Leatherface: Texas Chainsaw 3
's David J. Schow. DJ Qualls stars as Clark Wilson, "the guy who walks in LA." He's also a 4th wall breaker and one of those LA guys who never stops talking to himself. He makes it well-known to the audience through exposition that he is a recent divorcee who works a dead-end job in web design...which makes him basically unemployed (try blogging! ;-) ) who finds an alien object wrapped in a cloth walking around some garbage and brings it home. It turns out to be a severed finger that grows into a murderous alien named...."Bob" (who looks a little too much like the baby xenomorph from
Alien
) after Clark pours some beer on it (which I didn't notice the 1st time I saw it is the same brand of beer from the "Grey Matter" segment from the pilot episode that Nicotero also directed) and the finger absorbs it and is placed in a butter container over night (which doesn't resemble the premise from
Gremlins
AT ALL (!).
Eventually, it grows into Bob, who feels attached to Clark (they even watch soup operas together with popcorn) and decides to kill off anyone who has screwed over or even just annoyed, including his ex-wife, a debt collector, and a rather rude trucker. Clark realizes that he now has to dispose of the body parts Bob brings home with him, which ends him up in an insane asylum. Fortunately for Clark, that will possibly only be a temporary stay if Bob really loves him that much. If only his human relationships could be so harmonious.
"The Finger" contains what is probably my favorite acting performance of the season with DJ Qualls, who makes Clark likable and relatable when he could have come off as more of a kooky loser than Stephen King did as Jody Verrill from the "Lonesome Death of Jordy Verrill" segment of the first film that this segment is probably trying to pay homage to the most. The creature animation is fantastic as well and what you'd expect from a veteran pro like Nicotero. Unlike "Bad Wolf Down," I felt this segment found a successful marriage of comedy and horror, which makes it one of the better stories from season 1. There's also spin-off and/or franchise potential with Bob (when this episode first came out on Shudder.com, he inspired some adoring social media chatter, which isn't that easy these days in the horror community), but let's not get ahead of ourselves. Either way, this segment could be the start of a beautiful horror partnership.