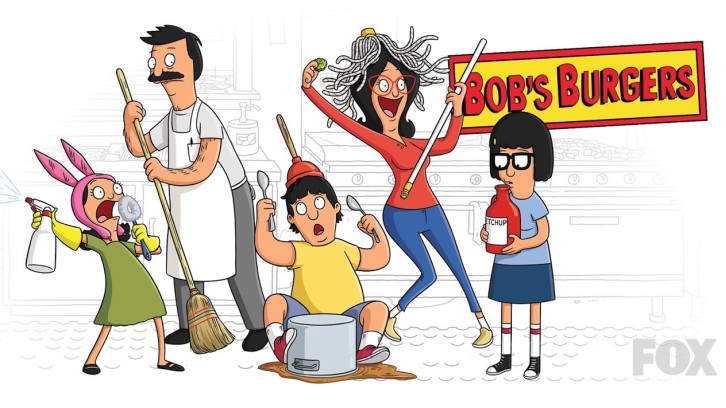 What are the places that inspire you? When asked this question, the children of Wagstaff School had differing answers. For Jimmy Jr. it's the frozen food aisle at the grocery store - great for dancing. For Tammy it's the city she loves with all her heart (starting last week when she visited for the first time) - New York. For Tina it's harder to pin one place down since she hasn't been anywhere else. This question sets up the main plot of the latest Bob's Burgers, where we're passengers on Linda's journey to get Tina to appreciate her home town.

When Tina starts dreaming of New York (Tammy really sold it) we learn that a young Linda did much the same. She had aspirations of living in the big city, so obsessed that she didn't appreciate what she had right in front of her. She doesn't want that for Tina so she sets out to show Tina all the joys of their town.


Young Linda, wanting to desperately seek Susan.
So off they go, to West Thirty Half Street - who needs a street grid system like big cities have when a person could wander the disordered streets of their home. Or how about saying hi to the Mayor - when he's done peeing in bushes. Plus there are the pigeons. They...exist.
Sidebar: it was very noticeable in this episode when Linda spoke about the town that Bob's Burgers hasn't actually named the city/town/village/independent municipality where the show is set. It's true, I looked it up on the internet. This would have been a good time to reveal its name since the show has been on for ten seasons now. That's a nice, round number, and it would have saved the verbal gymnastics that were necessary for Linda to talk about the town without saying its name.
Tina is not impressed with Linda's efforts. She decides to do her report on Cleveland. She's never been, but it is the "Land of Cleaves." Linda is desperate for Tina to appreciate the town though. They find a seller at the flea market with music from local musicians who tells them about Dove Shannon, a folk singer who left Greenwich Village (a part of New York City) to move to the town. This is Linda's chance. All they have to do is find Dove Shannon and she can tell Tina how much she loves the town over the big city. The only clue they have is the cover to Dove's album. Linda recognizes the house she's standing outside of. They hail a cab - just joking, that doesn't work in their town. They call a cab, which Tina pretends to hail, and when the arrive at the house they see it's been turned into a store selling tourist junk. Excuse me, driftwood animals. There are eels, snakes and other "nautical and erotical" junk.
The owner of the store tells then that Dove Shannon is dead, which is undercut a moment later when a car passes by driven by someone with a beautiful singing voice. Linda has the cab follow the car, despite Tina's reluctance to disobey the no trespassing sign posted on the road. According to Linda it's okay since it's for a school project.
They find a houseboat community and Dove Shannon is not willing to talk to them. There's a reason she lives at a "reclusive houseboat community" where if anyone asks for someone the residents say they're dead. Linda remains undeterred and plots a way to Dove's boat across water. Tina is freaking out with all the trespassing they're doing. When Linda, after ending up in ankle deep mud when she falls into the water, tells Tina to use her face as a foothold to reach Dove's boat Dove herself shows herself and fishes Linda out of the water. After changing into a terrycloth jumpsuit which is part clothing part towel Linda asks Dove why she moved to their town. Dove's answer, order undetermined, are the drugs, the people and nature. That's good enough for Linda, who is by this point sipping on warm wine grudgingly given to her by Dove.
As they watch the sunset from Dove's boat there's a nice shot of the town, boardwalk and all, that I couldn't get a screenshot of. By try number three I gave up, but trust me when I tell you it was nice. Dove serenades them with a folk song about a feminine denim man. Pleasant. Tina presents her report to the class by playing one of Dove's CDs. Her teacher is confused since she didn't hand in a written report and didn't elaborate on why the CD was important. Tina thinks she nailed it. I'd give her a pity B-.
The other story line this episode featured Bob, Louise and Gene helping Teddy get unbanned from a radio show focusing on minor league hockey. Ice Ice Teddy, as he's known, got into an argument with the host. He wants Bob to call in and make Teddy's arguments for him to show the host that Teddy was right and to unban him. This makes no sense, and the Belchers know this, but when Teddy offers to fix the broken bathroom lock for free Bob agrees. But Bob botches it because he knows nothing about minor league hockey and is grossed out when Teddy's tongue touches his ear when he tries to coach Bob through the conversation.
A slow day at the restaurant.
The kids want to try to help, because why wouldn't they want to be on the radio? When they get on air they pull a Sleepless in Seattle - make Teddy sound so pathetic that the host has to unban him. And it works! With tales of Teddy's divorce, including his "security sock" (his ex's sock he puts on his hand) and his reason for going to church (holding hands is the only human contact he gets all week) not only does he get unbanned but Bob gives his a free pity burger and pays for the work on the broken lock. I'll still count that as three wins for Teddy.
Odds and ends:
Favorite quote: "You got banned from fighting about a sport where the best part is the fighting?" Louise and her words of wisdom.
Favorite description: Linda calls Dove Shannon a "beautiful Fred Flintstone." She's a hippy, Linda, but I like it.
Favorite blink and you'll miss it moment: It's revealed that Tammy spent her trip to New York in her hotel room because the city smelled like pee and hot dogs. Twist!
Are you a feminine denim man? Thoughts on this episode of Bob's Burgers go below!