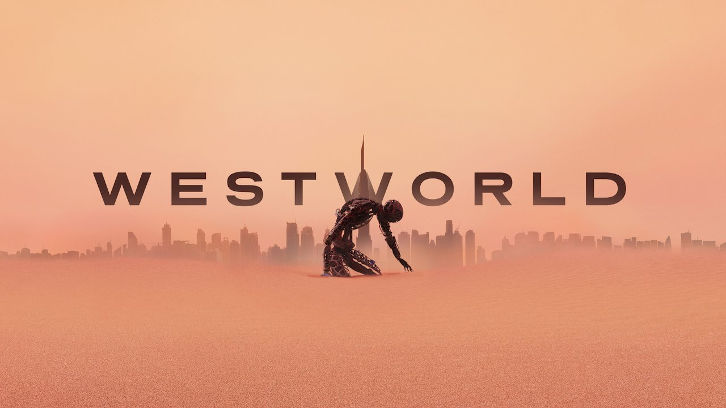 "Whether I shall turn out to be the hero of my own life,
or whether that station will be held by anybody else…." - David Copperfield
"You want to be the dominant species,
but you built your whole world with things more like me." - Dolores
Contains all the spoilers for the first four episodes of season three:
Parce Domine, The Winter Line, The Absence of Field, and The Mother of Exiles.
Westworld
has always been Dolores's story, first and foremost, and the revelation at the end of
The Mother of Exiles
reminds us that it likely always will be. She might have developed a god complex, but why shouldn't she be a god? The world is already under someone's control. Dolores just wants to set it free and be master of whatever is left over. There is honesty in her voice when she tells her first target that she doesn't want to hurt anyone else unless it's necessary, and she leaves alive the only witness (a mistreated woman) to those initial crimes. Dolores tells Maeve that this path will lead to a safe world for their kind, so why is Dolores constantly being shown as both the villain and the hero of this story? Because she is. No one else truly matters here, and the only real conflict is within Dolores herself. (Themselves?)
This season, the almost complete lack of mystery and the absence of dual timelines produce a startling simplicity in the narrative that has one looking under every rock for something else going on. The only mystery was who the other hosts were that Dolores took with her, a mystery that the show wasn't as interested in as we were. Having reached the mainland, Dolores has embarked on a mission to take the world of man for herself, just as she told Bernard she wished to at the end of season two. The way to do this is to gain access to the computer that controls all of mankind's fate: Rehoboam (a Biblical name loaded with possible breadcrumbs). She infiltrates the life of a rich man close to the program, Liam Dempsey Jr. (John Gallagher Jr.), but they break up when his bodyguard Conells (Tommy Flanagan) figures out Dolores isn't who she's pretending to be. This is by no means the end of their working relationship, as Dolores later drains away his fortune and abducts him for reasons to be revealed. (Liam reminds me of the character Thomas from the awful Anne Hathaway/Rebel Wilson film
The Hustle
, only there is likely zero chance he is any smarter than he appears). Evan Rachel Wood creates a marvelous new iteration of her character, with casual power to all her body language and dialogue that creates the feeling that Dolores exists on a separate plane than the rest of the world. When Aaron Paul's Caleb Nichols says Dolores is "the first real thing to happen" to his life for a long time, it is one of the greatest structural truths of the season. The other hosts are bound one way or another to each other or to their programs. The humans are bound to their system with its categories and predictions. Dolores alone is free.
What then of
Westworld
's other characters? The show teases us with the possibility that they may still be important. After all, Dolores took at least four of them with her? That was the thought of many anyway. I was only confident of one fact: that Teddy would not be one of the hosts she took with her. Dolores wouldn't go against his wishes twice. Episode three's arc with the Charlotte host is a perplexing red herring of sorts. We still don't have the answers as to why this particular copy of Dolores was having difficulty adjusting to the mission. However, Tessa Thompson made every second gripping to watch, and the scene where Charlotte gets her son the dog was exquisite, brutal, and darkly funny.
The Absence of Field
is a completely different experience once you know the end of
Mother of Exiles
. Dolores telling Charlotte Dolores that "you belong to me" and telling her to not self-harm can come across much more tenderly in hindsight. It can also come across more darkly when you consider that Dolores has now made life in her own image by duplicating her consciousness and is seeking to control it. As for the other characters, Maeve (Thandie Newton flawlessly, lethally charismatic as ever) gets almost an entire episode to herself, featuring a series of cameos from supporting characters, navigating and hacking her way out of a simulation. Maeve discovers she is in the custody of Serac (Vincent Cassel) who wants her to hunt down Dolores, because the latter apparently didn't just beam the Host World data off into the mysterious beyond. She also took all the guest data as well. (This raises numerous fascinating questions. Do all the Dolores hosts have the location code or just Dolores Prime? Also, which Dolores is Dolores Prime? How do we know if we've met Dolores Prime yet?). Maeve can't opt out of the mission, because Serac says he'll terminate her if she doesn't. He also suggests he'll send her to Host World too.
There's not a chance in a million that Maeve would actually risk her daughter by letting anyone gain access to the Host World, however she doesn't want to be a prisoner either. Maeve doesn't seem too impressed with the world of humans, this world she once almost escaped to. It would be impossible to even guess what her arc for this season might be, were it not for a conversation she has with Musashi Dolores (Hiroyuki Sanada) who says something very noteworthy when accused of building a new world just for herself.
"The thing we're going to do won't be easy.
There will be a place for others in the world we'll build for your daughter."
The implication is startling. Dolores plans to bring the hosts back from beyond. Musashi Dolores leaves Maeve near death, saying they can't risk Serac using her against them. How Maeve will respond to this new revelation is anyone's guess.
William (Ed Harris) is alive as well. He's not the Man in Black at present, but rather a shell of himself, pushed to the edge of his sanity by his guilt over what happened to his family. He's doubting his reality, spiraling; Charlotte Dolores pushes him over the edge by telling him who she is, in order to send him to a mental institution possibly with a complimentary hallucination of herself to keep him company. Dolores-inflicted paranoia is going around. At first it seems that Dolores was using Bernard (Jeffrey Wright) as Delos's scapegoat for the Westworld fiasco, but she clearly has additional plans for him. He tries to thwart them by journeying back to the park to get Maeve. He finds Stubbs (Luke Hemsworth) instead, with the latter having failed to commit the suicide Ford programmed into his code. Before you can say roadtrip, they are trying to thwart Dolores's plans. They fail, and Conells Dolores takes Bernard into custody at the end of
The Mother of Exiles
. The sequence of events this season is a carefully collapsing row of dominoes.
At times, this season almost starts to feel oversimplified. Everything is sleek and stylish, of course, with thrilling action scenes and fight sequences at every turn. The set design is impeccable. Dolores's new wardrobe to die for. She rides the most groovy future bike at one point too. The timeline pops up every now and then in the shape of an Arrival circle. Phoebe Tonkin makes an appearance as a character who is apparently just there to gawk at how badass Dolores is. (We know, Penny!). Ramin Djawadi presents a splendid cover of The Weeknd's Wicked Games, which is wasted on a mundane sex auction.
Westworld
typically gives my brain a little more of a workout. I am still enthralled with this season. With the performances Woods, Thompson, and Newton are giving, how could I not be? This season's greatest new strength, however, is Aaron Paul who gives a sublime performance as Caleb Nichols. (The anguish when Caleb watches his robot coworker fall to the ground!). It is no wonder that Dolores recruits him to aid her in taking down Rehoboam. His story is eerily, heartbreakingly similar to hers. As a veteran, he was used and thrown away by humanity, left to struggle on the bottom tier of civilization. The tools for his recovery: a recording service that sends him literal ghost calls and an implanted drug dispenser. When Dolores brings him to location of his worst childhood memory and reveals the extent to which his future has been chosen for him, it's quietly horrifying to watch him come to terms with the nature of his reality. Later, in the scene where Dolores takes him to the location of his future suicide and offers him another path, there's something pure and truthful in her gesture. She sees someone like herself, and I believe that she is being honest about wanting to build a better world. I also believe that Caleb won't care that she's a host. The tone of their scenes together is hopeful, triumphant even, suggesting a far more optimistic outlook than Serac and his doomsday warnings would have us believe.
Questioning the Nature of Our Reality:
Where is the fifth pearl?
Who is Dolores Prime?
Should we assume there is more to the Paris catastrophe?
Why did Charlotte Dolores react the way she did?
How will William bust out of the looney bin? And did Charlotte Dolores take his DNA to make a host copy of him? Or was she just implanting the Dolores hallucination? And why?
Luke Hemsworth is delightful as Stubbs this season, isn't he?
Westworld never ever lets us forget that the hosts are hosts and distinct from humans.
What is the big twist? There has to be one, doesn't there? The story can't be this straightforward.