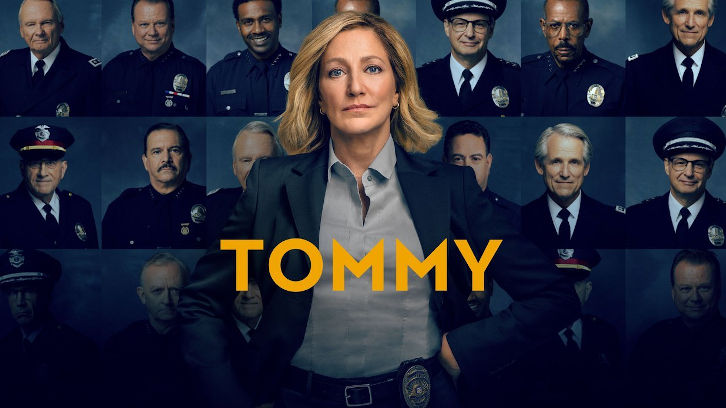 Tommy
"Vic" was written by Margaret Rose Lester and was directed by Christine Moore. Lester moves up from executive story editor to take the lead on this episode, and her other credits include
Manifest
and
Reverie
. The episode once again visits the issue of race relations in Los Angeles, this time focusing on gang violence. It also delves deeper into the corruption in the Mayor's office. Once again Edie Falco (Tommy) gives a terrific performance.
The episode begins in Malibu on the morning after Blake (Adelaide Clemens) and Buddy's (Thomas Sadoski) first night together. She maintains that she's come into the affair with her eyes wide open, and he tries to reassure her about how much he cares for her – but he won't tell her who owns the house that they've just spent the night in. This turns out to be significant when the owner of the house – Jonathan Lovell (Michael Cumpsty), who is a campaign donor and financier – tries to use the knowledge to leverage Buddy to do his bidding.
Tommy attends an event in South Central LA to open the Crenshaw Complex – a community brought to fruition by rapper Vic (Kyle Vincent Terry) – to help the African American community. Tommy is there in an attempt to improve relations between the LAPD and the African American community. Vic is being helped by friend and fellow singer, Coco (Sandra Okuboyejo). Vic asks Tommy to look into getting people off the gang database so that they can truly move on with their lives. He gives her a list of names of people that he will personally vouch for.
We see someone mysteriously taking pictures of the event. Vic ends up shot and dead, and it immediately looks like it may be gang related. However, we cut from Vic's death to Buddy and Doug (Joseph Lyle Taylor) meeting with Lovell, who wants to buy property right next to the Crenshaw project. Doug is clearly on board with Lovell – meeting with him afterwards, but Buddy refuses to budge, insisting that the property is earmarked for homeless housing. Lovell tries to use his knowledge about Buddy and Blake, which only pisses Buddy off. He also knows all about Vic's shooting…
As they investigate the shooting, Bornell (Rick Holmes) insists that Vic is still a member of the Southside Rollers gang. Tommy says he didn't sound like a gang member when she talked to him, but Diaz (Vladimir Caamano) points out that there are shout outs in Vic's music – but then rappers have to include that for "credibility." When Tommy asks Diaz later in the episode if he thinks Vic was really a gang member, Diaz tells her that it's a hard life to leave and he had to look like if for the music, but he doesn't think so.
Coco comes to see Tommy at the station – and to give her back the list of the people Vic wanted off the database. Tommy asks her how she met Vic – clearly trying to establish rapport and get information. Coco tells her that they met at a singing competition and became friends – just friends, because she was coming out of an abusive relationship. She also insists that Vic was not a gang member. She also tells Tommy that the gang rumors will cause her investors to drop out and kill the Crenshaw Complex.
In a meeting with her team, Ashley (Sasha Diamond) tells Tommy that gangs have a huge presence on social media. The hashtag #30days30bodies has been trending. Cooper (Russell G Jones) insists that there is no evidence that Vic has had any gang activity for years. Bornell wants to clamp down immediately, but Tommy says she wants more information first. Privately, Cooper agrees with Bornell that trouble is brewing as crowds gather at a shrine to Vic at the Complex. Ken (Michael Chernus) and Diaz go to the shrine – as both are fans of Vic's and while there a shooting takes place and Ken is hit.
Tommy visits Ken in the hospital and he's clearly surprised and pleased that she took the time to come. She also reveals that she was shot once – but we don't get any details. Cooper is also at the hospital and Bornell wants to do a sweep to pick up gang members – and the shooter. Cooper warns that there will be a backlash, but Tommy gives the ok.
In another meeting, they've determined it was the Eastside Saints behind the shooting. Ashley says she thinks it was the hashtag essentially acting like a dare. She also reveals that there is a higher level of traffic on social media than there should be. She later reveals that the incendiary tweets aren't coming from gang members – because they make sure it's clear who is tweeting – and she can't trace who is making them. Cooper worries that a sweep is racial profiling, and Tommy tells Bornell to search everyone who was filmed at the event.
Meanwhile on tv, Coco speaks out against the LAPD and declares that the whole thing is about money. She accuses Tommy of only showing up for photo ops. Blake, who is watching, wonders if anyone is paying attention to what she's doing – she said no press at the event! Ken unexpectedly turns up at the station and Blake is concerned that he's back too soon. It turns out that he overheard a conversation between her and Buddy. He tells her that he won't tell anyone about it, but that she should be careful as there's a lot going on with that guy. She could get caught in a mess and he doesn't want her to get hurt. It's a sweet scene, and Blake thanks him but tells him never to mention it again.
Lovell complains to Doug that Coco is making Vic a saint and now her investors don't want to look like they are abandoning him. Lovell really wants the Crenshaw Complex itself. He has a picture of Vic with gang leader Maurice Green (Jonathan Davis) that makes it look like Vic really was involved with the gangs.
Meanwhile, on the home front, Kate (Olivia Lucy Phillip) tells Tommy that things are going well with Henry (Luke Jones). Santos (Phillip Anthony-Rodriguez) asks Tommy for permission to send the files on the Johns from the DayGlo Spa to the DA for prosecution – including the Henry. Tommy gives him the ok, without ever asking about Henry or revealing she knows him. She asks Cooper what she should do, and he tells her to stay out of it – professionally and personally. He tells her – rightly! – that Henry made the mess and it's on him to clean it up.
Tommy can't leave it completely alone, however, and goes to see Henry at his work. She tells him that he's going to be indicted and advises him to tell Kate and get a lawyer. Instead of taking any responsibility, Henry tries to turn the blame on Tommy! I loved how fierce Falco was in this scene. Of course, this isn't anything new for her – she sees criminals caught every day and what low lifes will do to justify their actions. She then asks him if this was a one time mistake or if he's the kind of guy who regularly cheats with prostitutes. Henry won't answer the question, which is, of course, an answer in itself.
Henry does tell Kate, who then texts Tommy to tell her not to come home. Seems like Tommy is the one being punished. When she needs more clothes, Kate lets her come over – when Henry isn't there. Kate tells her that they are working through it – and that Henry has told her that it was a one time mistake – clearly a lie. Tommy remains neutral. Kate then asks Tommy to "do something." But Tommy insists that she can't – rightly so. Kate then turns on her mother accusing her of just not wanting to and physically pulling back. I really, really hate Kate! Talk about someone who also doesn't want to take responsibility for their own mistakes! Tommy moves back to the hotel.
When the photo suddenly appears in the news cycle, Blake calls Buddy to see if he knew about it because Doug had told Tommy that he and the Mayor supported her 100% in looking into the gangs about the shootings – and that new information was coming. Buddy tells her that he didn't know about it. Blake tells him that it's doing real damage to the LAPD's relations with the African American community. Buddy cuts her short to go to a meeting, but he clearly looks disturbed. It is possible that he's not really a bad guy? I suspect that he's more neutral. He does things for political expediency – and for his "legacy" – not necessarily because they are the right thing to do. But we'll see…
Tommy has Green brought in. Martinez (Yani Marin) and Posada (Silvestre Rasuk) are being stonewalled by his lawyer (Catherine Curtin), so Tommy comes in after Green says to them "Do you see me? No. We're just statistics. You didn't see Vic either." She asks him what he meant. He tells her that Vic had a real vision and that he was the best of them. He was going to lift them all up – no one in the Southside Saints would have killed him.
Ashley then reveals that they have identified Donovan Boyd (Ryan Wesen) in the crowd – Coco's old boyfriend. Coco gives them his location after telling him that he'd showed up at the event, breaking his restraining order, and been removed. They bring him in, and he quickly confesses. I thought this case was a bit obvious and wrapped up a bit too easily, but it does reveal that there is a larger, nefarious plot afoot.
Blake holds a news conference about the arrest and makes a very big point about declaring that Vic was absolutely not a gang member and telling them that Vic's life would be celebrated at an event at the Complex – which Diaz and Ken attend as fans and Tommy pointedly stays away from to avoid giving the impression again that she's seeking photo ops. The ironic thing is that she is being photographed in her hotel room….
After the press conference, Tommy calls Buddy to tell him that someone was inciting people online and manipulating the evidence. It just happens that Lovell and Doug are also in the office at the time. Buddy asks Lovell point blank if he was doing it. Lovell is still convinced that he'll be able to buy the Complex cheaply in a few months, but Buddy tells him that he's not going to let him – and he's not going to blackmail him either. Lovell shrugs it off – seemingly – and leaves. Doug is mad at Buddy, asking him if he knows how hard he worked to get Lovell as a donor – and tells him that Lovell is dangerous because of what he knows about Blake and Buddy.
At the end of the episode, we see Lovell calling someone and telling them to do a deep dive on Tommy – to get dirt on her – and that's who is behind the mysterious photos!
I thought this was a solid episode – if not their best. I liked the focus on gang database and how simply being on it can ruin a person's future no matter what else they do. I hope the show will continue to shed light on issues like this. Sadowski is doing a good job keeping Buddy ambiguous – is he a good guy at heart who has simply been corrupted by a corrupt system? Can Blake lead him back to being truly good? Or is she going to be sacrificed to his career? And what can Lovell get on Tommy? Will we see her "friend" show back up at the hotel? And is Kate really that stupid? Lots of balls in the air now. What did you think of the episode? Let me know your thoughts in the comments below.