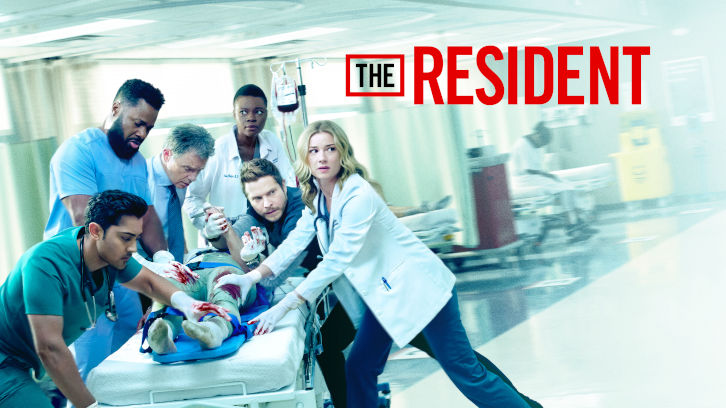 One could think that it's that time of the year again, finale season, and yet... it's more like 'where do we go from now' season, with shows ending their current seasons with finales they cobbled up as best they could with what had already been shot when the lockdown measures started. In the specific case of The Resident, in which its last few episodes largely focus on a superbug makings its way through the hospital, one must wonder if it was appropriate to keep them on air at all, and the would-be season finale even contained a quote about the Candida Auris "not being like coronavirus, it's not airborne". I don't know about you, but in times like these I'd rather use TV Shows as escapism and not be faced with something this close to we're going through, but regardless, The Resident went through with it, so let's get into it.

To the show's credit, as far as finales go, and considering the situation it was in, this episode mostly works. We don't get much in way of resolution about the RedRock situation, and you can tell some parts were supposed to be left on bigger cliffhangers than they were (the whole Mina/Raptor will they/won't they, namely), but overall it was pretty satisfying and of course left the door open for some of these storylines to slip into Season 4, if Season 4 exists (which is very likely based on the ratings).


After being through the ringer, initially it seems that Derek is finally doing better and his wife and daughter rejoice as he's finally extubated... until he realizes that he's suddenly gone blind, and after a battery of tests, the only explanation is that he caught the superbug from equipment that wasn't properly sterilized after it was used for Dawn. I'm not sure where the Cain/superbug mess plot is going to go next season, but based on the backstory we're finally getting about him, I'm betting he's not going anywhere. Because guess what! Cain has a heart, and a past (not sure which is more surprising). As Devon puts it:
Devon: Well he didn't just spring fully formed from Satan's head.
Meet Justine, initially Nic's patient who came in because of a stuck popcorn kernel, who is actually Cain's first love from college, and it's mutual (as she puts it, he's "the one who got away", and she's someone who "meant more than most"), so there you have it, Cain is
not
a robot from medical hell and can emote. We also learn that he used to be something of a college football star, headed to the NFL until an injury derailed his future and that's when he became the Cain we know.
Unfortunately, since Cain is also the reason Derek is doing so much worse and the team is racing to find a solution to treat him, Cain is the only one who can operate on him and that means Justine's surgery gets pushed back... and she doesn't make it. It seems particularly cruel to have Cain find his first love again only to snatch her away, but this is Cain, so since we've known Justine for approximately 5mn and Cain is, well, Cain, I'm not crying too hard either.
You can tell Nic is intrigued by this new insight into Cain's persona though, and I'll admit I do want to know more and we can probably anticipate a redeeming arc for him in season 4. If Logan Kim lets him stay that long that is, because Kim is always one step ahead and can be seen offering Conrad the possibility of being the hospital's public figure since both Bell and Cain have missed their shot. Conrad laughs it off, but there's something about being able to do more good by having a real voice to get what he wants for the hospital, so at this point I wouldn't write it off.
On the lighter side of things, Mina and the Raptor team up to help an ailing salsa dancer with a failing heart, and as always, they're a delight together. Not so delightful however, was Mina realizing that the Raptor's girlfriend is now meeting the parents, whom Mina has never had the pleasure to see (and why would she... she
isn't
the girlfriend, but you can tell she's questioning that fact quite deeply).
And that's it for
The Resident
season 3, folks! What did you think? Did this episode work well as a finale even if it didn't have the chance to set up everything it likely wanted? Are you willing to delve into Cain's past and forgive his current attitude? Do you want Mina and AJ to finally give in to their feelings and get together? Or do you think their dynamic works better as friends? Sound off in the comments and hopefully a season 4 renewal will be announced soon(ish)!