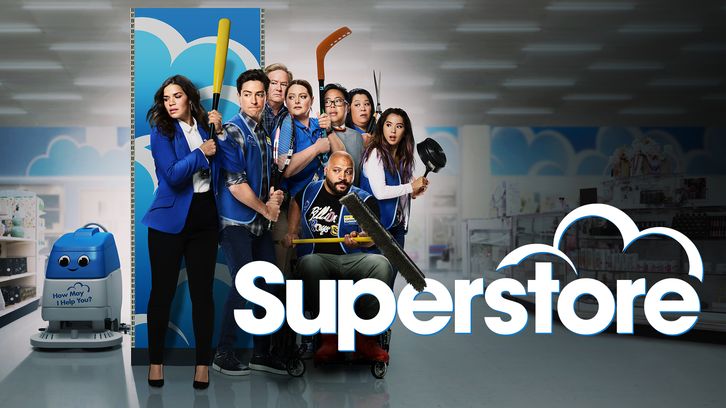 Here we are, at the end of the season for Superstore. With the pandemic cutting the season short the show ends on a cliffhanger. We already know that star America Ferrera will not be returning as a regular, but we will see her again as Amy next season. This episode seems to wrap up her and Jonah's story, but as the first of a two parter we've only gotten half the story.

The show opens with the news that Carol is alive after her electrocution. Yay? Dina has also found out about Amy asked to interview for a position at Zephra after being contacted as a reference. It's just another secret between the two, including the knowledge that Sayid has a "huge wang." Gross? The two agree to keep the interview from Jonah, which seems like a bad idea, but okay. Amy rationalizes that she probably won't get the job so why bother bringing it up with him. Folks, don't be like Amy and Jonah - communication is the key to any relationship. Especially communicating about life altering job opportunities across the country.

Dina agrees to keeping Jonah in the dark and even goes a step further of making up elaborate reasons why Amy is gone from the store during her interview. Though saying that Amy has to get her eye dead spot looked at isn't really fooling Jonah. Meanwhile, at the interview Amy is just one of many Latinas who are waiting for their turn. Everyone agrees that Zephra is looking to check a diversity box with the hire, but probably only Amy mentioned it to the interviewers. But before saying the quiet part out loud she was nailing the interview, having offered them good ideas generated from her being at Cloud 9 for seventeen years.

Seventeen years at Cloud 9? I wouldn't be smiling if I was her.
Thinking she botched the interview Amy returns to the store and comes clean with Jonah, saying she never wanted to move to "pretentious Florida," i.e. California, anyway. Sure, sure, who wouldn't want to stay in Indiana when they had a chance at a high paying corporate job in California?
To only the characters' surprise Amy does end up getting the job. Jonah is not very supportive at first, asking her what she hopes to accomplish by being a cog in the Zephra machine. Amy responds that this is her chance at a great job after SEVENTEEN years in retail. Damn right she's got to take the job! Jonah sees the error of his ways with some help from Dina, and offers a peacemaker of a list of apartments for Amy and the kids in California. And him. He wants to move with her too. Kissing! But never has a "to be continued" seemed more ominous. Because we know in real life that changes are afoot that will put a wrench in these plans.
Elsewhere it's Cheyenne's 21st birthday party and Mateo wants to throw her a party.
Classy gift. Bet it's not even a screw top.
They've got a little problem though: no money for a party. They agree to sell tickets to the bash, with each having very different ideas about execution. This pretty much sums up their disagreement: Red Bull fountain versus string quartet. Bo craps on all of Mateo's ideas for a more grown up party and instead he and Cheyenne create a trailer for a monster rave they in no way can deliver on. In the end 500 people buy tickets for a party they will be very, very disappointed with.
Finally we have some post-nuptial news from Sandra. After being cagey about her and Jerry's sex life - which stood out because in past episodes they've been implied to be all over each other; trouble already for the newlyweds? - she admits that she and Jerry are planning on becoming parents through adoption. Glenn gets super excited and introduces Sandra to a boy he and Jurusha had previously fostered. A seventeen year old boy named Tony. Glenn aggressively pushes Sandra to take Tony in. His persistence is annoying and I hated everything about this story line - until the very end. Jerry agrees to take in Tony and as Sandra is walking out of the store with her new almost-grown son they have a sweet little moment where she wants to take his hand and he tells his new mom not to embarrass him in public. In hindsight, it's probably for the best that Jerry and Sandra adopt someone who can take care of himself and can't be dropped on his head.
Odds and ends:
Favorite quote: "A high paying corporate job where I'll never to to say the words racoon carcass again?"
Favorite blink and you'll miss it moment: One of the selling points for Cheyenne's birthday party trailer is "Diversity!"
Fun yet sad fact: Sandra is from Hawaii and has never been to the beach. I feel like this has been mentioned before but it's still so very sad.
Forgetting something?: Shouldn't Amy ask Adam, the father of her two children, if she can take the kids to live across the country?
How do you feel about the cliffhanger? Will you be back next season for the resolution? Thoughts and comments go below!
It's been fun recapping Superstore for you all. Thanks for reading and commenting!