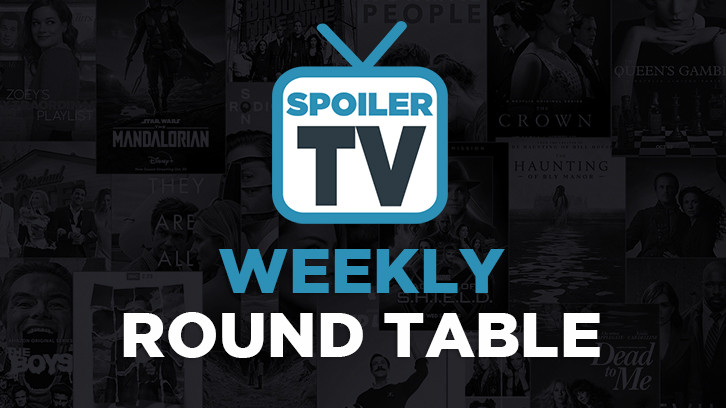 Hello and welcome to a new edition of SpoilerTV's Weekly Round Table! Joining us this week is Laura B (DL), Abby Crofton (AC), Angela Niles (AN), Lisa Macklem (LM), Jamie Coudeville (JC), Prpleight (JH), Donna Cromeans (DR), and myself (ZF). You just have to sit back enjoy the read and join the discussion in the comment section down below.

What is your all-time favourite sitcom? Why?
Laura:
I'm honestly not a much of sitcom viewer, but
Frasier
was the exception to the rule, because it was exceedingly smart, given the intellectual nature of two of it's leads, Frasier and Niles Crane! The other cast was great too though and complimented the show through the bridging of class. It was almost like watching a theater production every week. I still miss John Mahoney so much too! An underrated actor for sure!
Abby:
By far,
Golden Girls
. It was a perfect mix of writing and acting melding into something truly special. It's an iconic show that still holds up even though it's been off the air for almost thirty years.
Angela:
Probably
Frasier
. I've loved that show since I was a teenager. The cast is superb, the humor is witty and smart and sharp, the show never really took a significant dip in quality (that's not to say it was perfect, mind-no show ever is-but it remained pretty consistently strong throughout its run), and I loved the themes the show touched on, and the way they explored and developed the close bond between the characters. I also appreciated how they allowed any of the more serious, poignant moments to just play out naturally, without needing to shoehorn in a joke where it didn't belong.
There are many other fantastic comedies, past and present, that share a lot of those same qualities as well, of course. But yeah, this show's just a classic and I just can't ever tire of watching it.
Lisa:
The Big Bang Theory
. Loved the characters and it managed to stay funny for the entire run. I completely related to the characters - I'm married to Sheldon...
Jamie:
If by favorite you mean, can watch over and over again without it getting old, I would have to go with
Friends
. I know it's cliché but it's one of the few shows where I never get sick of reruns.
Prpleight:
The Big Bang Theory
,
I Love Lucy
,
MAS*H
,
The Jeffersons
,
Mike and Molly
immediately came to mind. But I think for 'all-time favorite' I'll say
The Big Bang Theory
I'm still watching reruns. I think it's the only sitcom, I can say that for. Although I still remember my mother laughing so hysterically at a scene in
The Jeffersons
that she just couldn't sit still. She was, literally, jumping up and down while she guffawed. Only time I have ever seen her do that.
Donna:
I love the classics,
I Love Lucy
,
The Mary Tyler Moore Show
, the original
Newhart
. They were simply great comedy from some of the absolute best. Watching
MTM
and
Newhart
used to be appointment TV on Saturday nights.
That Girl
was also fun as was the homespun country humor of
Green Acres
and
Beverly Hillbillies
that I used to watch with my Mom, who also adored the ladies of the
Golden Girls
. Betty White is a sitcom icon and elevates anything she is in. I also loved some of the British sitcoms I could catch from time to time,
As Time Goes By
,
My Hero
,
Are You Being Served?
, and I truly loved
May to December
. If I need a totally irreverent humor fix I watch reruns or DVD's of
Coupling
or
Absolutely Fabulous
.
What sitcom currently on air most appeals to you? Any newer ones you're excited for? Any underrated?
Abby:
Superstore
may not be at its creative heights anymore but it's still a very good show. I think its secret is a funny and well-liked core of secondary characters that can carry additional storylines when needed. Of the newer sitcoms,
Single Parents
is a fun little show in its second year. I'll also nominate mixed-ish for an underrated sitcom. The kids really carry that show, which is a surprise considering the level of talent the adults have.
Angela:
The Connors
, probably. It remains as relatable as the original
Roseanne
did, and I'm glad to see they've managed to move on as well as they have after the mess from a few years ago. Again, a great cast and smart humor. I also appreciate the way they've brought newer characters into the ensemble and blended them in so perfectly.
Lisa:
The Kominsky Method
is hysterical! Also loved
Fleabag
, and love
Grace & Frankie
.
Young Sheldon
is pretty consistent.
Jamie:
Currently on air, I, of course, have to go with
One Day At A Time
. It's hilarious with a great cast and still hits upon very relevant subjects. As for upcoming shows, nothing really comes to mind. I kind of make a habit to ignore news about new sitcoms. I always wait for it to air first and see what the response is.
Prpleight:
Right now I most look forward to
Bob Hearts Abishola
.
Donna:
I'm not a fan of a lot of what passes for comedy these days, not all but too many shows think they have to resort to bathroom humor or sex jokes for something to be funny. I've seen a few episodes of
Big Bang Theory
which is good, and of the newer ones
Carol's Second Act
is one I've watched some. I'm just not a big fan of sitcoms in general.
What makes a sitcom appeal to you? The general audience?
Abby:
I'm one of the few that doesn't mind a multi-cam sitcom. I really like strong writing and a sustainable story. I absolutely hate sitcoms with a high-end premise - when a description sounds like it should be a movie instead of a television show I pass. I'm not sure what the general audience likes - from the ratings it seems like family sitcoms do well.
Angela:
For me, personally, as noted above, give me a good cast and characters, and intelligent humor, and I'm there. It's that simple. I too don't care whether a show's multi-cam or single-cam-I've liked both, I think they each have a place in the TV world. I also don't have a problem with shows with live audiences. I think too many people confuse a live audience for a laugh track, and they're not the same thing. That's not to say there can't be annoying and overbearing or sweetened up live audiences, of course, there certainly can, but having one in and of itself doesn't bother me, nor does not having one.
I'm also a sucker for comedies with clever wordplay. Sometimes it's the rhythm of a joke, and the word choice, that can make a scene that much funnier.
As for what might appeal to general audiences, it's hard to say sometimes, because humor is so subjective. Some like really broad, slapstick stuff, some like witty banter, some like fart jokes. And so on. But I think, at the end of the day, if you can get the right kind of writers and actors who'll make any of those kinds of humor funny, you'll likely find an audience of some kind along the way, whether your show's a big hit or not.
Lisa:
No laugh track and it has to be smart and find a way to stay fresh.
Jamie:
I'm very critical when it comes to sitcoms. For me, it's mostly what I see on sites like Tumblr and Twitter. If the jokes appeal to me, I'll start to look into it. I remember that for
Modern Family
and
Fresh Off The Boat
I saw some gifsets on Tumblr that looked really funny and that's what drew me to those shows.
Prpleight:
Well, it's not the pilots. I absolutely hated the pilots for both
Black-ish
and
The Neighborhoods
. The pilot for
Bob Hearts Abishola
was definitely written by an older man. The stalking element was not cool. All shows I later enjoyed quite a bit.
As with everything I watch, character is the most important aspect of it. After that, is it funny to me?
Donna:
A sitcom with an unusual premise, and stars who know their craft are how I chose what shows to watch. I don't mind multi-camera shows but sometimes laugh-tracks are out of place. I think the biggest thing I look for in a show that catches my attention is when the comedy is natural and they don't look like they're trying to hard to be funny. I also love a sitcom with sophisticated or just great humor that stands the test of time, in that if you were to watch it 20,30,40 or even 50 years from now it would still be funny and make you laugh.
Many use sitcoms to escape from their day-to-day life. It brings a smile to your face, even after a tough day. Do you think sitcoms should take a break from comedy to handle tough, life subjects or ignore the things going on in the world?
Laura:
While again not a big sitcom fan, because I prefer shows that deal with complex issues or have mythology, I do think that it's fine if they traditionally continue to be light, because we all escape in different ways and a break can be good, but also I think some sitcoms do have heavier subject matter these days and/or there have been some interesting sitcom-hybrids over the years whether you look at a series like
Chuck
that takes both a family & workplace situation comedy and injects into a Spy dramedy or look at something like HBO's more recent
Divorce
that is like a dark comedy sitcom. But on the whole, I think there should be all kinds of TV for all kinds of people and not everything has to be perfectly topical or serious 24/7, as long as some things are.
Abby:
I remember when "very special episodes" would come on for sitcoms like
Family Ties
or
Diff'rent Strokes
and I'd be upset because they were different than the regular episodes I liked. I'd prefer a show weave in social issues throughout like
One Day at a Time
or
All in the Family
rather than throw in one-off message episodes than don't match the tone show.
Angela:
I wouldn't put it that way. I don't think comedies should "take a break" to address serious issues; rather, they should just work them in right alongside the comedy. No matter how stressful the situation, there'll always be people trying to find some humor and lightness in it (look at all the funny comments we here at SpoilerTV, and many others, have made and shared about how to deal with the craziness that is this virus, after all). So yeah, if a comedy series can find a way to address those topics with humor, I say go for it.
All in the Family
did that brilliantly (hell, make that any Norman Lear show in general, really). As did
Roseanne
,
MASH
,
Family Ties
,
black-ish
,
Will & Grace
,
One Day at a Time
(both the old and new versions), the list goes on and on. It's certainly not a new angle for comedies to cover by any means.
Yes, I understand the need for escapism, and yes, there are some comedies that are probably better suited to tackle serious issues than others, or who might miss the mark in how they handle them. But comedy is also a great way for us to laugh at and call out the insanity of the world around us. So if a show wants to touch on that, I will fully support their efforts to do so.
Lisa:
See above answer. I like a show that's smart - that means being innovative AND tackling contemporary issues.
Jamie:
I think sitcoms should be able to handle both. You can be funny while still tackling hard subjects. It makes the show more realistic. Characters that go through their lives without ever running into anything related to mental health, racism, sexism, sexuality or politics make it a lot harder to relate to.
Prpleight:
For me, sitcoms are an escape. I watch them to laugh. I don't have a problem with an episode of a sitcom dealing with an issue every now an then. But I prefer, for example, a broadway musical routine to get me to think about Black History, over a funeral because the main character's love interest died. I watch sitcoms to laugh. One of the joys of the about of content available to viewers these days is that there is something for everyone. But, if I want to watch a show dealing with heavy or dramatic stories, I'll watch a drama.
Donna:
I don't mind sit-coms taking on tough subjects if they are relevant to the show's storylines, but to do a "topical" episode just to be "topical" often don't work because the humor or message is either made fun of or handled in a too heavy-handed manner. One exquisite example of a sitcom handling a difficult subject perfectly was the
Mary Tyler Moore Show
episode "Chuckles Bites the Dust," which dealt with the station's Children's show clown Chuckles' untimely death. It was sad, funny, poignant and had a wonderful message about dealing with death and grieving. It is a television classic that stands up today.
Zoé:
I think a solid sitcom should be able to handle real topics in a classy way. I think Brooklyn Nine-Nine does a phenomenal job with this.
That wraps up another round table! Feel free to drop your thoughts in the comments below. See you next week!