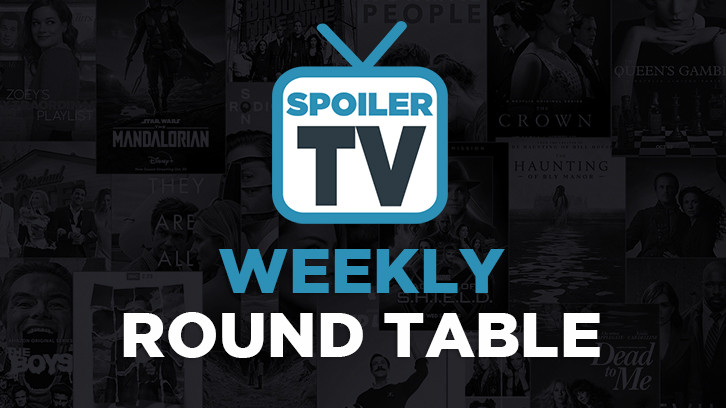 Hello and welcome to a new edition of SpoilerTV's Weekly Round Table! Joining us this week is Luana Arturi (LU), Alejandra Molina (AJ), Laura B (DL), SarahR (SR), Prpleight (JH), Jamie Coudeville (JC), Lisa Macklem (LM), Giulia Del Buono (GB), Dahne (DH), Alison D (AD), Naomi Anna (NK), and myself (ZF). You just have to sit back enjoy the read and join the discussion in the comment section down below.

Luana:
Zoey's Extraordinary Playlist
, I did not expect so much emotion and depth in what looked like just a fun little show.
Alejandra:
Hannibal
, I recently started watching it but I was kind of on the fence about watching it because of the whole cannibalism aspect, but the show is one of the best and has so many good aesthetic shots I am in shock every single episode.
Laura:
While I haven't watched since season 3 was released in December,
The Marvelous Mrs. Maisel
was so much better than I had expected. I'm always picky about comedies, which is one reason I had put this show off for so long, but '
Mrs. Maisel
' is surprisingly a wonderful period dramedy that had so much to offer!
Sarah:
All Rise
surprised me, I thought I'd end up dropping it after two or three episodes but I really enjoyed the show. I've kept it on my schedule and even though I've fallen behind, I'm still keeping track of the show.
Prpleight:
Zoey's Extraordinary Playlist
. I was expecting something vapid. What I got was something deep and thoughtful.
Jamie:
For All Mankind
. I started watching this show with my dad because he loves space-related stuff but I had seen very little buzz about this show so I went into it with very little expectations. I haven't watched the finale yet (watching that next weekend) but every episode so far has been really impressive.
Lisa:
Jane the Virgin
. It was smart, funny, clever, emotional. Great acting and writing and totally not what I was expecting. I actually watched it expecting a train wreck and fell in love with it.
Giulia:
The Morning Show
. I was pretty excited to see it because I was happy to finally see Jennifer Aniston play a major role in a major TV show. She deserves all the recognition that she's getting because she's just fire in this. I did not know what to expect, but it was a surprise for me. The show tackles important issues with intelligence and gravitas and I feel like it's a great binge-worthy show.
Dahne:
I wasn't sure if this was for the current year or all-time so I did both. This was a good year for new TV for me. Many shows pleasantly surprised me. Of the new dramas, I was really surprised at how quickly
Prodigal Son
,
Zoey's Extraordinary Playlist
, and
Stumptown
grabbed me. They each have great characters and quick pacing. For comedies, my favorites have been
Perfect Harmony
, which surprised me because it had a lot more heart than I expected, and
Bob Hearts Abishola
, even though its focus is romance and that's not usually my thing.
MacGyver
has pleasantly surprised me this year too. It was starting to feel stale, but with the introduction of Russ Taylor, it's gotten back some of its magic. However, if we're talking about the show that surprised me most of all time, it's got to be
Teen Wolf
. I was convinced that I would hate it. It was about teens and werewolves and teen romance. Plus, it was on MTV. I'm almost 30 years past their target demographics. After putting off watching it for more than a year, I decided to try it and the pilot sucked me right in.
Teen Wolf
reminds me that you can't judge a show by its network.
Alison:
Zoey's Extraordinary Playlist
surmised me. I judged a show by its promo and wrote it off as definitely not my thing. I doubted the show's ability to incorporate the songs in a way that wouldn't seem intrusive or superfluous. One episode in and I was proven wrong. I ending up bingeing all the available episodes. It was the emotional depth and truth that surprised me, as well as the balance between the light and dark moments. It's beautifully done and the cast is exceptional.
Zoé:
Prodigal Son
. I love that show. I'm obsessed.
Luana:
The Sinner (III)
, the season finale was disappointing but because it had too much potential it didn't fully live up to. I did enjoy it, but if the ending had been just a little bit different, it would've been an amazing season instead of just a good one. Feels like they've gone a little soft and I have no idea why.
Alejandra:
Legends of Tomorrow
, the first season was great but as the seasons went on the show became more of a joke with the storylines so it made me lose interest.
Laura:
Fleabag
. I know, unpopular opinion! I barely got through the first season, but everything about it just made my skin crawl. It's just not my kind of humor, at least not as a centerpiece. I guess I just like a little more whit and less grunge from my British characters!
Sarah:
Treadstone
, sadly, disappointed me and it was one of the show I reviewed. The story was okay but it took forever to bring characters together and the ending of the series was rushed after building it for several episodes.
Prpleight:
Supernatural's
final season. I loved the show when it started. But the retcon of Chuck, was the beginning of the end for me. I finally removed the show from my DVR timer list. Too many episodes were frustrating and, frankly, annoying. The writing had been feeling lazy for a while. It began to feel like they were killing off every guest character the fans liked, just to do it. But, ultimately, they brought so many characters back from the dead that there were no longer any emotional stakes with any death.
Jamie:
The Walking Dead
. I started watching this with my brother. We were both really curious because there's so much buzz about this show. We even started the spin-off
Fear The Walking Dead
. We're 7 seasons into TWD now and honestly just watching because we both don't like leaving things unfinished. The storytelling is so slow. I've heard that it gets better in season 9, I really hope this is true. But I'm noticing a similar pattern with FTWD and we're only on season 3 there. I definitely will not be watching the new show.
Lisa:
Supernatural
. I loved the Kripke years. I even wrote my Master's Thesis on the show! I've written a ton of fanfic about it, done the conventions..... and hoped and hoped that they'd finally get another showrunner who could do it justice. I've never missed an episode - I've got the reviews to prove it. Every now and then, they even still have a good episode - but never a successful season arc. This final season has been the biggest let down yet. I'm not even all that fussed that we may never get those final two episodes. TBH, I'd love to see them bring Kripke back and do a 2-hour movie to finish it.
Dahne:
The new show that disappointed me the most was
Carol's Second Act
. There were plenty of new shows that I did not like, but I usually enjoy Patricia Heaton so I had high hopes for this one. In the end, I couldn't stand Carol as a character and by the third episode, I had to drop it. But nothing compares incomplete TV suckiness that was the downfall of
Sleepy Hollow
. For a show with such a dynamic first season, it redefined terrible later on.
Alison:
Sometimes too much is too much.
Roswell: New Mexico
's Season 2 feels like too much but also too little. There are so many storylines this season, and while it is possible they will all be beautifully and masterfully woven together as the season progresses, it seems hard to believe. On top of that, large chunks of time are missing between episodes and it's given the season a disjointed feeling, but it also robs the audience because characters are being marched forward, sometimes uncharacteristically, in service of the many plots. All of this means, scenes that should payoff emotionally feel either unearned or unclear. There are some wins though. The flashbacks to 1947 are compelling and tie into Michael, Isobel, and Max's origin story. Isobel (Lily Cowles) away from Max and Michael has finally been freed from their hovering overprotectiveness that stifled her agency. It's been a welcome change from her always the victim storylines. Cowles does a fantastic job playing Isobel's pain, but it's good to see her becoming the master of her own fate. Michael (Michael Vlamis) and Alex (Tyler Blackburn) remain the emotional center of the show. The moments they're together always land because the two actors possess an incredible natural chemistry, and it's the looks that pass between them and their body language that make it impossible to look away. I want more of the good things and less running over characters while racing towards a season finale.
Naomi:
I enjoyed
Legacies
so much last season, but this season is very slow-moving and definitely not as interesting. I still love Lizzie, Josie, and Hope, but something is off.
Luana:
Dietland
, there's just one season but the ending worked well enough for me. If you don't like feminism and body positivity this isn't for you, but otherwise, there's a lot more to the show. It's thrilling and satiric, it has depth but it's also so much fun, I hope more people give it a shot as a quick binge.
Alejandra:
It's Always Sunny in Philadelphia
, sometimes the humor and the first season makes it hard to get into but the show, in general, is really funny and I think people should watch later seasons for the good content.
Laura:
Evil
. Not that it didn't get a lot of attention, but I think there is an audience out there for it that isn't necessarily a strong horror fan. Like all of the Kings' previous work,
Evil
is uniquely creative in its approach to the subject matter and the Kings & Co. are writing it just as smart and slightly off-kilter as ever! But over all it isn't just it's creative execution to the horror genre or its brilliant writing, it also has a great cast with good character dynamics that are really the vessel that's driving the show!
Sarah:
I'd say
Stumptown
, it's not great ratings-wise but I've thoroughly enjoyed watching it. The cases are cool and the main characters have good chemistry between them. I hope it gets renewed, I believe it deserves it.
Prpleight:
I think I'm going to pick
Siren
This one was a surprise. Mermaids are real. I love the design of the mermaids in the show. I like the characters. The writers didn't always take the story in the stereotypical path. During the first couple of seasons, I was cheering for the show to get a larger order because it was evident that some good story was being skipped over because of the order count. In season 3 the stories are getting better.
Jamie:
The only thing I can think of is
Agents of S.H.I.E.L.D
. I know a lot of people dropped it early season one but it really picks up towards the end of the season.
Lisa:
See one above!
Perfect Harmony
- it's like
Glee
for adults - also funny.
Stumptown
- Cobie Smulders is awesome in it - and it's nice to see a woman holding her own in the lead.
Tommy
- Edie Falco is great and the dialogue and action are usually both fast-paced and smart.
Giulia:
Insecure
. I wouldn't say that people have dismissed it, but I would like for more people to watch it. It is such an entertaining, smart, well-written and acted show. Issa Rae is a genius, in my opinion. This show needs to be talked about more.
Dahne:
Of all the new shows I watch, the one I hear trashed the most is
Bob Hearts Abishola
and I'm not sure why. The pilot was a little rough but all shows have growing pains. As an anti-shipper, I was prepared to hate it but I love how unique the main characters are. It's unusual and diverse and it has a lot of heart. Plus, it's willing to touch on some issues that aren't as common in comedy like how religion affects a relationship.
Zoé:
This might be a cliché, but
Agents of S.H.I.E.L.D
. So many people dismiss it because the first few episodes were a bit slow. But it transforms into one of the craziest, most interesting shows out there.
On another note,
Prodigal Son
. There's not a huge buzz around it, but it's such a good show with a great story. It's also new, so the word hasn't gotten around. It gets better and better every episode. I highly recommend it.
Luana:
I think it depends on the show and its ability to continue writing engaging stories and how much of the weight of the whole show is actually on the star.
Alejandra:
It depends, but I think when a character that iconic like in the case of Amy in
Superstore
, I feel it's better to end its run now instead of continuing. But there are cases where continuing works, like in the case of
The Office
after Steve Carell left, the last seasons were really funny as well. I guess it all depends on the cast you have left.
Laura:
It depends. I think there are shows where main characters can be switched out and the show still works, but there are surely those shows where the lead or leads are what make the show, or even simply, the story what is and doing anything else might as well be a spin-off.
Sarah:
Hmm, well it depends on the show, in
Hawaii Five-0
case, I'm glad they finished it when Alex decided to leave. I don't believe anyone would have enjoyed it nearly as much and the show would have been a shadow of its former self. I've never seen Superstore so I can't say if the decision to keep going is a good or bad one.
Prpleight:
It depends, strongly, on the show. There's a lot more involved than just one actor. Does the show have more fresh stories to tell? Can they tell these stories with changes to the cast, while keeping the story quality high?
Teen Wolf
crafted a pretty good story, after learning that Dylan O'Brien wouldn't be available for the bulk of their final 2 seasons.
Hawaii Five-0
had other issues to deal with other than Alex O'Laughlin's desire to move on. Scott Caan's desire to work in LA. And it had begun to feel as though the writers were struggling to have something for the entire ensemble to do each episode, so it ending the series run feels like a good idea.
Jamie:
I don't watch
Superstore
so I don't know how it'll impact that show. But when it comes to
Hawaii Five-0
I think it was the right call. Honestly, I rarely come across a positive example of when a show continued on without the lead.
Vampire Diaries
definitely did not improve, nor did
Once Upon A Time
. It worked on
Vikings
, I guess. But that's because I believed it was planned from the start.
Lisa:
It really depends on the show. I feel bad for the rest of the cast when one person leaves and they all lose their jobs, but sometimes, that one person really is the heart of the show.
Giulia:
I always go back to the story. If it is consistent with the narrative, I would go along even if the main character isn't part of it. I don't watch these two shows, so I can't speak for those, I am thinking, for example, about
The Good Wife
when a very important character was killed. Not only was it exceptional in terms of drama, but it gave the show a fantastic creative boost.
Dahne:
In general, I think when the main character goes, the show should go. For instance,
Lethal Weapon
never should have continued without Riggs.
Hawaii Five-0
did the right thing by pulling the plug even though it seemed rushed. Some shows, like
Hawaii Five-0
and
Supernatural
, would never work without its two leads. However, especially when shows are more of an ensemble, a good storyline or good writers can cover up an important character's departure.
9-1-1
made it work when Connie Britton left. She was one of my favorite characters in season 1, but I hardly miss her now. Likewise, I never thought that anyone would be able to replace Jack for me in
MacGyver
but now I love Russ.
Alison:
It depends on the show. Procedurals, like
Law & Order
, seem to have a better chance of surviving the departure of the main protagonist(s) whereas highly character-driven vehicles would have a far more difficult time. I think of a show like
Prodigal Son
, which despite having aspects of a procedural is fully character-driven. The show couldn't possibly survive Malcolm's (Tom Payne) departure. Of course, to every imaginary rule, there is an exception.
Naomi:
I think it depends on the strength of storytelling and how compelling the rest of the cast is. If the remaining cast is strong and they've had interesting character arcs, the show could survive-maybe not too long though. I appreciate showrunners pulling the plug when something isn't working out. It doesn't hurt to try though.
That wraps up another round table! Feel free to drop your thoughts in the comments below. See you next week!