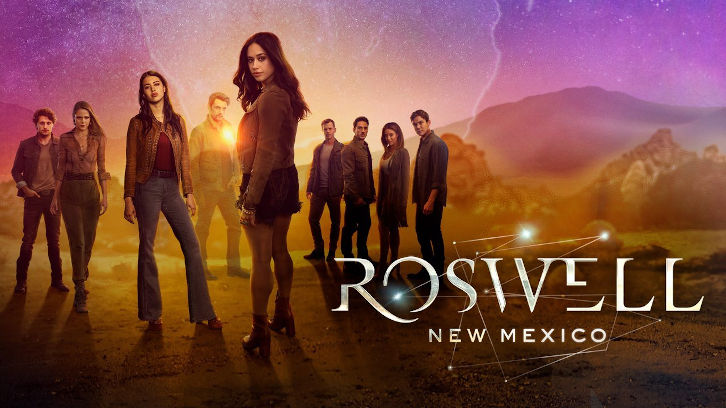 This week on Roswell, New Mexico Liz enlists Kyle to help her steal something from the hospital. They kiss in front of Steph and Kyle tells Liz afterward that he wants some space. Isobel uses her mind powers to help Arturo accept that Rosa's return is a miracle and they're reunited. We get more flashbacks from the 1940s and see this Tripp guy capture Nora and Louis (who survived the gunshot). Alex gives Michael a piece of the ship that he'd been hiding. Cameron takes to Captain Manes about her sister. When she leaves town to go look for her she gets abducted the same way Mimi did. Max's pod malfunctions.

Good for him: I'm glad Kyle spoke up about his relationship with Liz. It may seem like forever ago for her because she moved on and fell in love with someone else but it's not that easy for him. Especially not when she kisses him out of the blue. Sure, I get why she did it (someone's seen a lot of movies) but she never really considered his feelings. Plus he clearly has a thing for Steph (no idea why) so the fact that it was in front of her makes things extra uncomfortable. He's been pretty great so far. I mean, look at how often he keeps helping her and Max. Most exes don't do that.

Yikes: Nothing like a little story from the 1940s to make you rethink your life choices. I must say that I'm really enjoying these flashbacks but I fear now that we've seen the military capture, Nora and Louise, we won't be getting any more flashbacks in the near future. The military was beyond cruel. Any chance that Walt survived that fire? Honestly, it is a miracle Alex didn't turn out an asshole like the rest of his family. I'm glad he gave that ship piece to Michael. As much as he doesn't want Michael to leave, I think now he really realized how dangerous it is for Michael to stay. He doesn't want him to end up like his mother.
Okay, however…: I love what Isobel did this week for Rosa and Arturo. I'm not entirely sure what brought it on, it seemed a bit sudden. But I guess this was one way of explaining Rosa's reappearance to Arturo, not one I would've thought of. But I have to ask, will she reveal herself to the whole town now or stick to this circle of people. Because while the miracle thing may have worked for Arturo, I doubt it would work for the rest of the town. And I'm not sure he'll be able to keep this secret. Also, Rosa can't stay hidden forever. They seriously need to come up with a cover story.
ALIENS! Okay, so I'm still not convinced these abductions are done by aliens. I actually think someone (my money is on the government) is trying to make it look like an alien abduction so that when the person later recounts the story, people won't believe it. First Mimi, who probably has a link to aliens somehow. Now, Cameron, I'm assuming this is about her sister. I didn't quite understand what she was working on but I know that if Manes wants it it's probably not good. I wonder if we'll meet her soon. Highlight: I just wanted to mention the scene with Kyle and his mother really quickly. It was so sweet if you ignore that he was lying to her, of course. But honestly, it's best that she doesn't get dragged into all of this.
Best quotes: Kyle: "You want me to steal another…" Liz: "No, no, no. I'll steal it. I just want you to aid and abet."
Alex: "I can't believe this sentence is about to leave my mouth, but do you think that Mimi DeLuca could've been…" Michael: "Please don't say "abducted"."
Michael: "Do you think he realizes he can't possibly shoot both of us with that thing?" Alex: "I don't think logic is the best defense against a buzzed redneck."
Forrest: "Alien guy." Michael: "Nazi guy?" Alex: "Totally lost guy."
That's it for this week. Check in again next week for an all-new review and let me know in the comments what you thought of this week's episode.
Please be respectful in the comments, any unnecessary rudeness isn't welcome.