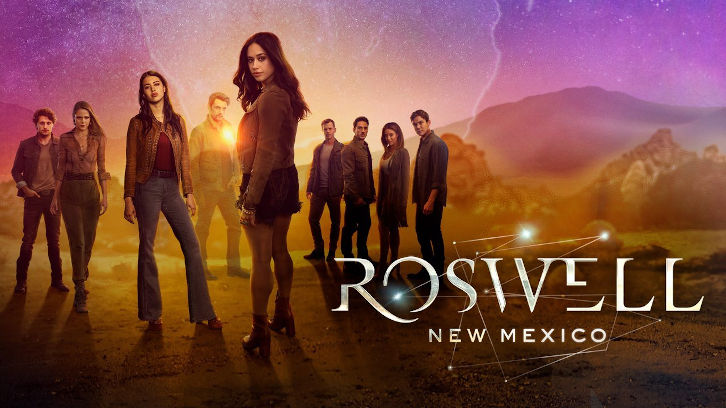 This week on Roswell, New Mexico Max and Isobel fight, after which Max nearly dies. Michael saves him (again) and Max no longer remembers Liz. Isobel goes to a gay bar, nearly hooks up with Kyle, then hooks up with the bartender instead. Liz and Max go out on a date. She tries to push him away, he remembers her again. She tells (or yells) him she loves him. Alex and Maria investigate a lead regarding Mimi's disappearance but nearly get ax murdered by a singing psychopath. Michael goes to find them. Then they all hook up (ax murderer not included). Max has a memory of something I assume happened before they arrived on Earth.

Disappointing: Last week they ended the episode with the start of a big fight between Max and Isobel. That fight lasted not even 2 minutes. I don't know what I was expecting but it sure as hell wasn't 2 minutes. And then Max basically dropped dead again. I sure thought that an alien pacemaker would be able to withstand a bit more than that. Does this mean that he's just going to pass out more often? Will Michael need to be on standby in case he has to go save Max? Also, how was Max just able to step back into his life. Wasn't the sheriff looking for him? I have questions and none of them were answered in this episode. I mean, this one was pretty much a filler.

Would've solved a lot: I always say that the best way to solve a love triangle is just all 3 parties to become a throuple. That way everyone is happy, most of the time anyway. And while that sure would've been an option here, since Maria and Alex get along pretty well, that doesn't seem to be the case. What happened in this week's episodes seems like a one-time thing. In fact, Alex seems to be moving on from Michael. He sure seemed interested in that Forrest guy.
That was cute: Aside from the fact that I'm getting a bit sick of the amnesia trope, gladly it only lasted half an episode, I did really enjoy Max and Liz's scenes this week. It reminded me of their scenes in the pilot. Things just seemed simpler without all the baggage. Also, that scene where she yells that she loves him, so cute. But can someone explain to me how Max's selective amnesia blocked out Liz completely but he still remembered bringing Rosa back? How does that work?
That was weird: I have to say that I like Isobel a whole lot better this season compared to the first season. Less judgment, more impulsivity. Which has had mixed effects. But was she high this week or just really, really drunk? Because if someone had told me a season ago that she would be propositioning Kyle to have sex in the bathroom of a gay bar… I just would've laughed. Do we need to start worrying about her? I mean, I'm all for her letting her hair down, she's earned it after all the crap she's been through but this seemed out of character for her. Also, girl code, I'm pretty sure she and Liz are friends now and you do not have one night stands with your friend's ex. I was all for her and the bartender, though. I hope that they'll delve into Isobel's bisexuality a bit more, but I fear this will just be swept under the rug as a "wild night". I sort of low key ship her with Rosa, though with Rosa having been in stasis the age difference has become a bit much.
That was confusing: What was up with the singing serial killer in the woods? I mean… did I miss something (very possible)? Also, really? A cornfield (or whatever that's called)? It's April, we reserve stuff like that for Halloween. Gotta give to David Anders, though. He did an A+ job at creeping me out.
Best quotes: Max: "Uh, gracias. Estoy embarazado." Liz: "Embarazado means you're pregnant." Max: "Maybe I am. You're not my gynecologist." Liz: "My hands have been inside of your chest cavity, Max. Your gynecologist can suck it."
Liz: "Psychogenic amnesia limits retrieval of stored memories but if we light up your limbic system and gustatory cortex with some familiar signals…" Max: "Your milkshake might bring all my memories to the yard?"
Alex: "You want to split up? No, no. This is why I don't like horror films. The gay guy always dies first. Or second. Okay, that's fair. That look is fair."
Isobel: "I went to a gay bar." Max: "Nope." Isobel: "And guess who I saw there? Kyle Valenti." Max: "Extra nope." Isobel: "So, at first I'm like, obviously I'm gonna take that mustang for a ride. Max! I'm not leaving! I haven't even told you about the lesbian part yet."
That's it for this week. Check in again next week for an all-new review and let me know in the comments what you thought of this week's episode.
Please be respectful in the comments, any unnecessary rudeness isn't welcome.