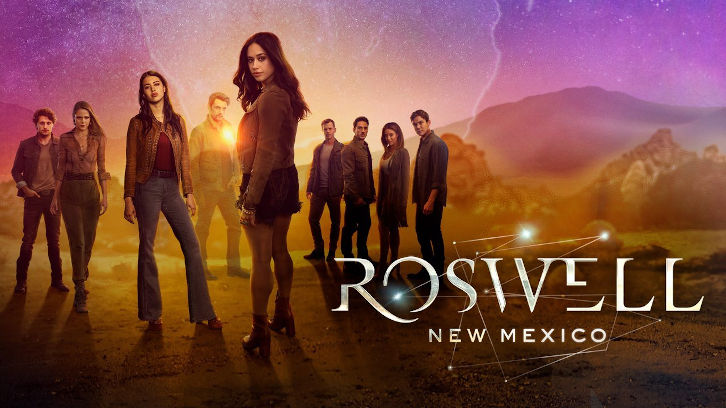 This week on Roswell, New Mexico everyone realizes Max pulled the plug on his pod giving them a lot less time to save him. He wants to die because he's scared he'll hurt them with all the dark power he consumed before he died. Michael struggles to figure out what to do and we see his relationship with both Alex and Max through flashbacks. Liz and Kyle try their best to give Max a few moments so they can say goodbye to them. Rosa tries to stop them. Michael builds an alien pacemaker. Rosa uses her own powers, which are similar to Max's to get his heart started again. They keep him in a coma for two weeks. Meanwhile, Alex helps Maria out with her mother's laptop and Maria forgives him and Liz. Isobel wakes Max up and gears up to take the hit.

Now that's character progress: It may have been Max's life on the line this week but it was Michael's time to shine. Between the flashbacks that showed Michael push away anyone who dares to care about him to him finally accepting in the present day that he's worth caring about. I must say, it was a lot. And I can't help but wonder if it wasn't too much for one episode. I do love seeing Michael show off how smart he is. I really hope we get to see more of that in the future. I have a feeling they're going to need it.

Say one thing, do another: I had to laugh, Max begs Rosa to stop Liz from bringing him back, she races to the hospital, only to be the one who brings him back. I guess she couldn't resist her sister's puppy dog eyes. His reason was stupid, though. I get that he's afraid he'd hurt them but he has to know that this wouldn't be a good enough reason for his family to let him die. And there really wasn't a whole lot Rosa could do to stop her sister, anyway. I like that about Liz. When she wants something, she goes for it and nothing, not even science, will stand in her way. I'm curious to see how Max will fare with that pacemaker.
Overconfident? So, what exactly is Isobel's plan? I'm not sure I got that last part. Is she going to take the hit of that dark power? Did she spend the past two weeks bulking up for it? If so, I'm not sure that's going to cut it. I mean, we saw how strong Max was at the end of the season. And sure, he's not at his best now but I think he could still do a lot of damage. But I am kind of looking forward to seeing it. Side note, knocking Rosa out was a typical Isobel move. Act first, apologize later.
Favorite friendship: We haven't seen them together much lately but I really enjoyed the scenes between Alex and Maria. I also thought their scenes were so healthy. No jealous bullshit. We like the same guy, but that's his fault, not ours. Also, I see we're moving forward with the Mimi storyline. Now that Maria knows about aliens she might look at her mother's disappearance in a whole new way. I hope Alex helps her out with her search. And I'm glad she made up with Liz. It sucked that they all kept it from her but it wasn't really Alex or Liz's place to tell Maria.
Best quotes: Alex: "You've been avoiding me." Maria: "Well, I learned that you and all of our friends have been lying to me about aliens and murders and resurrections, so haven't been feeling particularly social. That being said, I fell for your ex so I've decided, even though I'm still not speaking to them, you and I are even?" Alex: "That's fair."
Liz: "How did you get here so fast?" Kyle: "You called, I broke the speed limit. What else is new?"
Isobel: "I need to make sure that it's him in your dreams and not just some freaky drug addict nightmare that you're having, no offense." Rosa: "Okay, you know you can't just say "no offense" after you say something offensive."
Rosa: "Oh, these bitch-ass aliens."
Isobel: "Welcome back. You've been in a medically induced coma for twelve years. Taylor Swift is president now, which, honestly, is for the best."
That's it for this week. Check in again next week for an all-new review and let me know in the comments what you thought of this week's episode.
Please be respectful in the comments, any unnecessary rudeness isn't welcome.