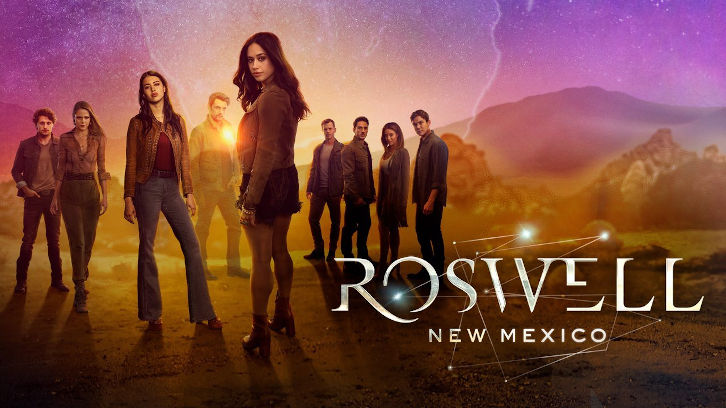 This week on Roswell, New Mexico Helena Ortecho, Liz and Rosa's mother, visits and immediately clashes with Liz. Helena plays nice but Liz finds out she trying to steal a ring from them. Rosa gets worked up over her mother's visit. She accidentally blows up her mother's car after she not so accidentally doused it with lighter fluid. Isobel tries to help her control it. Maria digs deeper into her visions and finds out her family was experimented on. She has a vision of what she thinks is Kyle getting abducted but turns out to be him nearly getting hit by a car. Kyle and Steph continue to grow closer. After Liz's mother leaves with the ring, Max gets it back by blackmailing her (she deserved it). Rosa goes back to taking pills.

MVP: Okay, if we're being totally honest, Liz stole the show this week, am I right? She basically singlehandedly saved her family this week. Saved them from her mother, no less. As much as Liz may not want to admit it, she does have the same ruthlessness that her mother has. But she uses it for good. I love the fact that she fought her every step of the way and that she never let her guard down. I hate those storylines where the main character forgives their parent and then gets double-crossed again. Not here, though. Liz knows her mother well, it's why she set up those jars around the safe, it's why she paid extra attention to where she left the dial of the safe. And it's why she immediately noticed that her mother was trying to rob them. While her mother would've probably tried to squeeze Arturo for everything she could get before signing those papers, Liz set very clear rules and never let her mother forget why she was there. She also protected Rosa, because her mother would have absolutely taken advantage of a daughter that miraculously returned from the dead. And while I did feel a little bad for her that she still thinks her daughter is dead, Liz made the right choice here.

Starting to get it: A few weeks ago I said that I didn't like Steph and I didn't get what Kyle saw in her. I think I'm starting to understand what draws him to her. They're kind of in similar positions with the people in their lives. Steph is working at the hospital to spend more time with her dad, who is otherwise probably never around. Kyle feels like his friends don't always see him. Everyone is so focused on the aliens, that I think he often feels left out. I mean, there's definitely something there between them. And Kyle should move on from Liz since she clearly has. I still don't really like Step, but I'm slowly warming up to her.
Blessed or cursed
: I'm really loving that we're delving deeper into Maria's powers. At least we know a bit more about what caused these powers, government experiments. Why am I not surprised? Right now Maria seems to be embracing her power to see the future. However, from what we know this hasn't turned out well for the other women in her family. It might just be the occasional vision now, but I think it'll start increasing as she gets older. To the point where it could drive her mad. But she does have an alien by her side, which her mother did not have. Maybe Michael can somehow stave off the madness?
Give her a break: From what I've seen in comment sections, I feel like Rosa gets a lot of undeserved crap. It seems like a lot of people don't really get what she's going through. She's been in that pod for 10 years. She was resurrected by her sister's boyfriend, the one who framed her for murder, who then nearly died seriously upsetting Liz and then haunted her dreams for what I'm assuming was months. He even started haunting her when she was awake. The entire town thinks she's dead… and hates her, FYI. Her younger sister is now her older sister because she missed 10 years. She has substance abuse problems, which her mother clearly enabled. She's probably bipolar, this has only been mentioned a few times, very briefly. Which is probably what started the substance abuse problems in the first place. Oh, and she was murdered by a psychotic alien, nearly forgot about that. And now she has superpowers that go haywire every time she gets anxious. Which is all the time, who wouldn't be in her situation? Add a problematic mother to that mix and you get exploding cars, loud music, and pills (which her supposedly "10 years sober" mother was keeping in her car). This girl deserves some understanding… and a vacation.
Best quotes: Rosa: "Oh, this is stupid. Ground my intention? I don't speak bored rich lady at yoga."
Isobel: "Seriously, Max. If it doesn't work out with you and Liz you should save a horse, ride a cowboy."
Liz: "Especially, since a certain deputy refused to wear his uniform. My mom hates cops. It would have been awesome."
Rosa: "Let me guess, Liz called you." Isobel: "Rosa, it's not 2008. Only psychopaths call people now."
That's it for this week. Check in again next week for an all-new review and let me know in the comments what you thought of this week's episode.
Please be respectful in the comments, any unnecessary rudeness isn't welcome.