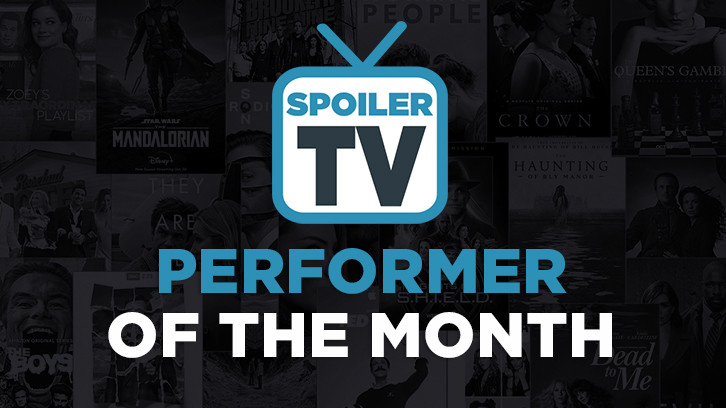 Results:

This month both of the ultimate winners shot out to the lead from the very start and never lost the top spot. They are two dynamic performers who have earned their respective titles.


The most enthralling antihero of our time is Christina Hendricks's Elizabeth "Beth" Boland. As with all the show's heroines, she is far more than just one of the titular
Good Girls
. Beth is lightning in a bottle; no matter how calm her demeanor, you never forget how much power is simmering below her poise. You don't dare look away from the screen when Hendricks commands it. Every patient smile cloaks her character's equally angry and brilliant mind. Hendricks exudes thrilling power with her portrayal of a woman who simply won't allow herself to stay trapped in whatever cage that circumstance, society, men, or even the rule of law tries to contain her with. In
Frere Jacques
(3x6), Beth once again faces off against a terribly complicated situation that nearly pushes her to her breaking point, and Hendricks delivers chills in every heartbreaking, tense second. For her performance in this episode, our readers voted Hendricks as SpoilerTV Readers' Choice March Performer of the Month.
At first glance, the premise of
Zoey's Extraordinary Playlist
reads like a gimmick musical show. However, after the first episode, we learned it was so much more than that. Instead it is a touching, heartwarming show with rich storylines headed by the very appealing lead Jane Levy. Up until
Zoey's Extraordinary Glitch
(1x8), Zoey hears other people express their emotions through popular song and she helps them face the things they don't want to face. However, this time it's Zoey who is afraid of facing things after her father's heartbreaking prognosis, and she is the one singing her feelings, out loud. What could have been farce and gimmicky turns out to be an emotional and heartbreaking performance from Levy. She performs every musical number in the episode from Christmas Songs to Billy Joel and tender declarations of love. It was an, if you'll pardon the fun, extraordinary performance and has led the Jane Levy to be selected as the SpoilerTV Staff Choice March Performer of the Month.
Christina Hendricks and Jane Levy's winner articles will be published later this month. In the meantime please feel free to use the comments to discuss them and their amazing fellow nominees.
Original Post:
March was a hard month for the world and April isn't proving to be any easier, so thank you for taking the time to participate in the nomination round. Thanks to all of you we have an amazing list of nominees for this round of POTM.
Now it's time to determine who will be our March Readers' Choice Performer of the Month. The results will remain hidden for the duration of voting. The results of this poll and the Staff voting will be revealed after the poll closes.
2019 Staff's Choice Performer of the Year: Jodie Comer
2019 Reader's Choice Performer of the Year
(TIE)
: Hailee Steinfeld and Oliver Stark
December 2019 Winners:
Readers' Choice: Katherine McNamara (Mia Smoak Queen) - Arrow
Staff Choice: Molly Parker (Maureen Robinson) - Lost In Space
January 2020 Winner:
Readers' and Staff Choice: Rachel Skarsten (Alice/Beth) - Batwoman
February 2020 Winners:
Readers' Choice: Sam Heughan (Jamie Fraser) - Outlander
Staff Choice: Jeri Ryan (Seven Of Nine) - Star Trek: Picard
Please remember that a performer can only win once in 2020. After that win, they will be ineligible to win again in 2020, but they will secure a spot in our year-end Performer of the Year contest.
Now comes the hard part where you can
only vote for 1 performer
. The poll will be live until
Tuesday, April 7th at 6 pm ET
. After you vote be sure to make a pitch in the comments section for what the performer you voted for most deserves to win.
Everyone, please stay safe and healthy.