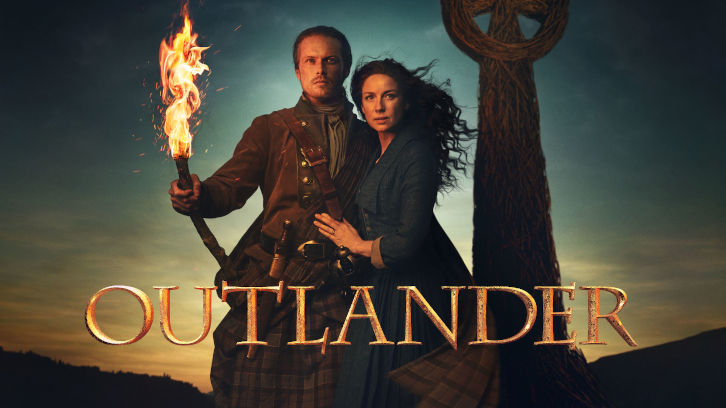 We all knew this episode was gonna be a particularly tough one but did we expect it to be this heart-wrenchingly painful? I certainly did not.

While the redcoats and the militia are preparing for battle, Brianna realizes that this impending fight is the battle history books will consider "the spark of the American Revolution". The fight will be a blood bath as the regulators do not possess as sophisticated weapons as the English, nor are they trained soldiers. They will lose this fight.

It's a mystery to me how neither Claire, Brianna nor Roger compiled a detailed list of historical events before traveling through the stones. I understand that they were not aware they would end up in 18th century America, they probably expected to not leave the United Kingdom. However, if one actually can prepare for traveling back in time you'd imagine one would prepare very, VERY thoroughly.

Sam Heughan
turned this scene into a masterpiece. Jamie's emotional struggle while putting on the garment was clearly visible in every single feature of his face.
As one of the regulators is about to shoot Jamie Murtagh appears out of nowhere and knocks his own man unconscious to save his godson. Just then one of Jamie's people, one of the Findlay boys, shoots Murtagh. Right in the chest. Both, Jamie and Murtagh, are shocked. The situation had seemed safe. They were in the woods with barely anyone around. Murtagh's weapon had not been aimed at anyone. This young boy just shot instead of assessing the situation first. But I guess that is what war is, isn't it? No time to think, you just kill...
Murtagh falls over, directly into Jamie's arms. They both tumble to the ground.
Jamie:
"I released you from your oath! You had no cause to save me! You shoulda done as I asked!"
Murtagh:
"I would never betray yer mother. No matter who asked."
Murtagh can barely speak, barely breathe. His eyes are about to fall closed.
Jamie
calls him:
"A Goistidh!"
Murtagh
reaches for Jamie's cheek:
"Dinna be afraid, a Bhalaich. It doesn't hurt a bit to die."
His eyes then close, his breathing stills. Murtagh is dead.
Jamie:
"
Take it back! I dinna release ye from yer oath! Ya canna leave me… Ya canna leave me…Goistidh."
Even though Jamie is completely broken, he does not have the luxury to sit down for a moment and deal with his loss. No one has seen Roger since before the battle. He has never returned from the camp of the regulators. Jamie, Claire, and Brianna go and look for him. The young Scott is nowhere to be fund. After some time, however, they spot three men hanging from a tree. They were prisoners of the regulators and Tryon had ordered their execution. The men's faces are covered by bags but the body of one of them looks suspiciously like Roger. Brianna's Roger.
Because losing Murtagh was not bad enough, now it looks like they have lost Roger as well. Whether it is actually Roger hanging from that tree the audience gets to find out in the upcoming episode.
When the episode ended and the credits started rolling, I realized that I have created a mountain of used tissues on the sofa next to me. Even after watching the ending for the 3rd time, I could not keep the tears at pay.
Murtagh was such an integral character. In a way, he was not only Jamie's but also Claire's godfather. He was their protector, the one person aside from her husband Claire could share her secret with. He was their family.
As heartbreaking as this episode was and as much as it made us cry, it was simply a masterpiece to watch. Sam Heughan's performance was at a level only few actors can reach and Duncan Lacroix, as well as Caitriona Balfe, joined him right up there.
An outstanding and heartbreaking episode that is definitely Emmy worthy.
Did you see Murtagh's fate coming? How hard did you cry? Share your thoughts in the comment section below!