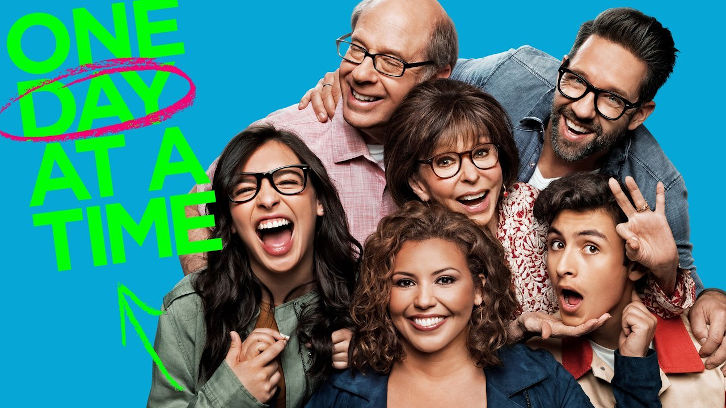 This week on One Day At A Time, the Alvarez family meets Alex's new girlfriend Nora, but Penelope embarrasses him when she makes a big deal about certain prices on the receipt. Schneider convinces her to buy a new couch and tries to get her to not worry about money so much. Elena tries to get to an e-game sports match (I think?) but Lydia, Alex and Dr. B don't make it easy. The car gets severely damaged when it's broken into because Elena left her laptop visible. Penelope is angry but they make up when she realizes that Elena is also pretty responsible with money.

Money, money, money: We've known for a while that money is a touchy subject for Penelope, as it is for a lot of people. But this was the first time that anyone really said something about it. Now, I've never been in Penelope's position, but I can imagine that if you don't have a lot of money, you try to save as much as you can. She's had to do this for a long time and now it's become a habit. But with her new job title, she also got a bigger paycheck. And while I don't think it made a huge difference, it does mean she can live a bit more comfortably. But old habits are hard to break. And I don't think you can ever truly shake that feeling of having to save as much as you can. Just look how hard it was for her to buy a new couch. And then when she heard Elena left her laptop visible in the car… Well, anyone would've been angry. If I did that my dad would yell so loud you'd hear him a block away (he has a really loud voice). But perhaps over time, Penelope can learn to worry just a bit less about money. Wouldn't want to scare away Alex's new girlfriend.

I like her: Speaking of which, Nora seems to have gotten the Alvarez stamp of approval (and mine too, not that anyone cares). I was a bit surprised by how great she was, considering Alex's taste in women in the past. I must say that I am really enjoying Alex's scenes so far this season. He hasn't had any storyline of his own yet, but he's become a real scene-stealer. And, calling it now, that quote about Netflix from last week will be the quote of the season.

I'm confused: Didn't Elena get her driver's license last season? Didn't we see her at the DMV? So, why did she need an adult present in the car when she drove? I've seen enough American television to be pretty sure that once you have your driver's license, that there no longer needs to be an adult present. Here in my country, you have to wait until you're 18, then you take a written test (after which you can start driving with designated adult) and then later you take the official driver's test. And after that, you can drive wherever you want, or if you're me, avoid having to drive ever again.
Best quotes: Elena: "God, it's so easy being straight."
Schneider: "Pen, your sofa is crying."
Penelope: "It's only money." Everyone else in the room: "What?!" Schneider: "Yes! I did this!"
That's it for this week. Check in again next week for an all-new review and let me know in the comments what you thought of this week's episode.
Please be respectful in the comments, any unnecessary rudeness isn't welcome.