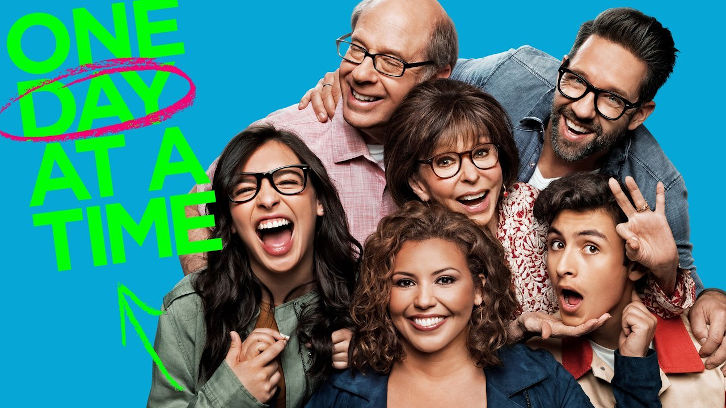 This week on One Day At A Time everyone, except for Alex, dresses up for Halloween. Lydia finds a positive pregnancy test and thinks it's Penelope's. Penelope then assumes it belongs to Nora, Alex's girlfriend. She goes over to Nora's house but things get pretty awkward when it turns out not to be the case. Avery then reveals that she's the one who's pregnant. Elena and Syd try to raise awareness for climate change while trick or treating but get distracted by the candy.

Best costume: I have to give this to Schneider and Avery. I mean, three costume changes, that was impressive. And while I loved the Game of Thrones costume, I cannot get over Schneider in that dress. I'm so happy that they're having a baby. I mean, the description for episode 7 kinda gave it away, but still. I do find it a bit odd that she threw her pregnancy test in the Alvarez's trash. I would feel weird about throwing something like that in someone else's trash can. But maybe that's just me. The search for who was pregnant was very entertaining. From Lydia's reactions when she thought it was Penelope, to Penelope's overreaction when she thought Alex had gotten Nora pregnant. I mean, I guess it makes sense. Why would anyone suspect it's their neighbor's?

A bit disappointing: We've often seen Elena battle for a specific cause so I was a bit surprised to see her give up so quickly this week. Candy had never stopped Elena before. I mean, I'm glad she enjoyed Halloween, but it still felt a bit out of character.
Anyone? I sure thought that with the possibility of Penelope being pregnant having been brought up, that Penelope and Max would have that very needed talk. I'm assuming we'll get there this season, despite that the descriptions of the first few episodes don't seem to hint at it. But I sure hope it doesn't get dragged out until the end of the season.
Timeline: Okay, so it was clear from this episode that it's late October on the show. But what year? 2019 or 2020. I'm gonna say the former because when Lydia made that joke about Trump she seemed to imply that the election was still far off, not just a week or 2.
Best quotes: Elena: "With that bobo in the White House I can't stand to look at an orange face right now." Lydia: "He's like a pumpkin, he will get thrown out in November."
Schneider: "The prize is an Ipad Mini and I never win anything." Elena: "You're a rich, straight, cisgender white dude. You won at life." Schneider: "But I want an Ipad Mini"
Lydia: "Papito! What have you done? You look just like your abuelo. Tonight I will put you in his suit and we will dance." Alex: "Oh, I've made a big mistake."
Penelope: "Elena, is there any way this positive pregnancy test is yours?" Elena: "How many times do you want me to come out? You do know you need a man for that, right?" Lydia: "Excuse me, I think the Virgin Mary would clap back."
That's it for this week. Check in again next week for an all-new review and let me know in the comments what you thought of this week's episode.
Please be respectful in the comments, any unnecessary rudeness isn't welcome.