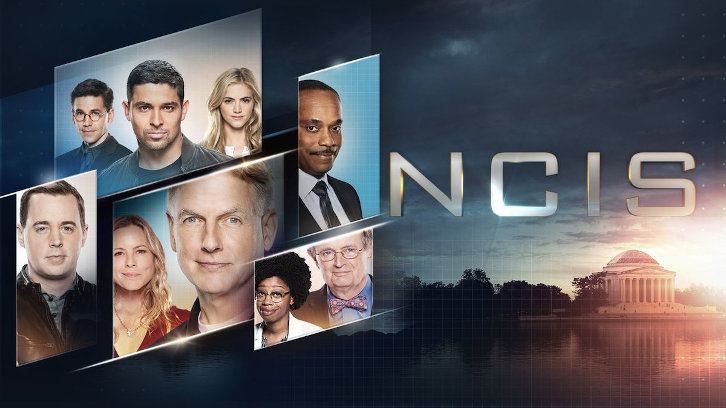 17.18 - "Schooled"
Written by Kate Torgovnick May and Steven D Binder
Directed by Alrick Riley
Reviewed by KathM


I have an aversion to for-profit education, and this episode doesn't help. Smiley face.
Petty Officer Jeremy Whistler attended one, in between doing his job and working in a soup kitchen and rescuing kittens. Now he's dead, and it's initially hard to figure out who could have killed him and why. But as usual, there is something more to our kitten-loving A+ student at Aspire Technical College than meets the eye. Like the fact that he's a hacker known as TerrorCastor, the 9th Most Wanted FBI Cyber Criminal. Do you think that's a thing? TerrorCastor's hobbies include stealing money from pensioners, phishing scams, and he even dabbled in the age-old Nigerian prince scheme. His wife says that he was planning on going straight and that the money he stole was to pay for medical help for their daughter, who was born with neuroblastoma. Which I kind of get, despite knowing that what he did was wrong.
I think there's something wrong with me, but I just don't care about this storyline. Even the RUBBER DUCKS didn't interest me.
Here's what happens: Jeremy's lab partner at Aspire College found some strange code on their computer, which leads the gang to his TerrorCastor identity. Jeremy's wife gives them the name of his friend and hacking partner Taye Tanner (TerrorPollux, who was kicked out of the military for stealing SSN numbers), who stabbed Jeremy because he'd taken all of their ill-gotten gains and stashed it in an offshore account. Taye looks like an ideal murderer except that his alibi checks out. He's a grown man who went to a laser tag convention, and not because he had a child playing. Lame!
McGee and Bishop head over to Aspire with some more questions but it's gone. Literally gone. Someone has taken the entire school (desks, computers, etc.) and just fled. Turns out that Aspire was a pop-up school, designed to take money from students then vanish, leaving the students without a degree and with a lot of debt from the loans they were conned into taking out as well as any money they could pay themselves. The "Dean" is actually a used car salesman hired to bring in the students and "sell" them on loans. Whistler found out what he was doing and blackmailed Patterson and the man who set up the school, with the intention of giving all of the money he got back to the students who were being scammed. "Dean" Patterson cheerfully gives up the name of the person behind it all: Portland Douglas, a man who played an idiot computer "dude" who seemed hopelessly inept at even turning his computer on. He was maybe in the scene for less than 30 seconds, and personally, I was surprised when he was found, nicely dressed, trying to scam some more students to try his new "college", Bright Future. Douglas was tired of Whistler's blackmail and strangled him with his belt, which has the strange pattern that Jimmy wasn't able to identify on Whistler's body. THE END!
Okay, now let's talk about Sloane.
Faith tells Sloane that she wanted all of Sloane's medical details because she and her fiancee are having trouble conceiving and want to try fertility treatments. Cue potential Nana Sloane! But now Faith wants to know who her father is so that she can get his medical details as well. This is a problem for Sloane, who is unable to come clean with Faith and admit that she was the result of rape. She is vague with her daughter and decides to take her issue to Leon, who nearly hangs up on a Secretary (of State, of the Navy?) to be there for her. It reminded me that they knew one another before she joined NCIS; in fact, he was the one who brought her into the Navy Yard in the first place.
Sloane tells Leon that when she was 19 she got drunk at a party and asked a friend to drive her home. The man raped her, and when she found out she was pregnant she dropped out of school and joined the Army, eventually working her way through school and up to PsyOps. After talking with Leon she decides to confront her rapist, who conveniently lives nearby, to let him know about Faith and that she wants his medical details. Sloane later argues with Gibbs and tells him about her rape and as the truth comes out Gibbs only wants to know the guy's name so he can sort it out for her. Sloane tells him that she never told him because she didn't want to be seen as a victim.
What interests me about this scene, besides the fact that it took place in the very public hallway in front of MTAC, is that she felt comfortable going to Leon and talking to him, but not to Gibbs. She doesn't want Gibbs to see her as a victim or something dainty that needed saving or protecting. She trusted Leon not to see her that way, to open up to him, but not Gibbs. I think this says a lot about how she wants Gibbs to see her, and that is not as someone who is weak. I want to see whether this issue goes next season, personally.
In this story Sloane, who knows that she blamed herself unreasonably for what happened ("It's my fault because I was drunk", etc.), but now recognizes that the only person responsible for what happened to her is her rapist. She no doubt tells herself that over and over as she approaches the large, well-kept home of her attacker, who greets her cheerfully as "Jackie". As she begins to tell him about Faith, the result of his rape, he naturally denies everything, insisting that Sloane was attracted to him and that she started the whole thing. Sloane tells him that when Faith approaches him he will give her the medical information she asks for and tell her that he and Sloane had a college fling. This does not please Rapist who tells Sloane that she has no right to tell him what to do. According to Rapist, Sloane just doesn't remember things the way they happened because she was drunk. Sloane yells at him that she said "NO" a hundred times, and even gave him the scar on his chin before he pinned her down. Scared by her anger, Rapist tried to hold her down again to calm her down, which must have been terrifying for her. But Sloane knows the score, she knows what happened to her and will not be gaslighted. She shows him her gun, reiterates what he will tell Faith when she approaches him, and then socks him in the mouth. I'll bet that was a long time coming, Sloane.
When she next meets with Faith Sloane tries to reiterate the concocted "fling" story but Faith, who is a nurse, has seen abuse and rape victims before. She figures out what really happened and she thanks Sloane again for the wonderful life she gave her, even if Faith's conception came from a dark place.
I like the way this was handled, not all preachy and teary but as someone who had come to understand what happened and didn't blame herself. She was ashamed to tell Faith, but the women were able to talk about it. Since they had both worked with victims before, the conversation went pretty well. Faith says that she spoke with Rapist and that she won't be seeing him again. Thanks for the piece of backstory, NCIS. For the writers who created the story and for Maria Bello who played it so well.
Speaking of personal issues, McGee has a problem that may preclude him from attending his 20th college reunion. He says he's afraid that the twins potty training will backslide, as it were if he and Delilah attend, and despite Torres and Bishop teasing him with a rendition of McGee's potty song, Torres takes some time to find out what's up with this teammate. Tim feels inadequate compared to his classmates. He has a degree in biomedical engineering from Johns Hopkins and while most of his classmates are CEOs now, he's basically just a cop.
PS - I continue to love Kasie. The best quote in this episode is when she finds out that McGee and Torres are going to stake out an ice cream parlor where TerrorPollux stops once he's done playing laser tag. "Bring mama back some Rocky Road," she calls cheerily as McGee exits the lab. She's a breath of fresh air.