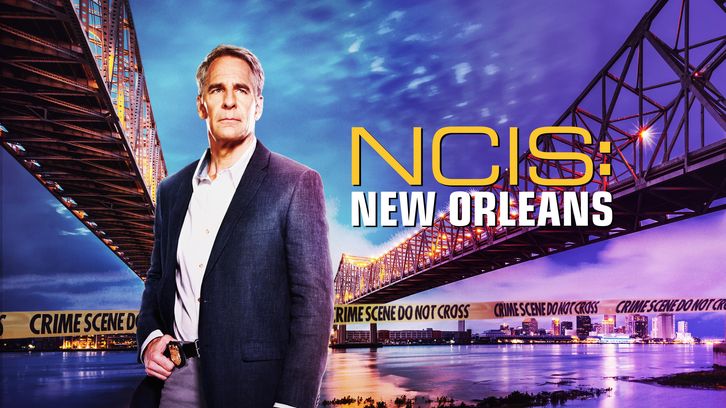 NCIS: New Orleans – A Changed Woman - Review: "Domino Effect"
6.18 - "A Changed Woman"
Directed by Mary Lou Belli
Written by Katherine Beattie, Sydney Mitchel, & Corey Moore
Reviewed by Kelly Anne Blount


Recap – A group of skateboarders finds a deceased Navy sailor in a dumpster. After notifying the sailor's wife, Sarah Murphy, the team finds out that she has returned to New Orleans to take care of her ailing father at their family's farm. She said that her husband has been flying back on the weekends to see her. Unfortunately, the Navy doesn't have any records of these flights.
Before leaving to work on the case, Hannah meets her husband's new girlfriend. Hannah embarrasses her daughter by cheering loudly on the soccer field. When she's called away, she's disappointed to miss the game and the musical she'd planned on taking her daughter to later that afternoon. Her husband agrees to take her instead.
The team retrace Murphy's last known steps. Pride and Carter head out to check out the area and find a car accident. They find another body, identified as Jace Lennon, and two sets of footprints. The deceased drive has a long list of criminal offences. The team connects Clay Bledsoe, Sarah Murphy's brother, to the scene of the accident.
Back at HQ, they find out that Sarah Murphy has a brother who has made four payments of $9,500 to help keep the family's farm out of foreclosure.
Carter fills Pride and Loretta in on a new lead. There loose hundred-dollar bills in Jace Lennon's car. Turns out there was more than forty thousand. They think Sarah's brother and one other person may have come across the car accident, found the money, and that Clay was using it to make payments on the farm.
Hannah and Gregorio track Sarah down. She has a large duffle bag and is meeting a man on a bench in a park. The duffle bag has drugs in it. Hannah arrests Sarah, while Gregorio chases down the man. He pulls a gun on her and shoots. She shoots him in the chest and he falls to the ground. Sarah asks, "What have you done?" She claims she isn't a drug dealer; she's just trying to save her brother's life.
Pride and Gregorio interrogate Sarah. She tells them everything. Her brother came across an accident and found the money. He used it to pay off the bank, so they wouldn't foreclose on the farm. Sarah told her husband about it. Murphy and Clay went to the accident to find out who the money belonged to, so they could return it. They called the last number on the dead man's phone. Sarah didn't know about the duffle bag filled with heroine until it was too late. Her husband had been shot because of it and now her brother's life is in danger. Pride says that since she has had contact with the drug dealers, that they can use her to find out who killed her husband and has her brother.
Hannah heads over to her husband's house to pick up her dinner. She finds out that his girlfriend took their daughter to the musical, because Hal got called into work. Hannah isn't happy about how the situation was handled.
Back at HQ, Sebastian checks in. He is with his mom, who had to have an appendectomy.
Sarah is with Patton and Pride. She's scared and crying. She makes the call to the bad guys. She says she's still sitting on the bench and that his guy never showed up. They trace the call to Sarah's house. Yikes!
Pride, Gregorio, and Carter head to Sarah's house as Patton comforts her. Aw, Patton. He always knows what to say in tough situations.
When the team gets to the house, they find it tossed and Sarah's father's nurse tied up. She's terrified, but both she and Sarah's father appear to be okay.
Sebastian is back. Woo hoo! His mom is okay and he's ready to work on the case.
The drug dealers who went to Sarah's house left two clues behind. Poppy plants, which are used to make heroin, and footage caught on a camera of a black SUV. The SUV's license plate was traced to Peter Shaw.
Pride and Patton make a disturbing discovery. Peter Shaw was a suspect in the 2015 Marine Relief Gala bombing. Pride was the target of that bombing. The person who financed the bombing was Sasha Broussard of the Broussard Syndicate.
Pride heads to prison to visit Sasha. He shows her two pictures, one of Shaw and the other of Blaine Osborne, the man Gregorio shot. She says she worked with Shaw and that Blaine worked for her cousin, Luke Doucet. Doucet is a very nasty man, per Sasha.
Sasha offers to help Pride. She knows the location a plot of land that Luke Doucet may be using to grow heroin. She and her lawyer want a deal first.
The team head to a big warehouse. Guns drawn, the see dozens of men making heroin. They hear yelling. Things aren't looking good for Clay.
Gregorio draws her gun after hearing a shot ring out. Several of the men draw their weapons, while others hit the floor.
Doucet makes a run for it, while Hannah goes in to rescue Clay.
Bullets are flying everywhere. Clay is terrified! Sebastian leads a group of DEA agents around the side of the building while Gregorio shoots a barrel that explodes and knocks Doucet to the ground.
Everything is under control at last! Clay is brought back to HQ, where Sarah gives him a big hug.
Clay says that he just wanted to help keep their dad at the farm. Sarah is upset. Gregorio comforts her.
Hannah stops by to see Hal. They both apologize for the way things were handled. She gives him a stack of paperwork. It's for a divorce and she's already signed everything. Ugh, this is sad. Really, really sad.
Pride heads back to see Sasha in prison. He hands her a letter detailing her help in the case.
Once Pride leaves, Sasha's lawyer says that it should be enough to get her sentence reduced. She responds, "Get me out of here, Dwayne Pride and I have unfinished business."

Review/Thoughts – This was a solid episode. A nice mix of action, investigation, and touching moments. I also liked Broussard being brought back into the picture! She's sure to shake things up a bit if/when she gets out of prison.

I'm a fan of Loretta and Carter's chemistry. What do you think?

What did you think of this episode? I can't wait to hear your thoughts! Be sure to leave a comment below!

Also, have you missed an episode or two? Need to catch up or just want to refresh your NCIS - New Orleans memory? You can access all of my SpoilerTV reviews and interviews by clicking on the following link: http://www.spoilertv.com/search/label/KA